In the wake of Gigi Hadid's pregnancy news, her one-time flame Tyler Cameron is… unbothered? Totally focused on life? All of the above!
As you'll likely recall, the supermodel and the 27-year-old Bachelorette alum enjoyed a brief, whirlwind romance at the end of last summer. Things got so serious at one point, the reality TV star even attended her grandmother's funeral in the Netherlands in September 2019. However, their flame fizzled out just one month later.
Related: Gigi Hadid & Zayn Malik Are Expecting A Baby Girl! 
A lot has changed since then, including Gigi's eventual reconciliation with her ex, Zayn Malik, just as Tyler and his old pal Hannah Brown started hanging out together again. After the dust settled, Cameron came out and said there were "no hard feelings" about the split — but you have to wonder how he feels about his old bae having a baby!
The hunky ABC star was seen letting loose with his boys, enjoying a nice round of drunk karaoke just hours after those reports about Hadid surfaced online. Ch-ch-check it out in this TikTok shared by his buddy Matt James, and reposted (below):
Killing it, dude!
OK, so, it turns out Tyler wasn't going off the deep end and drowning his sorrows in a bottle of wine. He looks really happy here, belting out an amusing rendition of Chris Brown's Yo (Excuse Me Miss), and you could attribute that to his seemingly positive reaction to Gigi's news.
The world learned Hadid was expecting on Tuesday, which just so happened to be the same day the Cameron family was celebrating his brother Austin's graduation. There's plenty more evidence of the group turning up with the young graduate, too. For better or worse, maybe Tyler isn't too hung up on his past after all!
On Thursday, the runner-up spoke to ESPN West Palm, explaining that he wants nothing but the best for his ex and her baby:
"Two nights ago, we were celebrating my brother's graduation party. We were doing karaoke. Next thing you know, Us Weekly is writing about me drowning my sorrows away because of the news about Gigi Hadid."
Oops!
He continued:
"If anything, I am excited for her, I am happy for her. She is going to be an incredible mother."
And in case there was any confusion, the baby is definitely NOT his:
"No, no. But she is going to be the most incredible mother. She's a caring, sweet person and she's going to be amazing."
The Bachelor Nation fan-favorite recently admitted his focus has been on family now more than ever.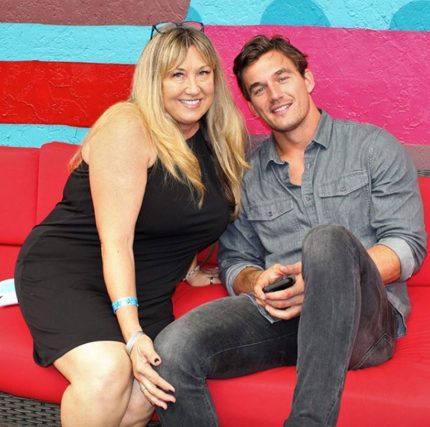 Tyler's mom sadly passed away back in late February after suffering a brain aneurysm and the unfortunate tragedy has brought her sons, including Austin and Ryan, closer than ever. He opened up about it to Venus Williams when the two joined forces for a #CoachVenus x EleVen Instagram Live Q&A session recently, admitting:
"I just lost my mother, so my motivation is to take care of my brothers right now."
As reported, the boys have since put together a charity foundation to honor their mom's legacy, writing at the time of her death:
"In the wake of this tragic event, we feel compelled to honor our mother. We are developing a charitable foundation so that she can continue to impact others as she always has done; we feel this is the best way to continue her legacy of giving. In lieu of flowers, we ask that you donate to the GoFundMe account so that we can begin our quest of serving others like she had her entire life."
We continue to wish their family well as they grieve this loss.
[Image via Judy Eddy/Avalon/WENN]
Related Posts
CLICK HERE TO COMMENT
Apr 29, 2020 12:03pm PDT