Italian Court's Ruling That A Woman Was 'Too Masculine' To Be Raped Sparks Outrage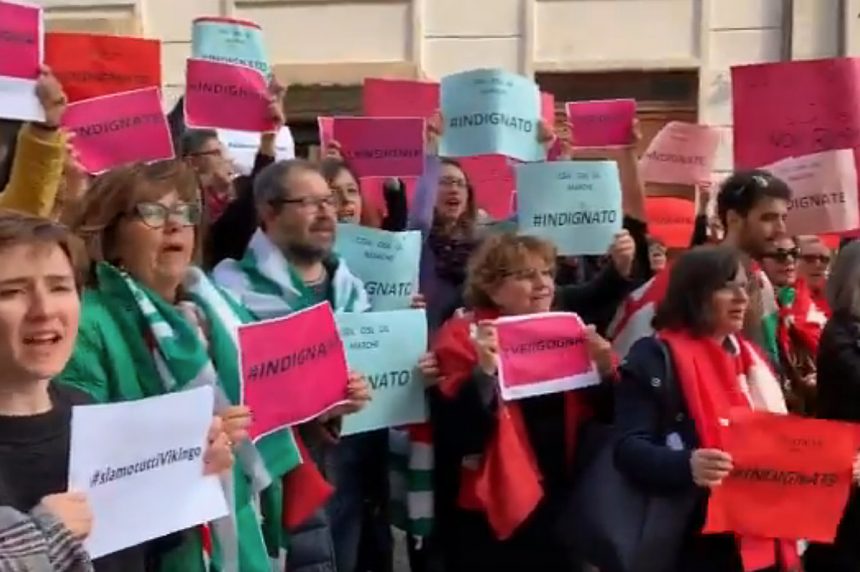 This is some cazzate.
A mob of protestors showed up to an Italian courthouse this week after two men were cleared of rape charges because the alleged victim was apparently deemed not attractive enough to rape. Yes, seriously.
The two men had originally been convicted of raping a then-22-year-old woman of Peruvian origin in 2015 by a court of first instance in 2016. But a year later, the accused rapists were acquitted by a group of all-female judges who felt the woman's story was not credible enough because she looked "too masculine" to be raped.
Related: Jussie Smollett Pleads Not Guilty To Lying To Police
The case was brought back to light this week after Italy's highest court of appeal ordered the lower court's ruling to be scrapped and the case retired.
In response, almost 200 people gathered in the town of Ancona to protest the decision:
Pendant ce temps-là, en Italie…

Un tribunal blanchit deux hommes accusés du viol d'une jeune femme, "trop masculine" pour être violée selon la cour d'appel. Un verdict qui scandalise plusieurs associations dans le pays. pic.twitter.com/4BexwoBm2G

— Brut FR (@brutofficiel) March 13, 2019
Chinzia Molinaro, the woman's lawyer, told The Guardian:
"It's shameful, but to get almost 200 people at the protest was a miracle for Italy. Fortunately, it shows that sensitivity towards such topics is becoming stronger."
The judges' arguments were reportedly based on a picture of the woman as well as the two men's claims that they were not attracted to her. Apparently proving his point, one of the defendants even allegedly had the woman's name in his phone under "Viking."
The woman's lawyer said she was disgusted by the court's decision, which is why she referred it to the Supreme Court of Cassation. She explained to the outlet:
"It was disgusting to read; the judges expressed various reasons for deciding to acquit them, but one was because the [defendants] said they didn't even like her because she was ugly. They also wrote that a photograph [of the woman] reflected this."
According to Molinaro, the alleged victim, who eventually left Ancona and moved back to Peru due to how badly she was ostracized for reporting the men, claimed her drink was spiked with drugs during a group outing at a bar after an evening class. She noted that doctors believed her injuries were "consistent with rape" and found a high level of benzodiazepines — which is said to be a popular "date-rape drug" — in her blood.
Related: R. Kelly's Ex-Girlfriend Claims He Beat Her With Extension Cord
We're all for innocent until proven guilty, but overturning a conviction based on the alleged victim's attractiveness is just absurd.
Sadly, accused sexual assaulters use this excuse ALL THE TIME…
Yeah, Trump just basically said that People writer Natasha Stoynoff is too ugly for him to sexually assault pic.twitter.com/xggNicNIcb

— Matthew Gertz (@MattGertz) October 13, 2016
And they get away with it.
The f*ck is wrong with people?!
Thankfully, the woman's case will be reheard by a court in Perugia, however, it's unclear if she'll appear in court.
[Image via Twitter]
Related Posts
CLICK CLICK CLICK Next Article
Mar 14, 2019 1:59pm PDT