SOURCE: Brad Pitt 'Isn't Thrilled' With Angelina Jolie Giving Their Kids The Movie Star Treatment!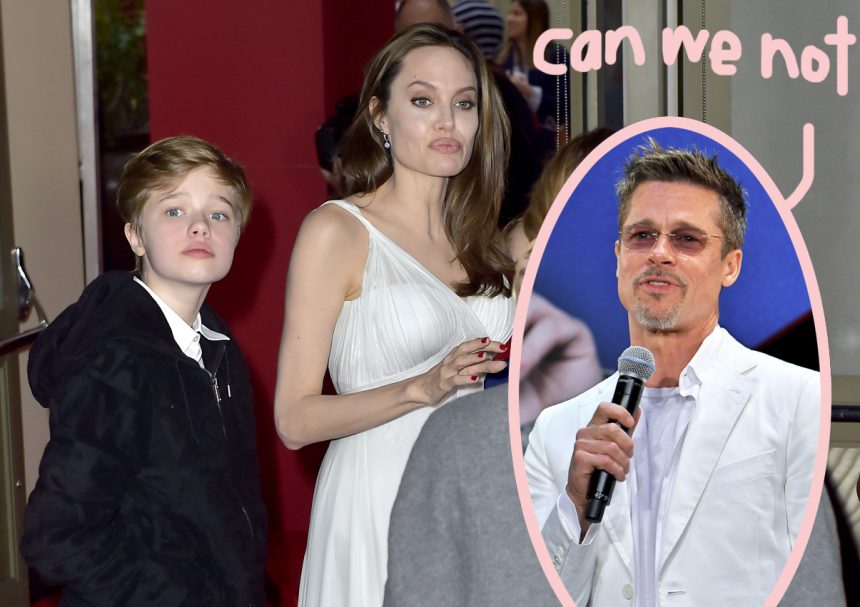 Every once in a while we get a little glimpse into the parenting clashes between Brad Pitt and Angelina Jolie.
No, we don't mean the hundred years war that is their neverending battle for custody — we mean the basic differences in child rearing between the two which leave them unable to agree on anything!
On Monday the star of Maleficent — and apparently still Maleficent 2 eventually — took advantage of her Disney family membership and attended the premiere of the live action Dumbo.
Video: Will Smith Is Blue (Da Ba Dee) In Full Trailer For Aladdin
And she brought along her kids, four of them anyway!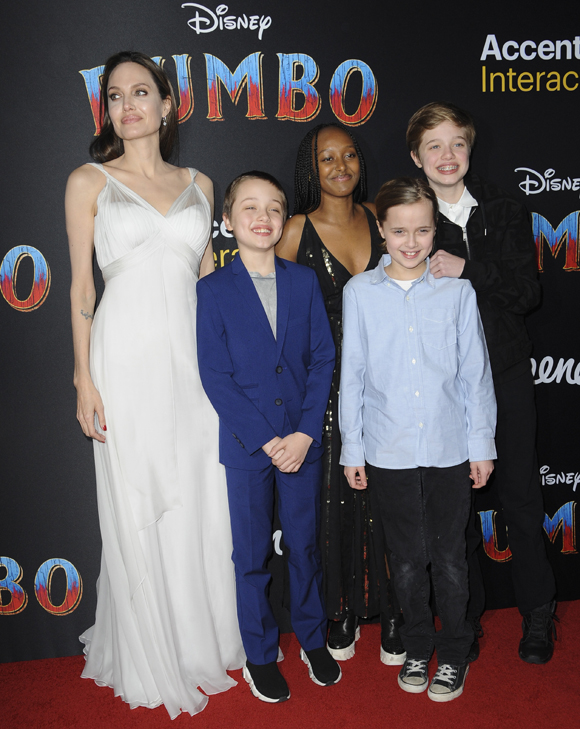 And this seems to be a regular family activity. Last month she also brought the Brangelina Brood to the premiere of Netflix's The Boy Who Harnessed The Wind.
It turns out Brad is apparently not a fan of exposing the children to that movie star life.
A source told Us Weekly :
"Brad isn't thrilled that Angie takes the kids to movie premieres, but it's not going to trigger any actions."
We certainly hope no "actions" will be "triggered" any time soon. After all, the ex couple were able to come to a temporary custody agreement last November.
Since then they've been working on making the peace more permanent. We'd hate to see something like this come between them.
After all, lots of actors take their kids to movie premieres. It's one of the perks for kids who like that sort of thing. Right??
That, according to the insider, is not how Brad sees it. They spilled:
"Angie has always chosen to be more public with the kids than Brad has."
Inneresting.
We seem to recall Brad had something of a fight with Maddox Jolie-Pitt over his desire to star in the film adaptation of comic book Battling Boy that Plan B is producing.
We wonder if that was the start of Brad's distaste for his kids getting into showbiz?
Strange considering how good the career has been to Brad, don't ya think??
Meanwhile they're already forced to endure some of the negative aspects of life as a movie star — like having parents who get stuck relocating for work for months at a time.
Right now Brad is in Europe doing location scouting and couldn't exactly bring the kids along for a family vacay.
The source explains:
"Brad must get Angie's approval before traveling with the kids, as she must get permission from him as well. Brad and Angie have been on better terms since the custody trial drama was settled. There are of course, going to continue to be disagreements between them."
We hope not too many — or at least not too serious.
Would you want YOUR kids to walk the red carpet at big movie premieres??
[Image via Dave Starbuck/Kento Nara/Future Image/WENN.]
Mar 15, 2019 5:38pm PDT