Angelina Jolie Stole The Show With Four Of Her Kids At The 'Dumbo' Premiere!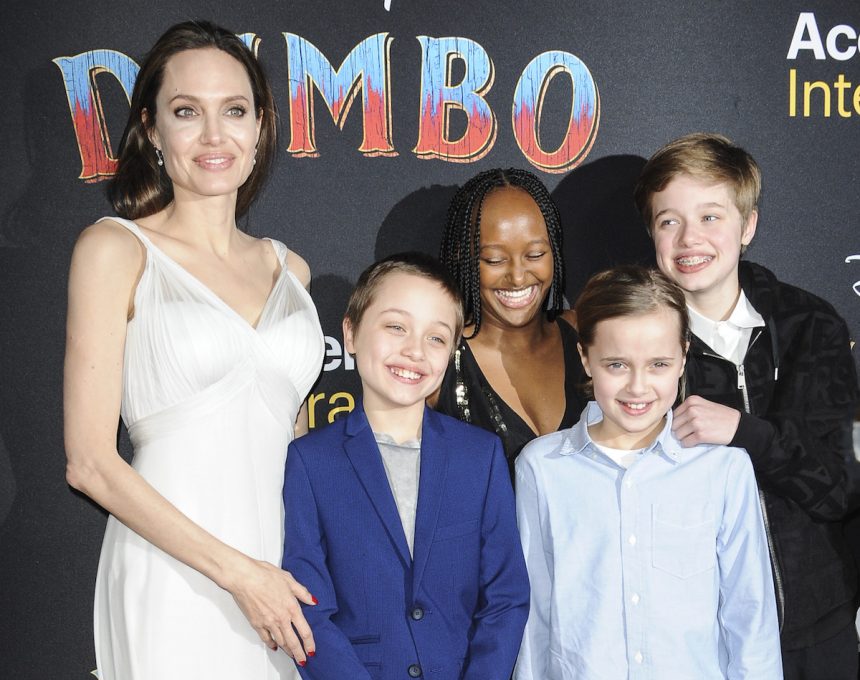 A flying elephant didn't steal the spotlight at this movie premiere… four kids did!
Angelina Jolie brought 2/3 of her brood to the premiere of Dumbo in El Lay on Monday at the El Capitan Theater, and they definitely had all heads turning!
Related: Angelina Jolie Spotted Selling Organic Dog Treats With Her Kids
In attendance with the 43-year-old actress were Knox Leon Jolie-Pitt,10, Zahara Marley Jolie-Pitt, 14, Vivienne Marcheline Jolie-Pitt,10, and Shiloh Nouvel Jolie-Pitt, 12. While sadly, Maddox Chivan Jolie-Pitt, 17, and Pax Thien Jolie-Pitt, 15, were noticeably missing from the family outing.
But this isn't the first red carpet appearance we've gotten from the Jolie-Pitt kids recently. In late February, we got TWO red carpet appearances from the normally camera-shy family, making for some extra special moments!
Although, we do wonder what's prompting all the recent red carpet appearances?
On February 21, Angie took her four oldest kids — Maddox, Pax, Zahara, and Shiloh — to the premiere of the documentary Serendipity in NYC at the Museum of Modern Art (see pics HERE).
The mom-of-six shared at the event:
"I'm honored to be here to support my dear friend, Prune Nourry, and to introduce a unique, brave and mesmerizing film. A tribute to the spirit of a woman, and a journey into the mind and soul of a true artist."
Just a few days later, all six of the kids attended a premiere of The Boy Who Harnessed the Wind at the Crosby Street Hotel in New York City (see photos HERE).
Related: Angelina Jolie Allegedly Told Son Pax Brad Pitt 'Never Wanted To Adopt Him'
And back in December, while appearing on BBC Radio 4's Today show, the Maleficent 2 star hinted at possible political aspirations, her role with the UN Refugee Agency, and her kids.
Revealing none of them are on social media yet, Jolie explained:
"There are certain realities to teenagers and also our generation doesn't understand half of what they are doing with their tech so they can get around us pretty easy. We're the last family that hasn't gone on Facebook!"
Crazy!!
We know 10-year-olds who are better at IG than we are, LOLz!!
Also missing from the Dumbo red carpet was estranged father Brad Pitt, who allegedly met with his soon-to-be ex-wife in early February for yet another heated discussion of their custody agreement. Hopefully there's little conflict left to discuss so everyone can focus on healing… no matter how sad we are about the split of Brangelina!
[Image via Apega/WENN.]
Related Posts
CLICK CLICK CLICK Next Article
Mar 12, 2019 10:46am PDT