Ariana Grande Gets Real With Fans About 'Terrifying' Effects Of PTSD By Showing Them Her Brain Scan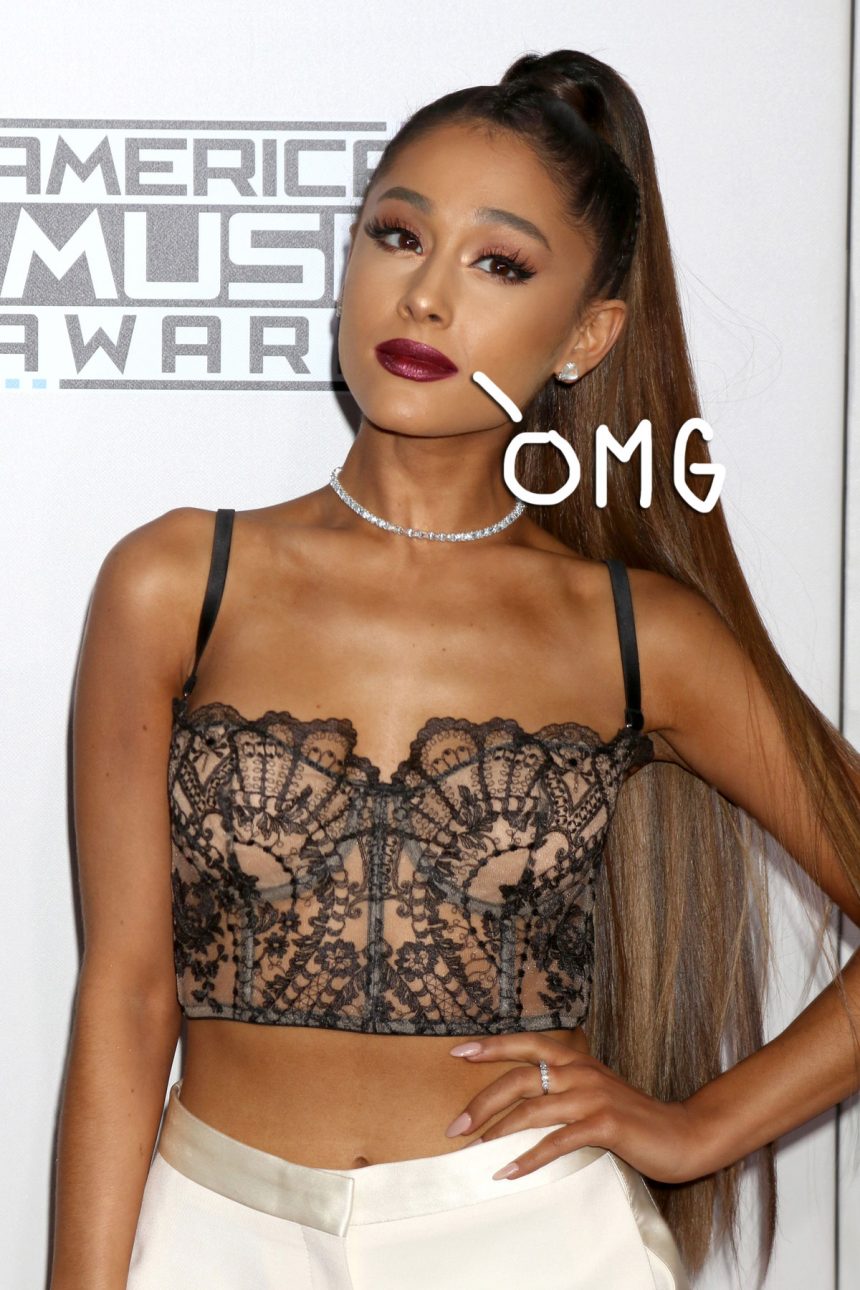 UPDATE! 2:19 P.M. PST: On Friday, Ariana released a statement on Instagram Story saying she "didn't mean to startle anyone" with her brain scan. The singer simply wanted to encourage fans to "listen to your bodies" and to "take care of yourselves."
She wrote:
"didn't mean to startle anyone with my brain thingy. it just blew me away. i found it informative and interesting and wanted to encourage y'all to make sure you check on your brains/listen to your bodies/take care of yourselves too. i love science and seeing the physical reality of what's going on in there was incredible to me. i mean i feel it all the time, but seeing it is totally different and super cool. someday, when i'm feeling ready or when i'm more healed up, we can talk more about it. i am constantly working on my health/learning how to process pain (aren't we all). everyday is different but i'm doing my best. jus know i will continue showing up and giving as much of my energy as i can and do my best even tho my brain looks like the world map. (that's why her hairs so big it's full of trauma…  k ariana, log off) love u."
As seen here: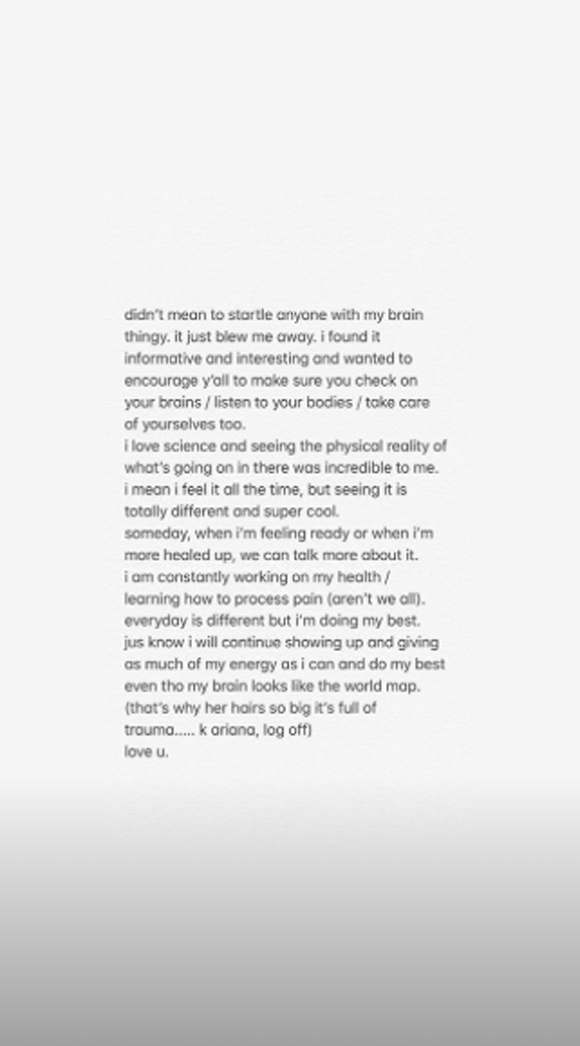 ———-
Ariana Grande is being open about her mental health issues nearly two years following the Manchester Arena bombing at her concert.
In an Instagram Story post on Thursday, the 25-year-old revealed a scan of her brain, showing the "terrifying" effects of PTSD.
Related: Ariana Grande Is Trademarking 'Thank U, Next'!
Captioning the screenshot with "not a joke," Ari displayed the difference between a "healthy brain" and "PTSD brain" with a large amount of highlighted areas. Then, there's her brain, which is almost completely lit up.
See (below):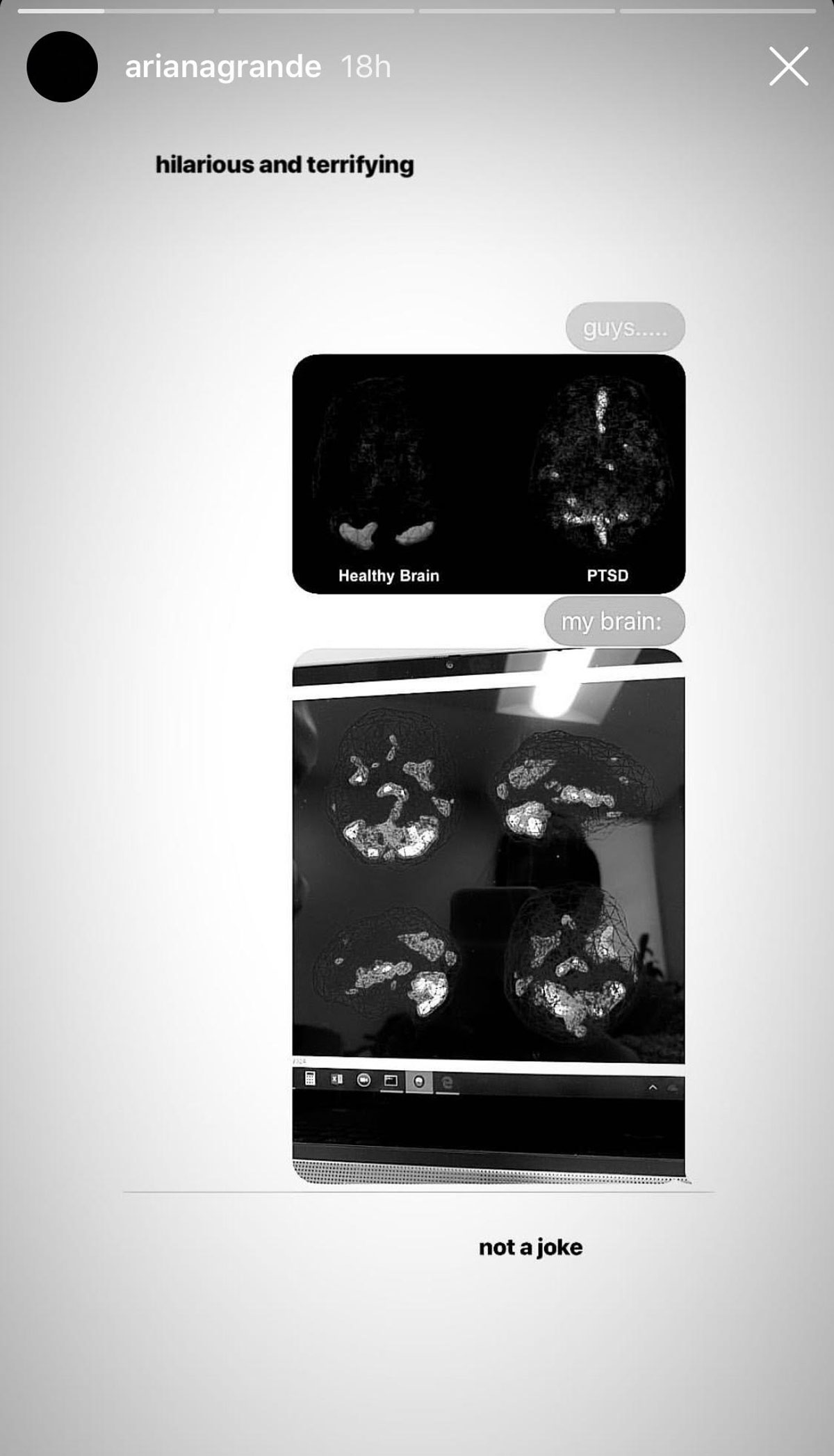 Wow. Trauma is no joke.
Grande didn't reveal more info behind her scans, but we're sure her fans and followers will be surprised to see the level she's suffering from.
And maybe it will remind any haters to show a little self-restraint before bullying others. You really never know what someone is truly going through, y'all!
In Ariana's case, the 7 Rings songstress did touch on how she's showing "signs of PTSD" following the tragic bombing in her July 2018 feature of British Vogue. Explaining how dizziness and anxiety are both parts of it, she said:
"I hate…yeah…admitting it but it very much is. That's what everyone was telling me. It's hard to talk about because so many people have suffered such severe, tremendous loss. But, yeah, it's a real thing. I know those families and my fans, and everyone there experienced a tremendous amount of it as well."
The young starlet continued at the time:
"Time is the biggest thing. I feel like I shouldn't even be talking about my own experience—like I shouldn't even say anything. I don't think I'll ever know how to talk about it and not cry."
As you may remember, a suicide bomber detonated an explosive device just as thousands were leaving an Ariana concert on May 22, 2017. It was reported 22 people were killed and over 500 injured.
Following the violent attack, she not only visited with victims in hospitals, but also oversaw the One Love Manchester benefit concert.
The singer is currently on tour for her Sweetener and thank u, next albums, so it's no wonder why she might be thinking back to her last tour.
It's been an emotional time for Grande too, as she continues to mourn the loss of her ex Mac Miller, who passed away from an accidental overdose this past September.
We're wishing her all the strength as she continues to open up and inspire her fans.
[Image via Nicky Nelson/WENN]
Apr 12, 2019 9:18am PDT