Sabrina Spellman Has Mo Powers, Mo Problems In First 'Chilling Adventures' Season 2 Trailer — Watch!
No more Miss Nice Witch! 
Netflix dropped the trailer for the Chilling Adventures of Sabrina Part 2 on Monday, and gave fans a heavy dose of the darker, badder Sabrina Spellman (Kiernan Shipka) that will take form in the upcoming batch of episodes.
As the trailer suggests, Sabrina will be dealing with a storm of challenges in the new season as she continues to wrestle with the good and evil aspects of her half-human-half-witch nature.
Aside from the romantic entanglements of an ordinary teenage girl (will she wind up with hot mortal Harvey Kinkle or hot warlock Nicholas Scratch!?), Sabrina has to battle forces of darkness that threaten her externally (the Dark Lord and Madame Satan are as deliciously evil as ever) and internally.
Related: Satanic Temple Settles Lawsuit Over 'Sabrina' Misappropriation
The official description for the upcoming season is as follows:
"Part 2 finds Sabrina exploring her darker side, curious to learn more about her heritage, while struggling to maintain her friendships in the mortal world. Romantically, Sabrina is caught in an unholy love triangle with between sexy warlock Nicholas Scratch and salt-of-the-Earth mortal Harvey Kinkle. Meanwhile, the Dark Lord, Madame Satan, and Father Blackwood continue to conjure chaos in the Spellman household and the town of Greendale. And they aren't the only ones trying to raise hell. Everything is in question … relationships, identity, true intentions … when the devil's work is at hand."
Based on the first look, it's safe to say Sabz will be having a blast experimenting with her darker side — which apparently comes with new powers like invisibility, levitation, and a heightened romantic appetite. (Yes, that's a power and don't let anyone tell you otherwise!)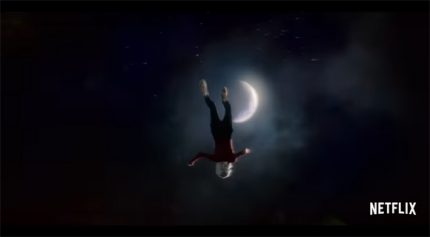 But, of course, these new, Satan-given powers come with a price. Will Sabrina have to sacrifice her good side now that she's signed her name in the Book of the Beast?
Maybe. But who says a witch can't do good by being bad?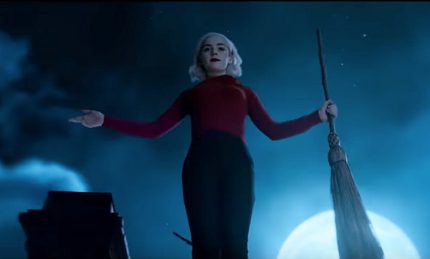 It's a complicated life Sabrina Spellman lives.
But Season 2 isn't just about classic coming-of-age themes like self-discovery and figuring out which outfit looks cute and practical for broomstick travel: there's plenty of blood, fires, and demon-slaughtering in store.
Ch-ch-check out the trailer (above) and keep an eye out for Chilling Adventures of Sabrina's new season, streaming on Netflix April 5.
The supernatural drama also stars Miranda Otto, Lucy Davis, Ross Lynch, Michelle Gomez, Chance Perdomo, Jaz Sinclair, Richard Coyle, Tati Gabrielle, Adeline Rudolph, Abigail Cowen, Lachlan Watson, and Gavin Leatherwood.
[Image via Netflix]
Mar 18, 2019 1:49pm PDT