Chrishell Stause has receipts.
Selling Sunset is undoubtedly one of Netflix's reality TV crown jewels — from the beautiful real estate, to all the cast drama — the streaming show definitely carves out an easy-to-follow narrative… But that may just be the issue.
In an angry Instagram Stories rant Saturday, Chrishell, who has starred in all seasons of the fan favorite, directly called out the show's producers, cryptically writing alongside numerous snake and trash can emojis:
"The way reality tv producers twist and manipulate things to create a narrative"
She then added, "Sucks to not be able to be proud of what you're working on," before tagging the IG account for Done and Done Productions, who is the driving force behind Selling Sunset.
Related: Chrishell Admits She's Only Sold Seven Houses — 'Sole Focus' Is Elsewhere!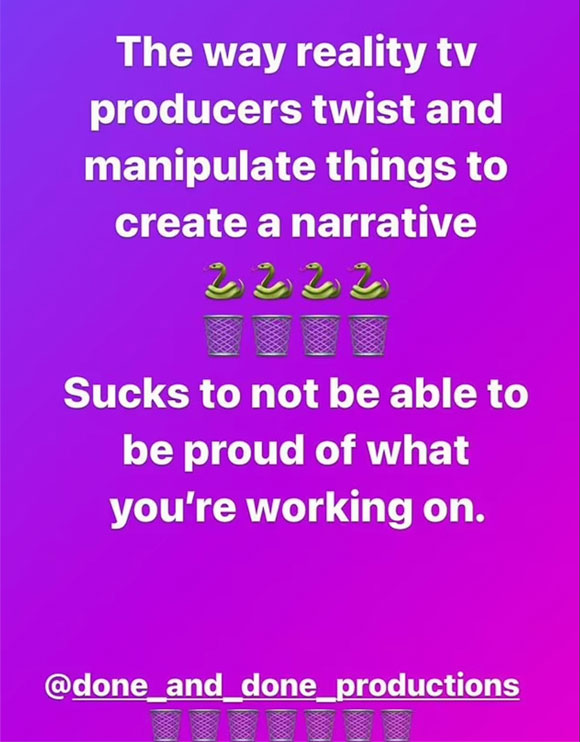 Yikes.
Then, in a follow-up Story post, the 41-year-old uploaded a GIF of a man frantically grabbing slips of paper in a glass box as a fan blows them around, which she captioned:
"Me collecting receipts for when the time comes @done_and_done_productions or scrap this fake narrative bc don't forget we have voices too"
She added:
"Viewers do NOT want manufactured drama."
The reality star boldly tagged executive producer Skyler Wakil, company founder Adam Divello, and producer Sundee Manusakis in the same post, according to Daily Mail.com.
WOW. It's not exactly clear if the former Days of Our Lives actress is referring to a specific instance of footage being manipulated, or if she's referring to the show overall, but something is very obviously not sitting right with her… And she's making it her mission to have the narrative corrected. Who knows exactly what "receipts" she has, but it's pretty daring to directly confront your producers and warn them to "scrap" the production!
As of now, none of the tagged producers have responded.
What we do know, is right now, Stause is busy filming season six of the binge-worthy show. You may remember back in August she took to the photo sharing platform to call out a co-star for acting "fake" on set:
"The thirst for camera time on season 6 is REAL. Wow. That was insanity. But also SO transparent. Get your 15mins girl but leave my business out of it."
Related: Andy Cohen Says VPR Fans Will Lose Their Minds Over This Weeks Episode!
She added in a follow-up:
"Screenshots have been archived for this very moment. Of COURSE you have a huge issue with me now — not before — when you have a camera crew around you. I hate fake . If you want camera time — JUST SAY THAT. I would have helped you get the right angle. But don't try to come for people I love or my business when you were added and I was there to hype you up excited for you."
One thing we're getting from all this: Chrishell keeps receipts! LOLz!
We'll just have to wait and see how it all unfolds when season six airs! Will YOU be tuning in, Perezcious readers? Let us know in the comments down below!
[Image via Netflix]
Related Posts
CLICK HERE TO COMMENT
Mar 14, 2023 09:20am PDT