Fans can rest easy: Jana Kramer and her husband Mike Caussin are still together despite Instagram behavior from the singer suggesting otherwise!
As we reported, the One Tree Hill alum sparked split speculation on Monday, December 30 when she shared a cryptic caption alongside a photo of herself, writing:
"2019. Ur coming to a very interesting end…and for now, all I have to say is… Time heals all wounds."
The 36-year-old further fueled the fire by removing "wife" from her Instagram bio and removing Caussin's name from the title of their podcast, Whine Down w/Jana Kramer and Michael Caussin, according to Us Weekly; however, she backtracked on both moves the following day.
Related: Jana & Mike Have Different Takes On Justin Timberlake's Hand-Holding Controversy!
Now, after days of fans being left in suspense, an Us source has come forward to reveal that the couple are sticking together and "working through" their issues.
The insider dished to the outlet:
"There are ups and downs with them, but they are working through it right now… Jana and Mike are looking towards a strong 2020."
Great to hear, because the Christmas in Louisiana star's social media behavior has been eyebrow-raising to say the least!
In addition to the aforementioned moves, Jana reportedly deleted one picture of the Caussin crew from December 2019.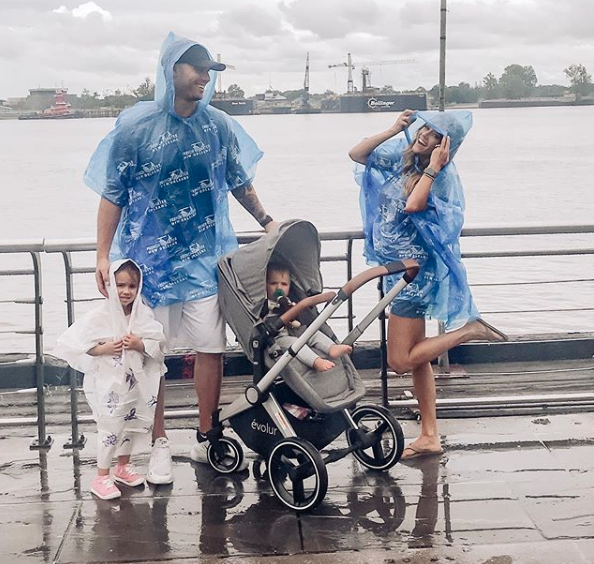 She wrote in the since-deleted caption:
"So…If I'm being honest…this photo isn't real life right now. Today was a tough couples therapy session. Nothing big happened, just a lot of feelings that were held in and damn did they come out today. So though it shows us smiling right now I wanted to be honest and say yup marriage can be hard and it takes a lot of hard work. And even after the tough session Mike and I said our I love you's because at the end of the day the love is always there."
It was also reported that the pair, who got hitched in 2015 and have had their share of rough patches, appeared to have spent New Year's Day apart, as Kramer was seen in multiple videos recorded in bed with her friend Sara Brice.
Related: Jana & Bethany Joy Lenz Reminisce About One Tree Hill's 'Very Divided Set'! 
That same day, Kramer shared another cryptic post on her IG Stories of text that read:
"She has been through hell. So believe when I say, fear her when she looks into a fire and smiles."
Next to the quote, she wrote:
"I love this so much!! #2020″
Sounds like she's ready to take on whatever this new decade throws at her. Let's hope Mike feels the same way!
Thoughts, Perezcious readers??
[Image via WENN]
Related Posts
CLICK HERE TO COMMENT
Jan 03, 2020 18:23pm PDT