So remember how Prince Andrew claimed he had cut ties with Jeffrey Epstein?
Of all the billionaire pedophile's high-profile contacts, Andrew has probably had the most exposure. He was, unlike the other powerful men in Epstein's orbit, explicitly accused of participating in the underage sex trafficking ring. Victim Virginia Roberts Giuffre has maintained for nearly a decade that Andrew had sex with her multiple times while she was being trafficked by Epstein, including when she was just 17 years old.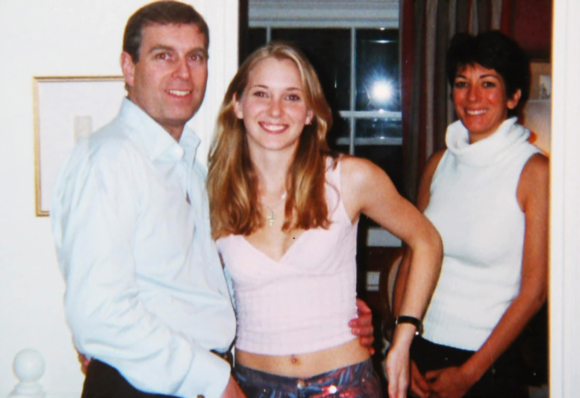 Andrew has maintained his innocence, trying to distance himself from his old friend ever since Epstein's trafficking arrest and subsequent suspicious death. He even claimed he had cut ties with his old pal.
He couldn't deny hanging out with Epstein after his first run-in with the law back in 2006 — when the billionaire was given that infamous sweetheart plea deal where he only had to plead guilty to solicitation of prostitution with a 14-year-old girl while all his potential accomplices got immunity. You'd think one would want to distance themselves at that point, as that's gross enough, even disregarding the much worse accusations that accompanied the slap on the wrist punishment. But Andrew was seen walking in NYC with Epstein in 2010 — and was even photographed in the front door of Epstein's Upper East Side mansion, where he was staying the night.
Related: Epstein's Private Calendar Reveals Meetings With MORE Political Figures!
Andrew claimed that visit was specifically a mission to cut ties. Because, you know, you can't break up with a friend on the phone. Even one who admitted to having sex with an underage girl and was accused of trafficking many more. That requires a transatlantic flight and a sleepover.
In his disastrous BBC Newsnight interview, Emily Maitlis asked him point-blank whether he'd spoken to Epstein after that trip, and he said, "No." Not that anyone was super convinced by Andrew's denials at the time, but new evidence is calling him into question even more.
Sus prison hanging or no, the investigation into the late sex trafficker continues. And his emails reportedly show he was still talking about his pal Prince Andrew in 2011 — a year after they were supposedly dunzo.
The new info was released as part of the ongoing court case between the US Virgin Islands and JP Morgan — each is accusing the other of being complicit in the trafficking. In the August 31, 2011 emails, Epstein uses his old friend Prince Andrew as an example of an investor in one of his projects.
Spencer Kuvin, an attorney for some of Epstein's victims, told The Mirror over the weekend:
"It appears that either Epstein was highly overselling his relationship with Prince Andrew or that the duke may not have been entirely truthful about when his friendship ended."
An alleged victim, who wished not to be named, complained to the outlet:
"The emails raise serious questions. Why would Jeffrey be lauding him as an investor if he was no longer in contact? It makes no sense. Many of the claims the prince made to the BBC were at best questionable but the release of Jeffrey's emails makes his answers more unbelievable."
The new evidence has renewed calls for Andrew to speak to the FBI, something he's been able to avoid thus far… somehow… The victim added:
"He needs to talk once and for all to the FBI, as he has been asked to. There are people still who have not been brought to justice who aided Jeffrey. We will never give up."
Hell yeah, they shouldn't. You don't have a sex trafficking ring without men being trafficked to. Every one of the them should be exposed. American, Brit, Republican, Democrat. Every effing one.
What do YOU think of Andrew being able to avoid an interview with the feds??
[Image via BBC/WENN/Florida Department Of Law Enforcement.]
Related Posts
CLICK HERE TO COMMENT
Jun 05, 2023 12:53pm PDT