It doesn't look like Joe Giudice is going to get out of prison any time soon…
The Real Housewives of New Jersey husband has been ordered to stay locked up behind bars while his deportation case plays out. A judge ruled on Friday that Teresa Giudice's husband must stay behind bars at an ICE detention facility where he's been locked up since March, when he was first released from prison.
Related: Donald Trump Hasn't Seen Joe's Pardon Request!
Per TMZ, Joe appears to have petitioned the court earlier this month in an appearance via video conference where he asked the judge to release him on his own recognizance pending the appeal of his deportation. Now that things haven't gone his way, though, it's clear the reality TV husband's family is devastated by the news.
James Leonard Jr., the family attorney, spoke to the media outlet about the outcome of this week's decision, saying (below):
"We are absolutely devastated. Our system of justice has failed this family. We are now at the mercy of the Third Circuit Court of Appeals. God willing they will return this man home to his four daughters."
Wow.
And just as Leonard notes in that quote, there is still a chance that an appeals court could come through and grant (at least some temporary) freedom to Teresa's man.
A Tough Couple Years…
Obviously, things haven't exactly gone Joe's way for a few years now. The New Jersey resident served a 41-month sentence in prison for conspiracy to commit wire and bank fraud immediately after his beloved wife served her own shorter sentence on the same charges, ripping both of them from their family at the time. And now, even though Joe has done his time, the fact that he's not a native-born American has put his status in the country into question.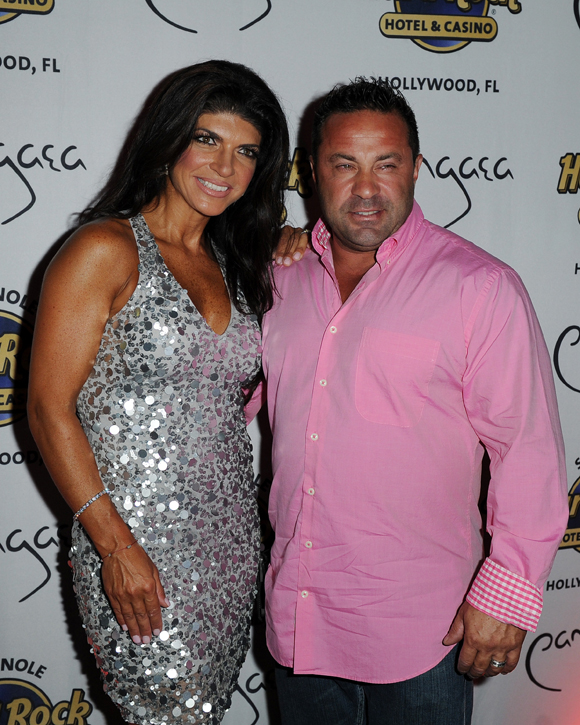 For now, pretty much all he can do is wait to see how this deportation case plays out. There's a chance he won't be sent back to Italy, and will be allowed to stay in America, but there's always a risk that he may have to go, too. And for Teresa and the kids, that would be a major lifestyle change, to say the least. Of course, judging by Teresa's recent comments, she may not stick around for all that, anyways!
Related: At Least Joe Gets To Stay In America — For Now…
What do U think of all this legal drama, Perezcious readers?!
Definitely not an ideal situation for Joe and the fam… Sound OFF (below) with all of your comments and thoughts about what might be ahead.
[Image via WENN]
Related Posts
CLICK HERE TO COMMENT
Sep 21, 2019 08:48am PDT