Twitter Is HERE For Jordyn Woods' 'Red Table Talk' Tea & Khloe Kardashian's Reaction!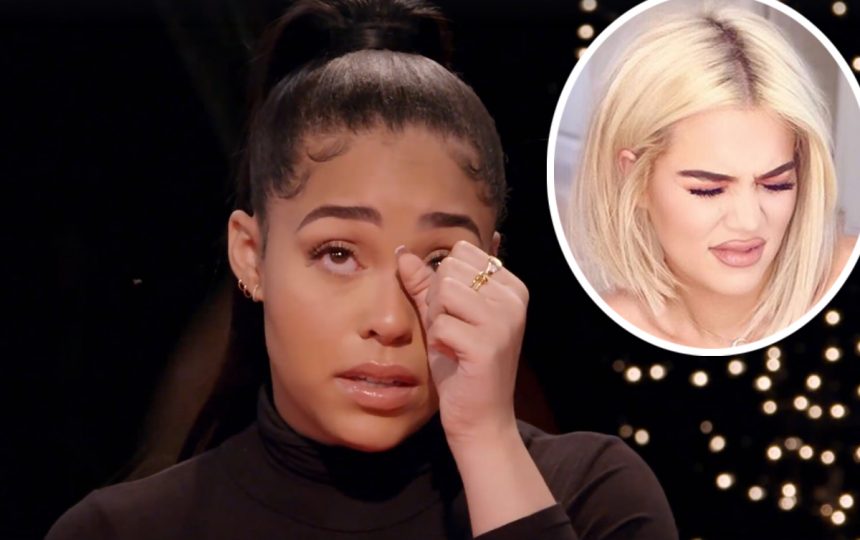 HOOOOOLLLY S**T!
We all knew Jordyn Woods' interview on Jada Pinkett Smith's Red Table Talk was going to be explosive, but we had no idea she'd deny the entire affair AND THEN Khloe Kardashian would accuse her of lying about it!
Too much scolding tea, if we're being 100% honest — and Twitter was lapping. It. Up!
Related: Travis Scott's Rep Addresses Kylie Jenner Cheating Allegations
Check out all the reactions (below)!
me trying to meet my deadline at work while watching/tweeting about the #JordynWoods interview on #RedTableTalk pic.twitter.com/KYNaEybipL

— A.J. (@ajhisnandez) March 1, 2019
Me tryna figure out how "Three families are in turmoil" when this didn't even involve the Smith's until they inserted themselves into this situation #Redtabletalk @khloekardashian @jordynwoods #JordynWoods pic.twitter.com/0e5EJngZNW

— Brittany Wilson (@ringgoldmom) March 1, 2019
Jordyn Woods actually expects us to believe ​the Kardashians/Jenners completely cut her out of their lives after 20 years of friendship, out of all their businesses, and out of their house because she was just innocently chillen at Tristan's house party?​ #RedTableTalk pic.twitter.com/igIhmPJH2Q

— jackie (@foxyj1986) March 1, 2019
Say what you want, I honestly felt she was being honest. Her only mistake was not telling the truth right then and there. #JordynWoods #RedTableTalk pic.twitter.com/6FvO75bDTM

— Tania Perez (@taniahprz) March 1, 2019
I love how fiercely Will and Jada have protected Jordyn through this entire fiasco. Says a lot about their character. You can still love someone who has done wrong….as long as they own up to it. A true apology is changed behavior. #RedTableTalk pic.twitter.com/ZQ4f32A0Nx

— Makho Ndlovu (@makhondlovu) March 1, 2019
Me trying to draw up a mental floor plan of the chair/couch/chair/arm-of-couch #RedTableTalk pic.twitter.com/FLfErSCvrp

— chrissy b (@xtinebianx) March 1, 2019
jordyn: i don't think i'm the reason their family broke up

khloe: pic.twitter.com/t2EhEXvm7q

— Kamar (@marbrandon_) March 1, 2019
Me at work keeping up with the Khloe and Jordyn Woods debacle. pic.twitter.com/FkEheQWdbz

— Eric Perry (@EricpNBC12) March 1, 2019
Many tea-seekers shared their thoughts on Khloe's reaction to the sit-down — in which she claimed in a tweet that Jordyn was "lying" and the "reason [her] family broke up" — arguing that the real culprit here is alleged serial cheater, Tristan Thompson:
Us trying to get Khloe to be honest with herself after she said Jordyn is the reason her family breaking up #redtabletalk pic.twitter.com/126KiANzUl

— XOXO Gossip Girl (@mediagirl_za) March 1, 2019
Khloe is full of shit. Jordyn Woods didn't break up her fucking family. Tristan Thompson did. That man has been cheating on her since during her pregnancy. Jordyn apologized. Khloe needs check him. Period.

— 💋 (@MJFinesseLover) March 1, 2019
Tristan Thompson after he seeing Khloe blame Jordyn Woods instead of him.

— 😭🦂👑 (@__CRAIGGG__) March 1, 2019
So… Jordyn Woods gets kissed by Tristan Thompson without consent, Khloe Kardashian (being the bird that she is), bashes Jordyn for it, and Tristan barely gets any backlash. So Jordyn Woods got sexually harassed AND got bashed for it? Whew, the misogyny. pic.twitter.com/VuhUCtiBrb

— Steven (@BrownSunGod) March 1, 2019
In the end, more than a few fans had Jordyn's back:
jordyn woods once this contrived saga is done and she can capitalize on her newfound marketability that's distinct from kardashian brand pic.twitter.com/7PZIhCGGgV

— Steadman™ (@AsteadWesley) March 1, 2019
Khloe Kardashian is mad at Jordyn Woods for "breaking up their family"? That's RICH comin from Khloe b/c she did the same thing to get Tristan in the 1st place. The same way you get 'em is the same way you lose 'em. What goes around comes around & karma is a b*tch🤷🏾‍♂️#RedTableTalk pic.twitter.com/I1s6ieOYJ7

— KOFIMANIA (@willyonce99) March 1, 2019
The kardashians throwing ex-best Freinds under the bus for money…

Blac chyna,
Amber rose,
Justine Skye,
Jordyn woods…

Issa pattern. pic.twitter.com/LVtiyN3YAT

— Regretti Paige (@PaigeChristieUK) March 1, 2019
But others thought she was playing the victim a little too dramatically:
Jordyn Woods playing the race card pic.twitter.com/oXAdLlbrUp

— Tresor Mbuyi (@T_Mbuyi) March 1, 2019
Me watching Jordyn woods on the red table talk pic.twitter.com/hJp0ovlNPi

— ʟօɨֆ🌹 (@gaihwayas) March 1, 2019
What was your reaction to all this drama??
[Image via Facebook Watch/Instagram]
Mar 1, 2019 10:39am PDT