Kat Von D Addresses The Nazi & Anti-Vax Rumors In New Video — But Twitter Isn't Thrilled With Her Response!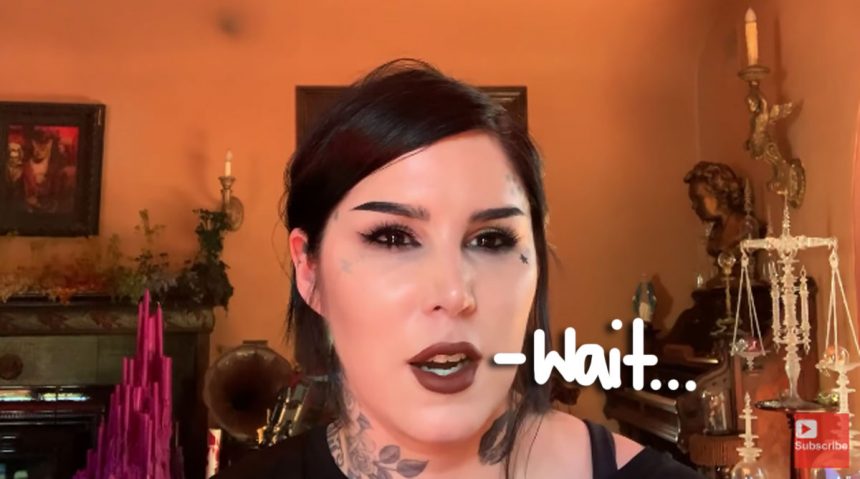 Kat Von D is sick and tired of her and her family being called Nazis, so she's clearing the air!
In a YouTube video that went live on Thursday, the tattoo artist announced she wanted to address claims that she's anti-Semitic and an anti-vaxxer.
Related: Kat Von D Reveals She Had 2 Miscarriages Before Welcoming Son Leafar
For those who have been following Kat's career, you'll know that these rumors have been following her around, with word of her being a Nazi sympathizer coming out nearly nine years ago!
So, it only made sense she started her 11-minute post saying:
"Just to set the record straight from the beginning, I am not anti-Semitic and I am not an anti-vaxxer."
The momma of one went on about how "hurtful" it has been to be labeled a Nazi, explaining:
"Out of every comment that I've gotten, the ones that are calling me and my family Nazis are the ones that don't sit well with me. I mean if anything, they're extremely offensive and just super hurtful. Not just to me, but to my family."
Per the makeup mogul's account, she blames the rumors on a "threatened" male Miami Ink costar, who she says would sexually harass and even assaulted her on the set of their TLC reality show.
Related: Kat Gets Backlash Over New Eyeliner Name — Hits Back With Rant Of Her Own
Adding that the network offered her own spin-off — LA Ink — after she quit the original show over the "hazing," the 37-year-old continued how "paranoid" the unnamed cast member became:
"He thought he could cancel my show by going to the network and showing this 8 x 10 with a forged anti-Semitic message on it… He ended up following through with this threat and went to the media with this forged 8 x 10… Overnight, I was just falsely branded as an anti-Semite… I remember the network's publicist told me to just stay quiet and let it go away."
Von D continued that TLC stood by her, recognizing it wasn't her handwriting, but that didn't change how she felt about the accusations:
"It was really hard to have people out there in the world believe that something that wasn't true. And eventually, I just broke and I went onto MySpace because it was the MySpace days, and I ended up writing a blog and truthfully denying it. But other than that, nobody really knew the truth and I had never really talked about it or told my side of the story… I just can't keep letting other people write this narrative that's so inaccurate… The last thing I'll say about this topic is, yes, I probably should have talked about this back when it was happening, but in all honesty, I did not have the support I have now."
When switching to talking about her son with the same name as husband Leafar, Kat revealed she was a bit skeptical after reading the ingredients in vaccinations.
"I am not an anti-vaxxer. What I am is a first-time mother. I am one of those moms that reads everything. Anything that is going in my baby or on my baby, I research like a complete and total nerd. After doing a bunch of research and reading the ingredients, naturally I experienced some hesitancy."
Interestingly enough though, the entrepreneur didn't reveal whether she and her husband had decided to have Leafar vaccinated:
"Since then, we have decided as parents, to consult with our pediatrician and just let him educated us and guide us. I've learned my lesson and I'm choosing not to make our decision, or any of our baby's health records, public."
You can watch her video in full (below):
Her controversial brand, Kat Von D Beauty, has since taken to Instagram Story on Thursday to share their support for their founder: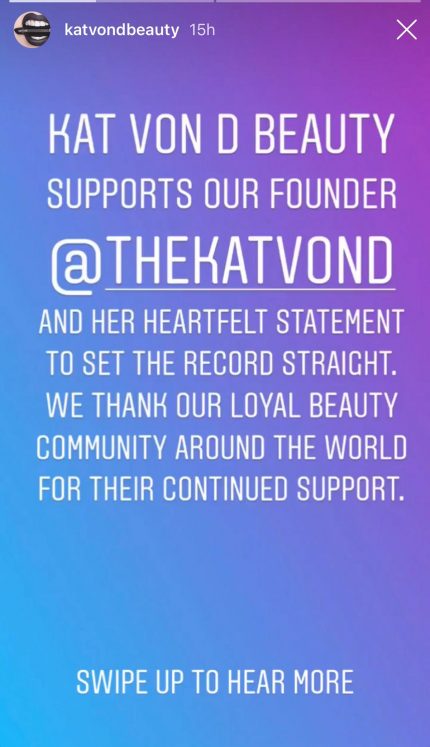 Other reactions on Twitter have been less kind. Take a look:
Kat Von D telling her audience she's Latina as support for why she's not anti semitic is laughable.

— Emmy Lou (@EmilyASandler) March 14, 2019
Towards the end of her video Kat von d's eyeliner transferred onto her lid like a disease to an unvaxxed child pic.twitter.com/rrvQu3NADB

— SimSim 🧜‍♀️ (@jaevla_klisje) March 14, 2019
kat von d's apology video just made me dislike her even more, she didnt address all the nazi "art" her husbands made & started her defense with "im latina" lol just bc ur a racial minority doesn't mean ur not anti-semitic, & she basically said shes still anti-vax lmao what a joke

— natalie (@natippo15) March 14, 2019
So if #katvond isn't anti-Semitic… why has she been in relationships with multiple men who have a history of anti-semitism?? Whether or not the photo was forged is completely irrelevant. Who she chooses to associate with speaks volumes about her.

— spillthetea (@ggspillthetea) March 14, 2019
@KATVONDbeauty OHHH so you mean you regret telling everyone that you didn't plan to vaccinate your kid because it caused such an uproar. Pockets feeling a bit empty? Not an antivaxxer but still don't plan to vaccinate. Sure. Ok. Got it. #katvond #antivaxxer

— JennaHarris (@jhairesss) March 14, 2019
Kat Von D deleted this post but now she's saying she's not an anti vaxxer in a video she posted…. wtf??? pic.twitter.com/rvQn2sQRyJ

— brynne (@BrynneMaghan) March 14, 2019
What do U think about the controversy?? Sound OFF in the comments (below)!
[Image via Kat Von D/YouTube.]
Mar 15, 2019 6:02pm PDT