Kim Zolciak-Biermann is as un-bought and un-bothered as they come, y'all!
The Don't Be Tardy reality TV star is taking heat on Instagram (yet again) after posting a pic of her five-year-old daughter Kaia Biermann in full glam makeup, ready for what appears to be an as-yet-unreleased interview for the hit Bravo show. And with it… out came the mommy shamers, ready to blast Kim with every comment!
Related: Kim Caught Up In Lawsuit Over $200K Credit Card Bill!
So, here's where it all started.
On Monday, the 41-year-old posted this pic of her youngest girl on Insta, immediately drawing attention both good and bad from fans and followers (below):
"Picture of the screen," Kim captioned the pic, alluding to it being shot from an upcoming interview for a future episode of her popular reality show, before she rhetorically asked her daughter, "how are you 5 already?"
Awww! Very cute! It seems like just yesterday Kaia was getting into all kinds of toddler shenanigans!
But here comes the hate…
Unfortunately for Kim, this isn't where the story ends!
Commenters hopped out of the woodwork on this one — just like they always seem to — and were ready to call out the RHOA alum for her role in letting the little one don so much makeup on the show.
Related: Brielle Says The Whole Fam Got Kicked Off A Delta Flight! Uh-Oh!
"She's adorable but she doesn't need to be so made up," one commenter ranted. "And yes, she's wearing makeup, please do not try to say she isn't! It is unnecessary because she's such a cutie!!"
When a second commenter accused Zolciak-Biermann of letting her daughter wear eyeliner for the onscreen moment, the star jumped into the fray, writing back with a simple message (below):
"Sweetie stop reaching."
LOLz!!!
Other commenters asked whether Kaia was sporting hair extensions, to which Kim responded, "now that's funny!" Getting in there and mixing it up a little bit with the mommy shamers… honestly, kind of loving it!!!
But far and away, the most critical comments flying in came around from those calling out the girl's makeup!
"WHY does this 5 yr old have make up on," one commenter asked, exasperated. Another chimed in, too, adding, "zero need for make up when they are 5. She has natural beauty."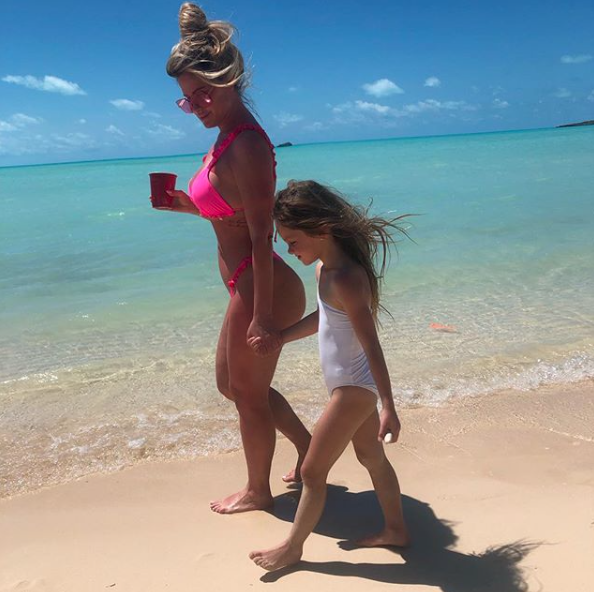 Of course, Kim continued to remain un-bothered through it all, only choosing to respond to a few of the nastier comments and moving along with her day; she later posted a pic promoting a product launch for her lipstick collection. A business woman's gotta get back to work, after all!
Well there you have it, Perezcious readers. What do U think about this latest little brouhaha over Kim's parenting??
Are you with some of the commenters — should young girls not be wearing makeup like that?? Or is this all much ado about nothing, and Kim ought to be given some breathing room?!
Sound OFF with your opinions about the whole situation in the comments (below)…
[Image via WENN]
Related Posts
CLICK HERE TO COMMENT
Sep 24, 2019 10:36am PDT