Sorry, WHAT?! We've heard some WILD new couple rumors lately, also from DeuxMoi. But this one is HUGE… if true…
According to multiple sources spilling to the gossip page, Kylie Jenner and Timothee Chalamet are an item! Not only that, they've secretly been together for MONTHS! One source told the feed:
"Anon pls!! Multiple sources have told me that Timmy C has a new girl…Kylie Jenner"
Followed by sources confirming, teasing they were going to Coachella together, and even that they'd spent New Year's Eve together in Aspen!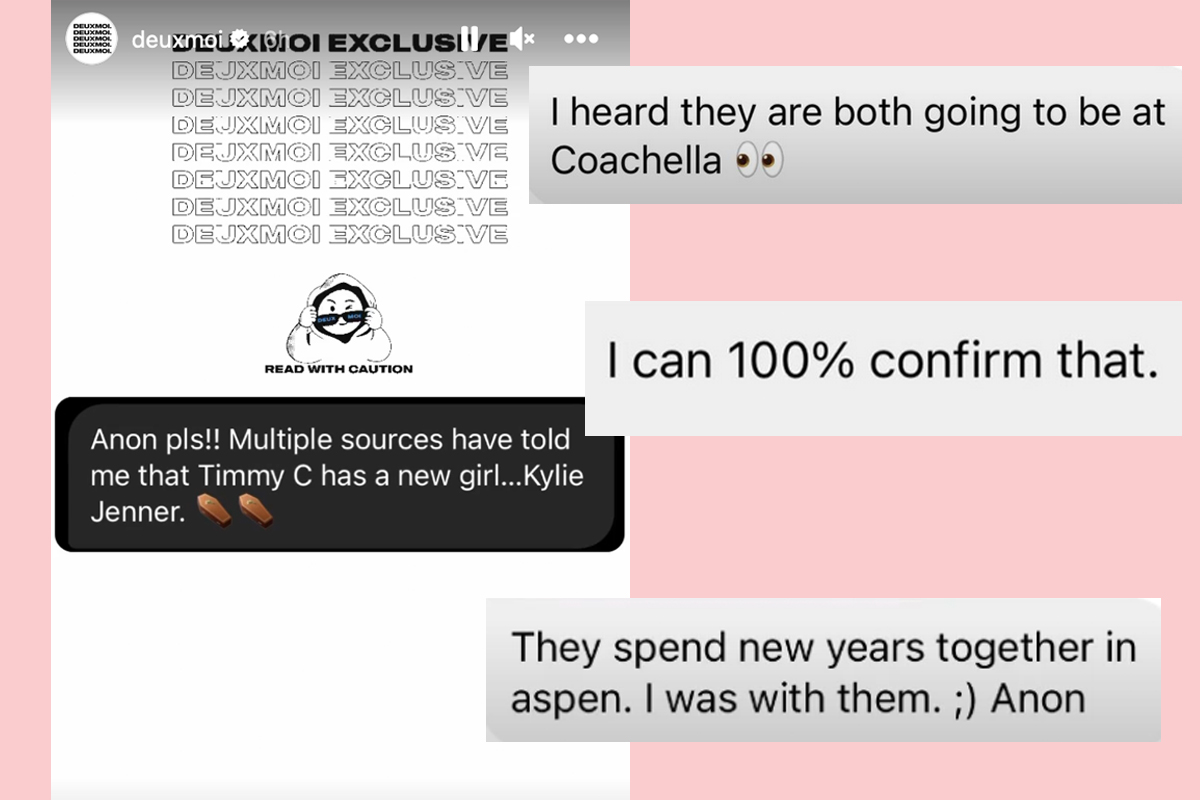 That means they've been together over 3 months already! And yet ANOTHER confidant corroborated that claim!
Whoa, what?? Is this REAL???? There certainly seem to be a lot of whispers all of a sudden. But how did we not hear about this before? If there are so many folks who knew about it who are willing to message DeuxMoi? Hmm…
Were friends worried about how Kylie's ex Travis Scott would take it? We mean, he has been kinda flirting with his baby momma on social media lately. And some in their inner circle thought they might get back together. This rumor kind of throws a Call Me By Your Name-shaped wrench in those plans…
Related: Kardashians In Financial Trouble? Over A HUNDRED MILLION In Home Loan Debt??
Obviously neither Kylie nor Timmy's reps have said anything about this, otherwise it'd be a whole different story. And despite all the messages she's getting, DeuxMoi employed her "Read With Caution" GIF on the story, so it seems even she isn't sure if she's buying the Bones and All indie babygirl hooking up with a billionaire reality star and beauty mogul. It is an odd coupling, that's for sure.
Whether it's real or not, the rumor certainly has fans SHOOK! Many took to Twitter to express their disbelief:
"first kendall and bad bunny now timothee chalamet and kylie jenner, the kardashians are going to cause the fall of stan twitter"

"Kylie Jenner and Timothee Chalamet dating is even more random than Kendall and Benito?!?!?"

"ain't no way timmy is dating kylie Jenner"

"The only kylie x timmy scenario that makes sense is if she hired him to dress up as willy wonka for stormi's chocolate factory themed bday like let's bfr"

"Kylie and Timmy don't make sense in my head but i would wanna see it play out"

"I'm sorry but TIMMY and KYLIE absolutely not NOPE NOPE NOPE I REJECT THIS FULLY"
Timmy and Kylie…. pic.twitter.com/F3na9ijIIq

— ⪽mily (@culturedemily) April 6, 2023
Live reaction of me reading the Timothée Chalamet and Kylie Jenner news pic.twitter.com/v2AZOveWGn

— Kate (@thekate_gatsby) April 6, 2023
TIMMY IS DATING KYLIE JENNER?!!! pic.twitter.com/AGL10a9KCy

— Salma (@chronicallysal) April 6, 2023
this can't be true, timmy and kylie????
pic.twitter.com/z5oCh0muNz

— meg (@chalamegs) April 6, 2023
What do YOU think of new rumor??
[Image via MEGA/WENN/Kylie Jenner/Instagram.]
Related Posts
CLICK HERE TO COMMENT
Apr 06, 2023 17:26pm PDT