Travis Scott is laying on the charm — but is his ex Kylie Jenner feeling it?
Either the Highest in the Room rapper was in his feels, or his and Kylie's relationship post-breakup relationship is just THAT good, because he didn't hold back from letting the 25-year-old know how he felt about her in the comments section of a recent upload.
Related: Travis Accused Of Assault Sound Engineer — Over Nightclub's Volume??
As we reported Sunday, in a series of promotional photos uploaded to the official Kylie Cosmetics Instagram account, Travy took to the comments to call the mother of his two children "a beauty." See the post, which shows a behind the scenes look at her new KYLASH mascara shoot (below):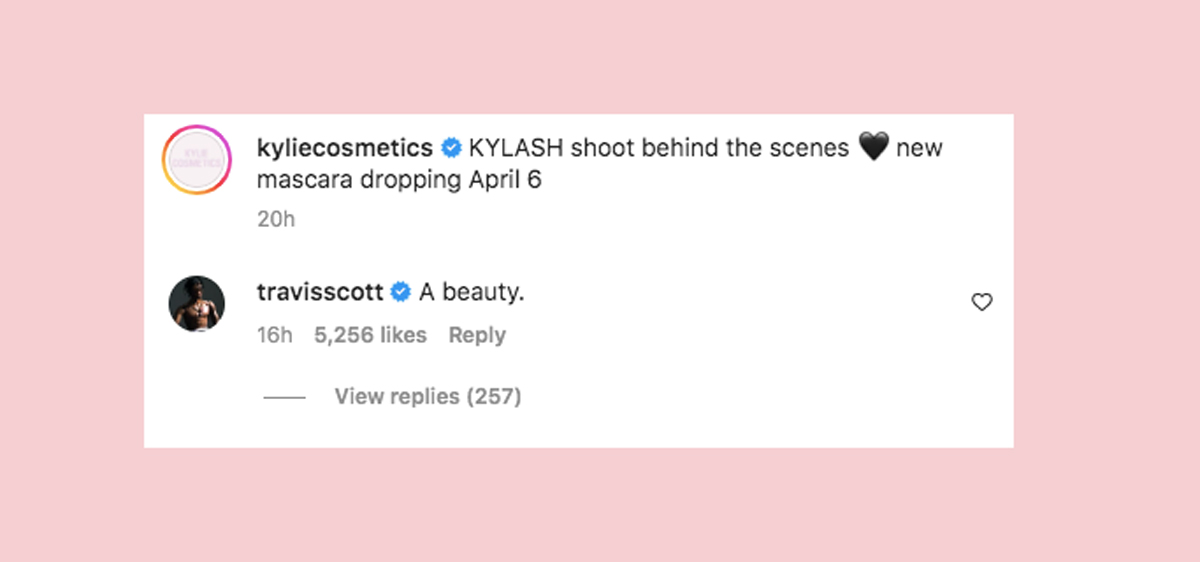 He's certainly not wrong!
And the 31-year-old's comment apparently didn't go unnoticed, as a source close to The Kardashians star told Us Weekly Tuesday Kylie not only saw it — she was into it!
"Kylie thought it was really sweet of Travis to show his support for her in such a public way."
But is it a hint of more to come? A little rekindling? Not necessarily. The insider noted: 
"That's just who Travis is though. Even when they were a couple, he was never shy about showing big displays of affection and love."
Awww. We're glad that even in the face of a breakup, they've still got each other's backs. And are really looking at one another's fronts!
Related: Kylie's Favorite Sis 'Right Now' Is Kim Kardashian As The Two Deal With Difficult Breakups
This, of course, all comes after the former couple's split a couple months ago — but even if the makeup mogul may be "doing her own thing," she and the Sicko Mode artist still have a lot of love. The insider added: 
"Even though they're not together, they have an amazing bond and are still best friends. They have an open line of communication and a remarkable coparenting relationship.They've always made sure their kids know that they're both there for them at all times and that will never change. Everybody knows that Kylie and Travis have had their ups and downs over the years, but they have deep respect and admiration for each other no matter what."
We love to see it! As you know, Ky and Trav share 5-year-old Stormi, and 1-year-old Aire. It's so important they be on the same page for co-parenting!
But don't expect any of the love to turn back into fire! A confidant told the same outlet last month:
"[Kylie] has no idea what the future holds, but right now she doesn't see any type of a reconciliation. At the end of the day, the only thing that matters to Kylie is what's best for her kids, period. She knows Travis is an amazing father and that's the only thing that she cares about."
No chance of reconciliation? Welllllll, her friends "aren't so convinced" — they "wouldn't be surprised at all if they got back together again at some point" — like they have in the past.
Was Travis' comment the first step? It definitely seems like Kylie is more receptive than she claimed to be before. We'll just have to wait and see! Let us know all your thoughts in the comments down below.
[Images via Kylie Jenner & GQ/YouTube]
Related Posts
CLICK HERE TO COMMENT
Apr 05, 2023 10:57am PDT