Meghan Markle has had nonstop drama in her life ever since she stepped onto the international stage as the girlfriend of one of the most eligible bachelors in the world.
But not all the stress has come from the decision to marry Prince Harry.
Some she brought with her, some she arguably caused…
And all this controversy didn't stop when she got pregnant either; if anything, it's grown along with the Royal baby!
Get the whole story broken down into kid-sized tidbits (below)!
Before
Prince Harry caused quite a stir when he began dating an American TV actress.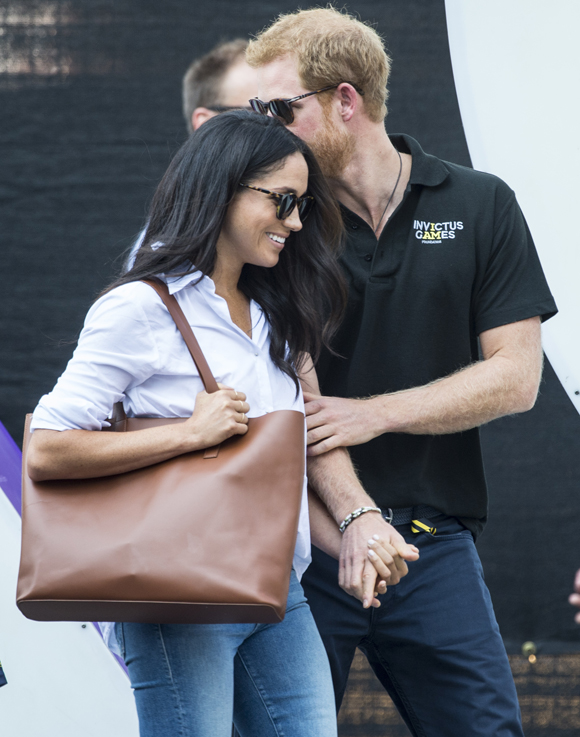 But the graceful Suits star quickly won over the world, so when the couple announced their engagement, the news was greeted mostly with love from all over.
The two had an absolutely stunning, star-studded Royal Wedding in May of 2018, and it was just perfect.
Or was it? Put a pin in that… a hairpin, right by the tiara in fact…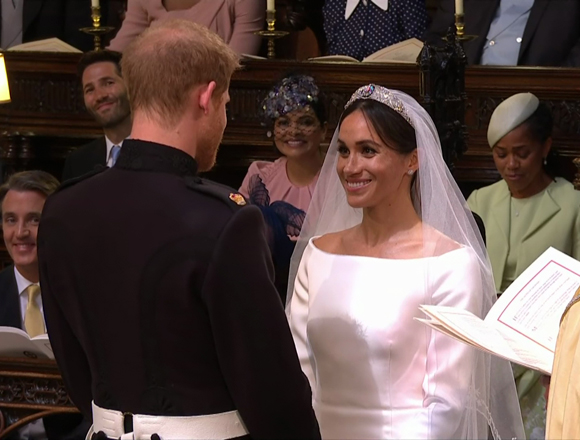 Like most young newlyweds, they only got to celebrate for five minutes total after their nuptials…
No Pressure
Right away Meghan and Harry got hit with questions about when they would have kids. And their potential Royal baby wouldn't even be an heir to the throne! (Not with a realistic expectation of ascending in any case.)
Everyone went wild with speculation anyway. When would it happen? How many? What sex?
(That last question is a doozy; innerestingly, if the Duke and Duchess happen to only have daughters, those girls will not inherit their title — and some other far-off male relative will become the new Duke of Sussex. That is some Sussexism right there.)
The public even began bugging them to their faces about when they were going to be starting their family.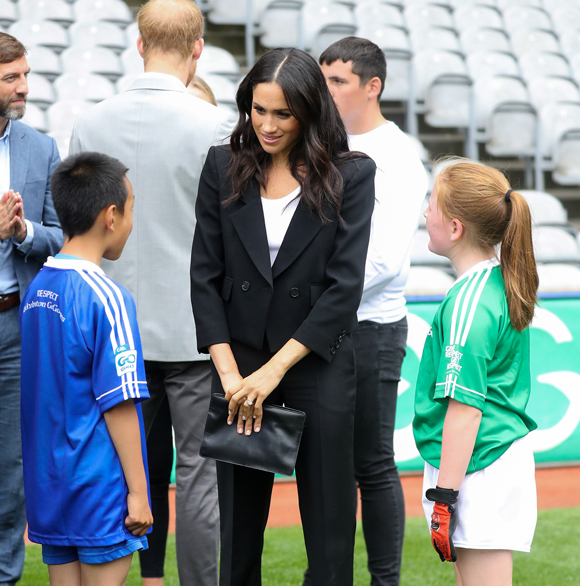 So to say there was pressure would be a bit of an understatement.
But it didn't take long for them to answer everyone's big questions…
A Royal Announcement
In October 2018, the pregnancy speculation hit a fever pitch as the Royal couple made a brief public appearance in Australia, and Meghan covered her tummy with a purple binder.
Flimsy evidence of a baby bump cover up, right? We mean, surely the Duchess of Sussex didn't use the same strategy to cover her pregnancy news that a student does to hide a boner, right?
Actually, yes. This time the conspiracy theories were right!!!
The next day Kensington Palace made the announcement on Twitter: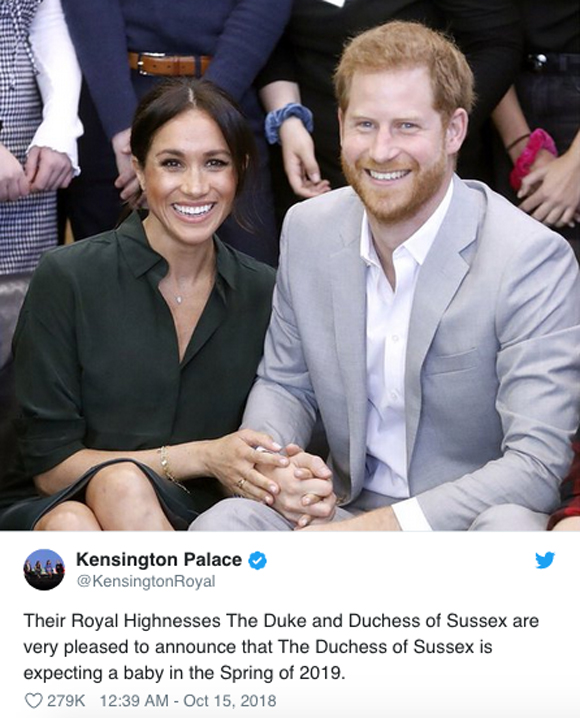 Amazing news, right?
"Spring of 2019" means that kid was conceived around July — considering they wed in May, one would hope that would be fast enough to sate the British public's appetite for news of another Royal baby.
All good, no drama whatsoever.
But the public announcement was the second one. The first announcement was more intimate — and more ill-mannered.
Let's rewind three days…
Toast & Tea
On October 12, Princess Eugenie of York got married to Jack Brooksbank.
Naturally, the entire Royal fam was in attendance, including newest addition Meghan Markle.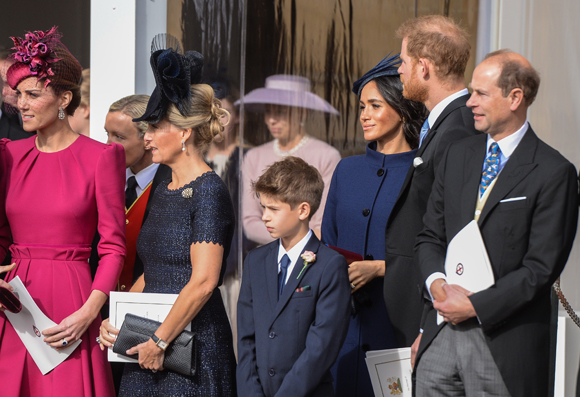 According to multiple sources, it was during the wedding party Meghan chose to make her big announcement to family.
If you're thinking that's kind of a rude move, considering it's supposed to be the bride's big day, you're not alone; a poll found the majority of Perezcious readers agree with you!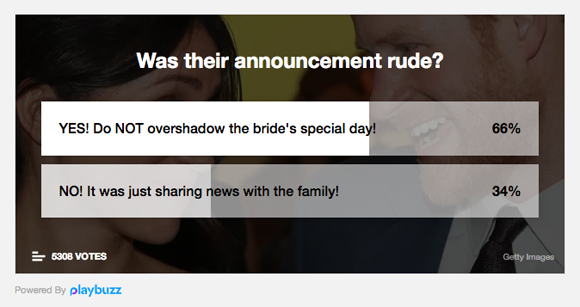 So how is it Meghan wouldn't know this?
It's not like that salad fork thing, this is basic etiquette here.
Well, she probably did. It may have been on purpose as a sort of Royal revenge.
See the beautiful tiara Eugenie is wearing at her ceremony?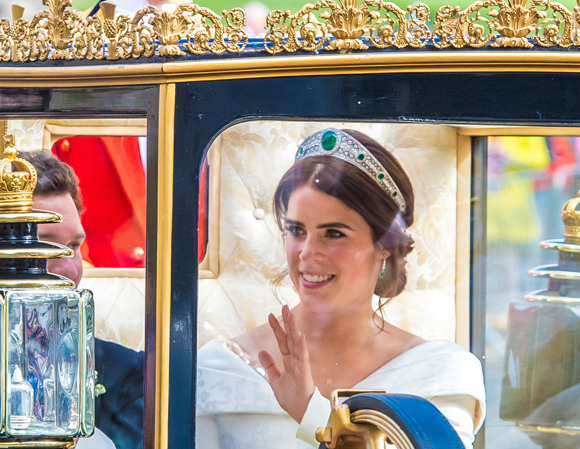 Rumor has it Meghan wanted to wear that one for her wedding — and the Queen said NO! And when she found out Eugenie got to wear her coveted crown, the grapevine went wild with speculation that the Duchess of Sussex decided to steal her new cousin's spotlight with a baby announcement.
Of course, if it really was that premeditated she would have had to purposely gotten pregnant at the exact right time, with a window of only a few weeks.
If she really did all that… that is some downright sociopathic scheming. Could she really be capable of that? Or did she just seize the moment?
Either way, yet another occasion which should be pure joy, instead marred by NONSTOP DRAMA!
Family Matters
Of course, not all the drama is Meghan's doing.
Her estranged family back home in the States seems to have made it their jobs to make all us Yankee commoners look bad.
Her half-sister Samantha Grant changed her name to Samantha Markle when sis got famous and has not been out of the spotlight since, constantly criticizing how the new Duchess treats her family.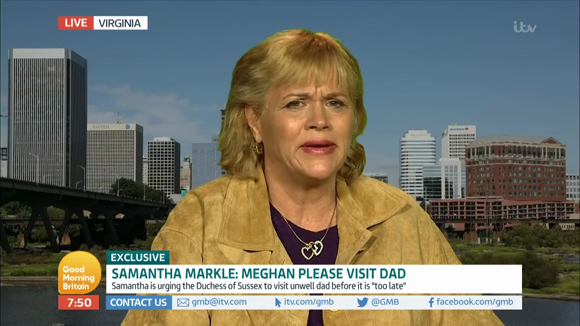 Huh. So hard to see why she'd want to get away from such warm folks…
If you thought that would stop once Meghan was preggers, you don't know this family.
Meg's father, Thomas Markle, immediately began making demands to see his grandchild, saying he had as much right to be in the baby's life as Prince Charles.
When Meghan wrote a letter to her poppa begging him to stop speaking to the press, he responded… by giving that letter to a news outlet.
He even reportedly sought legal help in forcing his daughter's hand.
Man, if she doesn't want to see you, suing her isn't going to help matters.
[Note: This wisdom applies to all aspects of life.]
The Kate Feud
Meghan is a commoner recently married to a Prince of England and now pregnant with a Royal baby.
One person really stands out as an obvious ally for her, one of the only people alive who's been in the same position — who also happens to be a brand new in-law.
Yep, she should totally be getting all the help she can from Kate Middleton.
https://giphy.com/gifs/will-kate-middleton-mnR4CBXxGwlAQ
After all, Kate makes the "Duchess of Cambridge" and future queen consort gig look easy now, but before she happened to fall in love with Prince William she was just another commoner like Meghan. The two should be peas in a pod.
Unfortunately, that's not what we've been hearing.
According to the scuttlebutt out of Royal sewing circles, Meghan and Kate have had something of a relationship we'd call contentious at best.
Or as one source politely put it, they "are definitely not best friends." (So stealing that one.)
The two have very publicly tried to put on a face of reconciliation, though we're not sure how much is sincere.
One thing we know for sure: what should be a source of help and understanding is yet another stress point for Meghan.
Queen of Thorns
Obviously all this would be easier if Meghan had a strong ally in the house.
Like, say, the Queen of England.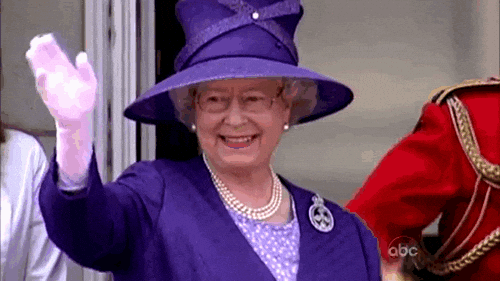 But from what we've heard the Duchess and her new g-maw-in-law have done nothing but butt crowns.
Obviously there's the situation with the tiara but there have also reportedly been clashes over other rules Meghan has had trouble with, such as choice of pants and voice of political opinions.
Since the pregnancy, the rough edges seem to have smoothed somewhat, at least. The Queen even gave the expectant parents the gift of a new home.
Though that is a gift horse you may want to look in the mouth first…
A Royal Haunting
One more addition to the stress? Meghan and Harry may be days away from starring in a horror movie!
Yes, the home Queen Elizabeth II gifted to the Duke and Duchess of Sussex is Frogmore Cottage, an enormous estate which happens to share grounds with the Royal Cemetery and the Royal Mausoleum.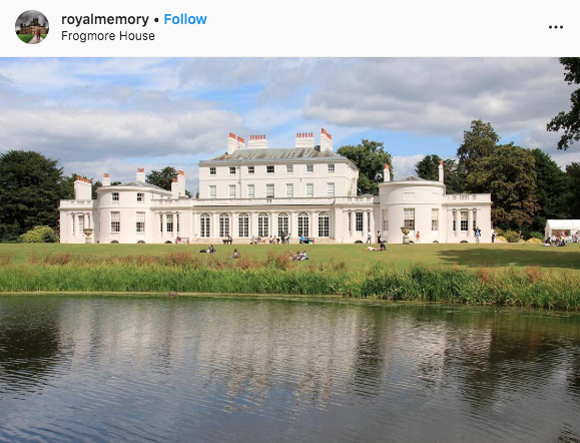 The couple are moving in as soon as the renovations, which include a gender neutral nursery, are complete.
We obviously don't know for sure it's haunted by deceased kings and baronesses and such, but if Meghan hears a voice that says "Would you be so kind as to GET OUT" we think she should heed the warning.
(Also, OMG, the Hallmark Channel should DEF make this movie!)
Only Natural
So what is Meghan doing to deal with her stress?
Well, it doesn't help she's dead set on a natural birth. We know that would stress us out! LOLz!
But she's convinced she can handle it, and she has some techniques planned.
One thing we've heard is acupuncture, which a source says has been helping throughout the pregnancy:
"Meghan has been having regular acupuncture sessions to help her unwind and relax. It's brilliant for the blood circulation and boosting blood flow to the uterus. She plans to use acupuncture right up to her due date."
Would those needles calm you down? Or make you even more stressed??
https://giphy.com/gifs/season-episode-shield-uR7uBDCe67kSQ
The other method she's trying is hypnobirthing, which is pretty much exactly what it sounds like.
The yoga-loving actress is using a technique to visualize her relaxation despite all the pain of childbirth.
And hey, if it's worked on everything leading up to it, it should do the trick on the day, right?
Papa Prince
And of course, she still has one of the greatest guys in the world in her corner.
https://giphy.com/gifs/michelle-obama-prince-harry-harrygifset-8kGKnUVRuOVtC
From everything we've heard, Prince Harry has perpetually been supportive for Meghan, especially when it comes to staying happy and healthy while carrying their child.
Mostly he's making sure she's not working too hard, which is apparently her biggest bad habit.
Do YOU think Prince Harry will make a good daddy??
[Image via John Rainford/WENN.]
Related Posts
CLICK HERE TO COMMENT
Apr 02, 2019 12:01pm PDT