Miley Cyrus Gets Choked Up Honoring Janice Freeman At 'The Voice' Contestant's Memorial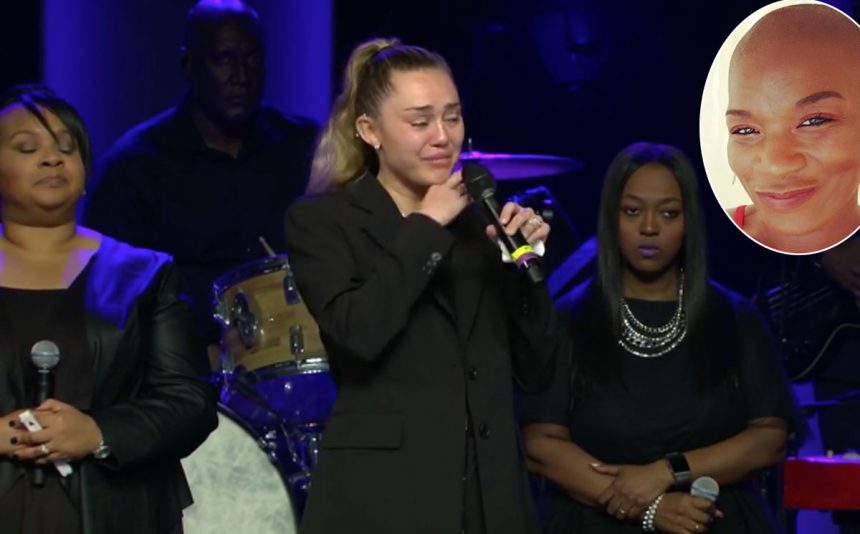 Miley Cyrus is still mourning the loss of The Voice contestant Janice Freeman, who passed away earlier this month from pneumonia and a blood clot.
She was only 33.
Related: Miley Cyrus Confirms Wedding To Liam Hemsworth!
Attending the celebration of life ceremony held in Freeman's honor on Monday, the pop star was visibly emotional as she took the stage with dad Billy Ray Cyrus to honor her friend. Getting choked-up by tears, Miley told those in the audience:
"Before we sing this song for Janice, I just want to clear up a rumor. I was never her coach, ever. She was always mine."
And she continued about her Team Miley contestant:
"I've learned more from her than anyone that I've ever gotten the honor to be in the room with, not just vocally — I should've gotten more lessons than I did — but she taught me everything that I know about love."
While Liam Hemsworth's other half was originally planning on paying tribute to her friend by singing a solo rendition of Amazing Grace at the memorial, which was streamed on Facebook, the 26-year-old explained she was too emotional to sing alone.
"And, to be here, and I had planned on singing a song for her, but just losing her is just too much for me. So my dad's gonna take care of this for me."
The songstress added:
"But, I'll always be your sister, I'm here for you, and I'm here for your family, and Janice I'll miss you more than I could ever say."
The young Cyrus did eventually join her father singing before finishing out the song solo.
You can watch the performance, along with the beautiful memorial in its entirety (below):
For those not familiar with Miley and Janice's close relationship, only a couple of months before her tragic passing, the reality TV star revealed the A-lister had helped secure her and her family housing. She shared in a tweet:
"Thank you ALL but she found us placement until we found permanent housing, gave me the deposit, covered me for 6 months so I can get on my feet! @MileyCyrus you are one of my closest friends and what you did for me and my family Im praying GOD gives you the desire of your heart!"
See (below).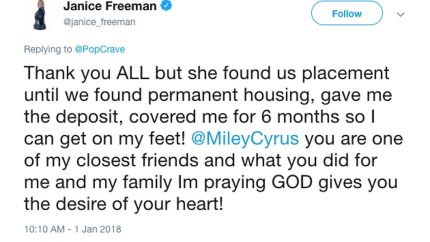 Heartbreakingly, it was only two months later that she passed away.
Janice's rep confirmed the singer's passing at the time, saying:
"We are heartbroken to report that Janice Marie Freeman passed away on March 2, 2019 from an extreme case of pneumonia and a blood clot that traveled to her heart," the statement read. "While at home her husband Dion performed CPR until the ambulance arrived. She passed away at a local hospital shortly after."
The statement continued:
"A survivor and fighter, and a beautiful force in this world, Janice gained notoriety through her success on NBC's The Voice as a member of Miley Cyrus' team. Her story inspired fans nationwide, having successfully battled cervical cancer and living her life to the fullest while fighting lupus. Her friends and family greatly appreciate your prayers, calls, and texts during this time, and ask that they be given space to remember everything that Janice was to them as they process and mourn her loss."
Our thoughts continue to be with Freeman's family and loved ones during this difficult time.
[Image via Janice Freeman/Facebook & Instagram]
Mar 19, 2019 6:59am PDT