Desiigner is seeking mental health help after allegedly doing some pretty unsavory things on an international flight.
The 25-year-old rapper is pumping the brakes on his career to address his mental health, which according to him, hasn't been great for "the past few months." In a Thursday Instagram Story post, he cryptically shared:
"For the past few months i have not been ok, and i have been struggling to come to terms with what is going on. While overseas for a concert i performed at, i had to be admitted in to a hospital, i was not thinking clearly. They gave me meds, and i had to hop on a plane home."
Related: Southwest Passenger Deplaned After Throwing Tantrum Over Crying Baby!
He reluctantly continued:
"I am ashamed of my actions that happened on that plane."
While he chose to not specify exactly what went down, insiders told TMZ the same day that while on the flight back to the US after touring in Tokyo and Thailand, the Panda artist allegedly exposed himself to an unsuspecting flight attendant.
Um… WHAT??
The source added that when the international flight landed in Minneapolis, Minnesota, the rapper was met with law enforcement and taken into custody for questioning. He was later released.
We can't imagine what went through his mind to make him think inappropriately exposing himself was EVER okay — but multiple outlets say the medication could have caused some sort of chemical imbalance. He added in his IG post:
"I landed back to the states, and am admitting my self in a facility to help me. I will be cancelling all of my shows and any obligations until further notice."
Related: All Charges Against Alec Baldwin In Rust Shooting To Be Dropped
While this whole situation is completely unacceptable, we're glad to hear him taking accountability and making the necessary strides to nurse his slipping mental state. The AMEN artist signed off:
"Mental health is real guys, please pray for me. If your [sic] not feeling like yourself please get help."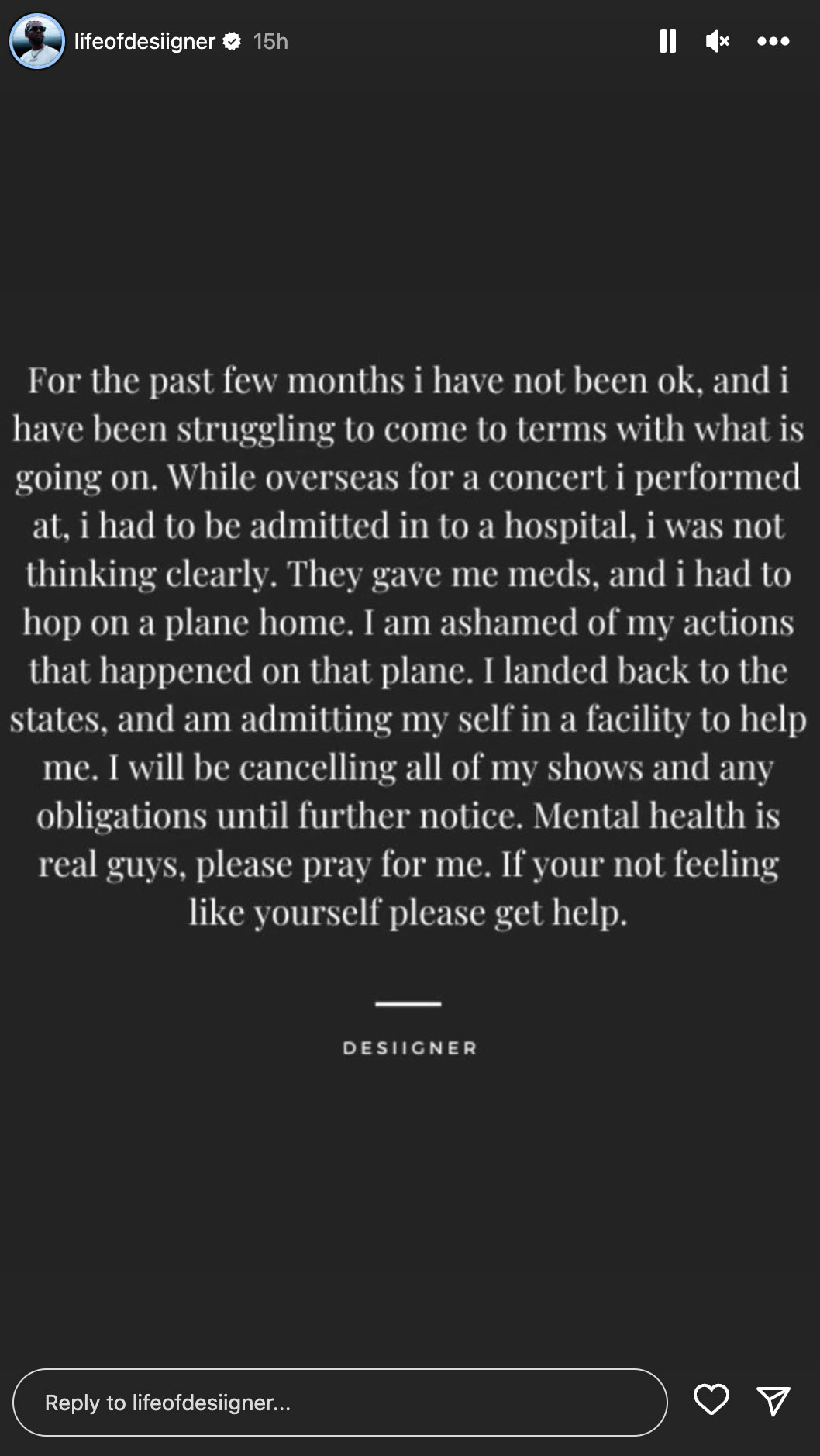 Page Six reported that no charges were filed against the rapper, whose real name is Sidney Royel Selby III. We really do hope he gets the help he needs to help clear his mind from things that should be SO obviously wrong.
This whole situation reminds us of the Antonio Brown scandal last year, where the NFL star exposed himself in front of a woman at the Armani Hotel Dubai. At the time, he denied any real accountability, but months later was kicked off Snapchat after posting footage of his baby momma "performing oral sex in bed."
What are these men thinking??
Reactions, Perezcious readers? Sound OFF in the comments down below.
[Image via MEGA/WENN]
Related Posts
CLICK HERE TO COMMENT
Apr 21, 2023 10:10am PDT