Veteran pro football wide receiver Antonio Brown has been booted from Snapchat — apparently after posting images that showed Chelsie Kyriss, the mother of his four children, in a sexually explicit act.
The controversial NFL star had his account suspended on the social media app early on Tuesday. The ban came hours after he posted photos that seemed to show his ex-partner "performing oral sex in bed," according to DailyMail.com.
That outlet claims Brown's post was "deleted prior to a report that Snapchat suspended his account." However, the photos had already been making the rounds on other social media sites on Tuesday morning. And even though the social media company nixed the former Tampa Bay Buccaneers star's account early on, the damage has been done. One of the most insidious aspects about revenge porn is that it's nearly impossible to wipe things from the internet once they're out there.
Related: High School Employee 'Inadvertently' Emailed Nude Photos To Entire Student Body!
It's unclear why Brown would have thought it would be OK to post those images in the first place. But it's very understandable that Kyriss — who is mom to AB's four kids — is seriously unhappy about it. Later on Tuesday morning, before Brown's Snapchat account was suspended, Kyriss spoke to TMZ about the situation.
Clearly frustrated, the mother said:
"I have reported his page and all pictures. Unfortunately Snapchat is allowing him to repost. I am very sorry for any of your kids that follow him and used to look at him as a role model. I do not condone these actions as you are aware I have kids involved as well."
Ugh.
TMZ further noted that Chelsie went on to say she has "repeatedly" asked AB to keep their former relationship "out of the public eye," but he has "refused." Seriously, AB?! Come on, man…
A little more than an hour after Kyriss was quoted by that media outlet, Snapchat's parent company Snap Inc. released their own announcement to the news org, as well. In their statement, a spokesperson said the tech company is "very well aware" of the wide receiver's posts. The spokesperson added:
"Snapchat's Community Guidelines prohibit sexually explicit content and bullying or harassment of any kind."
And with that, Brown's account was gone.
Related: 'Romeo & Juliet' Stars SUE Over Infamous Underage Nude Scene!
Not long after the Snapchat scandal first broke, Brown took to his verified Twitter account to post a series of head-scratching messages. They don't specifically reference the Snapchat fiasco, but they are confusing and noteworthy all the same.
As you can see (below), the tweets include quotes claiming "what more can I SAY NOW," and "Don't play with me, Play Football," to go along with a concerning reference to Brown's possible mental state: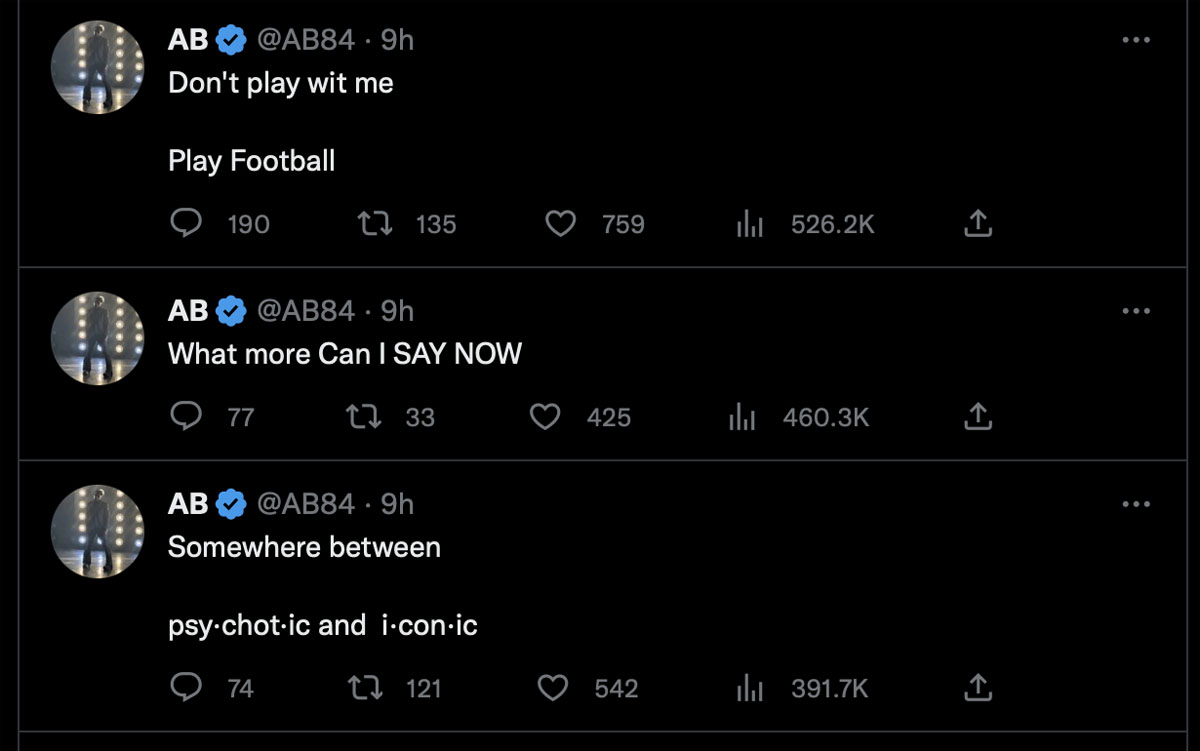 Hmmm…
As Perezcious readers will recall, this isn't the first time AB has made some jaw-dropping moves on Snapchat. Back in October, a few months after his former quarterback Tom Brady and now-ex-wife Gisele Bündchen first split up, Brown logged onto the photo-sharing app to post a doctored image of Gisele's face on another woman's naked body. Brown later posted other doctored images and memes to social media appearing to gloat over Tom's split from Gisele, too.
Related: Behati Prinsloo Shares Before & After Nude Pics To Show Off Baby Bump Growth
Of course, AB has had his fair share of issues in the past 12 months. It was almost exactly a year ago that he had a wild meltdown on the football field. In January 2022, he abandoned his Bucs teammates on the field during a game against the New York Jets. He was cut from the team after that and hasn't played in the league since.
More recently, he got in trouble after appearing to expose himself to a woman in a pool at a Dubai hotel. And now this. Ugh…
Reactions, Perezcious readers?
[Image via MEGA/WENN/The ShakeBack Media Group/YouTube]
Related Posts
CLICK HERE TO COMMENT
Jan 17, 2023 17:30pm PDT