The Vanderpump Rules drama continues…
As we've been reporting, a legal battle has broken out between Raquel Leviss and Scheana Shay after the 28-year-old accused her co-star of physically assaulting her after learning that she was having an affair with Tom Sandoval – during his relationship with her best friend, Ariana Madix. The former pageant queen ended up serving Scheana with a temporary restraining order – forcing the Good as Gold singer to stay 100 yards away from her.
Raquel also shared the pictures of the alleged injuries in the court documents, claiming she has a bruised left eye, a cut on her eyebrow, and "blurred vision" from the altercation:
"[Scheana] pushed me against [a] brick wall causing injury to the back of [my] head and punched me in the face causing injury to my left eye."
Related: Tom Schwartz Claimed Sandoval FORCED Him To Kiss Raquel!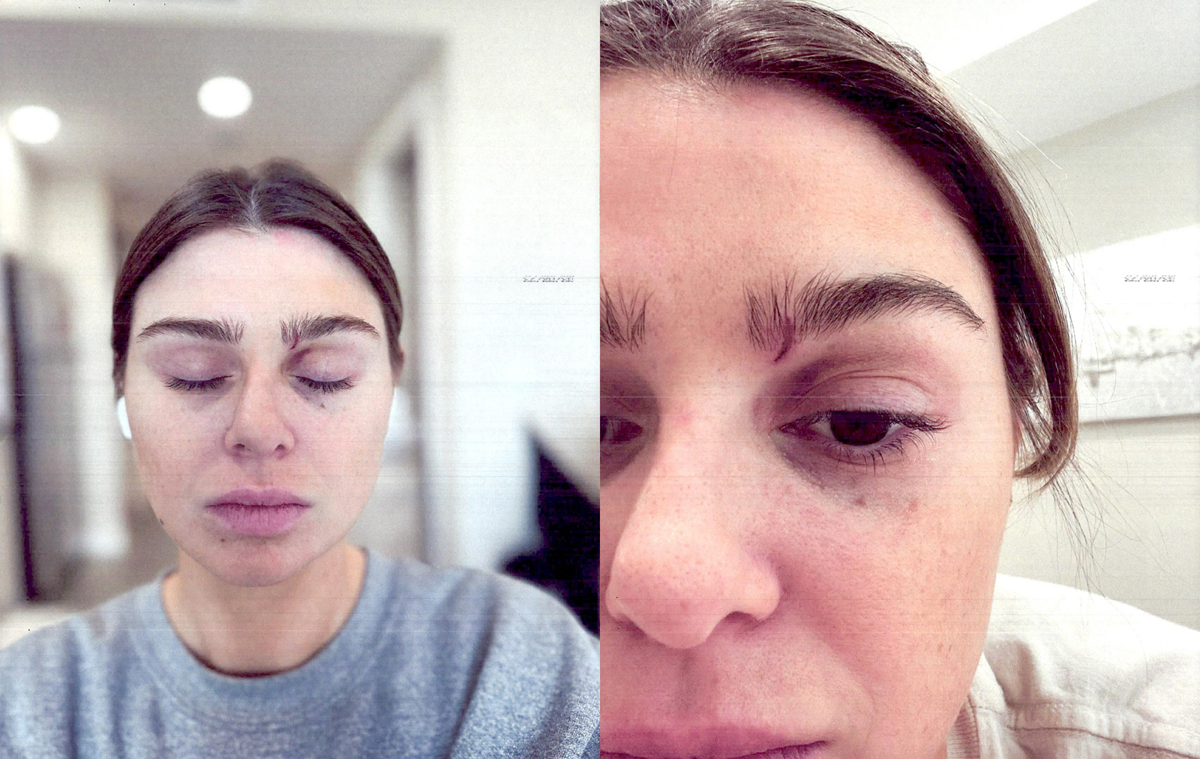 However, Scheana via her attorney shut down the accusations and said the filing "is a fabrication by a known liar and a cheat who has betrayed everyone close to her." The 37-year-old also alleged that the dark marks around her left "have been there for months" – a sentiment that several of her friends have backed on social media.
Now, Scheana is clapping back at Raquel once again and accusing her of trying to "shift the blame" for her affair with Sandoval through this restraining order. According to her lawyer Neama Rahmani, the Scheananigans podcast host is "devastated" by what has gone down:
"Here's someone that [Scheana] considered a dear friend, a younger sister. Scheana is obviously upset. [She] and Raquel were friends for years. She actually invited Raquel into her home where she lived for six months. So, for her to betray her like this, she's devastated."
The attorney added:
"[For Raquel] to try to shift the blame and point the finger at [Scheana] when she's the one who's an admitted liar and she's the one who's been going around Ariana's back — this is something that is mind-boggling and something that Scheana still hasn't wrapped her head around."
Beyond the legal battle, Raquel hit the cast of Vanderpump Rules earlier this week with a legal letter to delete the explicit video of her and Sandoval and not forward it to anyone. She claimed the FaceTime video – which Kristen Doute alleged was a clip of "he and Raquel masturbating" – was recorded "illegally" and "without permission." But Rahmani insisted that Scheana did NOT get the intimate video of the duo:
"I can tell you that Scheana has never received the video. She has never seen the video. So any allegations with respect to Scheana in the video, I mean, those just aren't true."
Hmm…
The restraining order is certainly a messy situation that complicates a lot of things. Ever since Raquel served the restraining order to Scheana, Bravo fans have been concerned about what this means for the highly-anticipated season 10 reunion for VPR. Since Scheana has to stay away from Raquel and their hearing isn't scheduled until March 29 (after the reunion taping), she now won't be in the same room to hash out all the drama. Plus, many people have even wondered if the SUR waitress was trying to get out of having to be in the hot seat by putting the order of protection in place! But according to Andy Cohen, no matter what happens the reunion should be "great":
"I don't want to lean into hypothetical situations because I don't want to be quoted talking about a hypothetical. […] All I can say is we're going to deliver a reunion and that's what I can tell you. We're going to deliver a reunion, it's going to be great."
Fingers-crossed viewers get a one-on-one with Scheana because everyone definitely wants to know what allegedly happened (or didn't) between her and Raquel when she found out about the affair after filming Watch What Happens Live with Andy Cohen in New York City! We know Andy must have so many questions for her — and even Raquel/Sandoval!
Reactions, Perezcious readers? Are you buying Scheana's claims that the punch never happened? Sound OFF in the comments below!
[Image via Bravo/YouTube]
Related Posts
CLICK HERE TO COMMENT
Mar 11, 2023 13:18pm PDT