Scheana Shay isn't going to stand for any awful affair offerings!!
Of course, we've been reeling in recent days after learning about Tom Sandoval's shocking affair with Vanderpump Rules co-star Raquel Leviss. The entire sordid situation has left fans stunned across social media channels and has other Bravo stars speaking out in no uncertain terms. And now, we're learning more about what went down behind the scenes amid all the affair adversity!!
Related: Tom And Raquel Were Seriously Hiding In Plain Sight During Affair — WTF?!
According to Page Six, Scheana Shay reportedly got into a "heated confrontation" with the 28-year-old Leviss after she first learned about the affair. That outlet reports things disintegrated between the two women after the Scheananigans podcast host went out on the town with Leviss last week. An insider told the outlet Scheana and Raquel popped in to a bar to enjoy "drinks with friends" after taping an episode of Watch What Happens Live.
But when Scheana lost track of Raquel during the night, the 37-year-old Shay went all over the bar to track her down. Finally finding Leviss outside, Scheana was shocked to see her talking on the phone to Ariana Madix — who was apparently crying on the other end:
"After taping Watch What Happens Live, Scheana and Raquel went out to drinks with friends. At one point in the night, Scheana lost Raquel and then found her outside of the bar on the phone with Ariana, who Scheana could hear was bawling."
Uh-oh…
Shay immediately confronted Raquel and asked for an explanation about what was going on. That insistence allegedly "finally prompted" Leviss to come clean while the 37-year-old Leviss was "still on the phone."
The insider continued:
"A heated confrontation ensued following the revelation. They went back to the hotel separately and haven't seen each other nor spoken since."
Yikes… There were also rumors that Scheana PUNCHED Raquel! That's not good!
Of course, it pales in comparison to how the whole thing first came to Ariana's attention, considering it was her boyfriend who was involved and all. But still! That is NOT a good thing to reveal to anyone. Or a good way to reveal it!!
Related: Tom Apologizes To Everyone Amid Raquel Leviss Affair Report — But Not To Ariana!
Now, it sounds like Scheana has very much already picked a side in this fight. By Friday, fans noticed Shay had unfollowed Leviss on Instagram. Then, on Saturday, Page Six also reported news from an insider confirming Scheana's friendship with Raquel is "over" for good:
"Scheana is done with Raquel after she betrayed Ariana. The friendship is over. Right now, Scheana is fully focused on supporting Ariana."
By Sunday, Shay's social media behavior would seem to have corroborated that source's statement.
Brock Davies' wife posted this pic to her IG account on Sunday afternoon, along with the hashtag #TeamAriana and a very simple message of support:
"Always got your back!"
Speaks volumes!
Down in the comments, one fan pointed out Scheana's own unfortunate history with infidelity. As Perezcious readers will recall, Shay was allegedly romantically linked to actor Eddie Cibrian when he was married to Brandi Glanville. Scheana has said she didn't know Eddie was hitched when they hooked up — and once she found out, she called things off immediately. But a fan still felt it was important to bring up that episode in light of this new affair!
About Scheana having Ariana's back, the commenter wrote:
"Wonder who had [Brandi's]? So quick to team up but let's not forget you walked in [Raquel's] shoes."
Very quickly, per TooFab, Shay responded:
"I don't recall having an affair with my best friends bf KNOWINGLY but go off!"
But wait! There's more!! Also on Sunday, Shay again returned to IG — this time, via her Stories — to deliver even more supportive #TeamAriana content!
As you can see (below), she shared a re-post of a pic with herself, Ariana, Lala Kent, and Katie Maloney, while writing:
"These ladies have been through a lot over the years and when need be they put differences aside to come together and support each other no matter what!"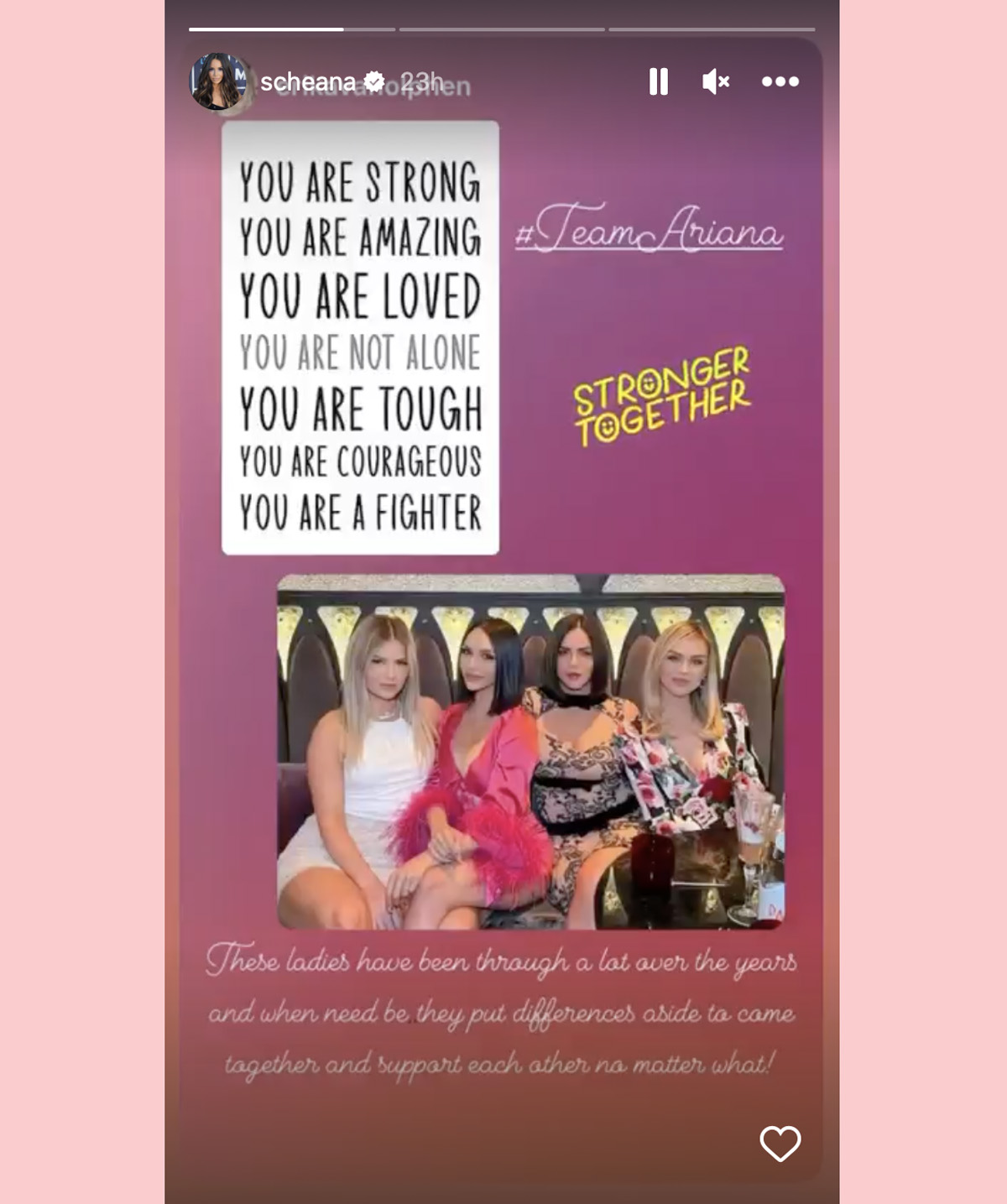 Well then!
Like we said, Scheana has undoubtedly picked sides. Not that we're surprised by it. Are U, Perezcious readers??
Sound OFF with your thoughts on this whole situation down in the comments (below)!
Related Posts
CLICK HERE TO COMMENT
Mar 06, 2023 10:28am PDT