Looking for the receipts from the latest Vanderpump Rules drama? Well, we got 'em!
As we reported, series regulars Danica Dow and her ex-boyfriend Brett Willis have been involved in a little legal spat recently, with Danica filing a restraining order against Brett and — while he is accusing her of physical abuse. In the legal docs, the SURver claimed he had photos of marks and bruises on his body that were Danica's doing, as well as having a recording of her hitting him mid-argument. 
Now, you can see these images yourself — thanks to our EXCLUSIVE source!
Related: Simon Cowell Speaks Out After Back Surgery As AGT Continues Filming!
The insider, who is a "close friend" of Brett's, says many of the Pump Rules cast "do not feel comfortable around Danica" because she has "anger issues" and has been "extremely violent" toward Brett. As for said receipts, the source shared multiple screenshots of a text conversation between Dow and Willis from February 3, after she allegedly got violent with him over jealousy of another girl he had been seeing when the two were broken up. 
In the photos (below), Dow appears to apologize to Brett the next day, saying her violent outbursts won't happen again, while Brett shares pics of his wounds — including a gnarly bite mark on his arm.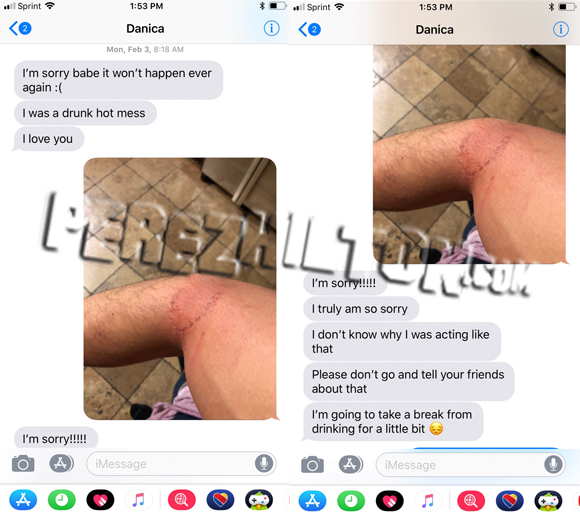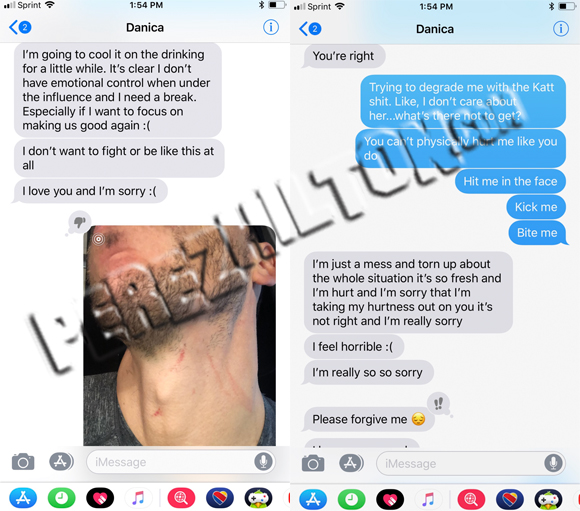 Ouch!
As you can see, Danica appears to blame the attacks on her not being able to control her emotions while under the influence — and seems to be more concerned with Brett not telling anyone about the incident.
Definitely seems like the words of an abuser to us.
But Brett didn't listen, and also shared with our source an audio recording in which Danica appears to tell him to "shut the f**k up" before hitting him. Listen for yourself (below):
Wow…
Our confidante also shared with us a video of the night of the Bravo series' Season 8 premiere party, where Danica was cuffed by police after she allegedly assaulted Willis' date (they were apparently broken up at the time). As Willis claimed in his filing, his date decided not to press charges. 
See (below): 
The insider went on to tell us:
"Danica is trying to play the victim and act innocent, when she is the one who constantly abused Brett… [Brett] loved her too much and wanted to make it work [despite the alleged abuse]."
The insider insisted that many of the Pump Rules cast feel that production company Evolution Media "needs to take action" because they do not want the show "standing for domestic abuse or violence," adding of Danica:
"I hope she can find the clarity and light she needs to not harbor so much anger within herself, but in no way should she be given a platform anymore on Vanderpump Rules when her past acts are so volatile and disgusting."
Sounds like Bravo definitely needs to respond to this!
[Image via Danica Dow/Brett Willis/Instagram]
Related Posts
CLICK HERE TO COMMENT
Aug 10, 2020 14:58pm PDT