Whitney Port is OVER IT!
It being the fan commentary on her body!! Yes, the Hills alum spoke out on her Instagram Stories on Monday with a slide that called out IG followers and critics who have something to say about her figure. Of course, she's been in the news recently after fans have been pointing out their worries about her drastic weight loss. Even her husband is concerned she is a bit underweight right now. But the entrepreneur is done with the peanut gallery…
Related: Whitney Ready 'To Talk To Someone' About 'Disordered Eating' Amid Weight Loss Concerns
The 38-year-old wrote a message for the most vocal and critical of her 1.5 million followers. She began by noting:
"Cheers to all you folks thinking I'm doing 'body checks'! I didn't even know what that meant until someone wrote it on one of my posts!"
Then, citing how the comments got out of control throughout the last few weeks — and specifically now amid her family vacation with husband Tim Rosenman and the kids in Mexico — Port added:
"Everything was blown a bit out of proportion. I'm a busy mom who just needs to take a little better care of herself and I'm on it. I, of course, appreciate any concern over my health but just a friendly reminder to hold yourself back from making snarky comments about someone's weight, cause Timmy will come for you! Jk. But for real. I'm super down with constructive criticism, but be careful of how harsh, unfounded, or mean-spirited your words can be. That's for EVERYONE's Posts. Not just mine."
Then, she concluded simply:
"I'm on a beach vacation. In a bathing suit. Warning: some pictures and videos might show my body."
Well, that part seems sensible.
Ch-ch-check out Whtiney's post for yourself (below):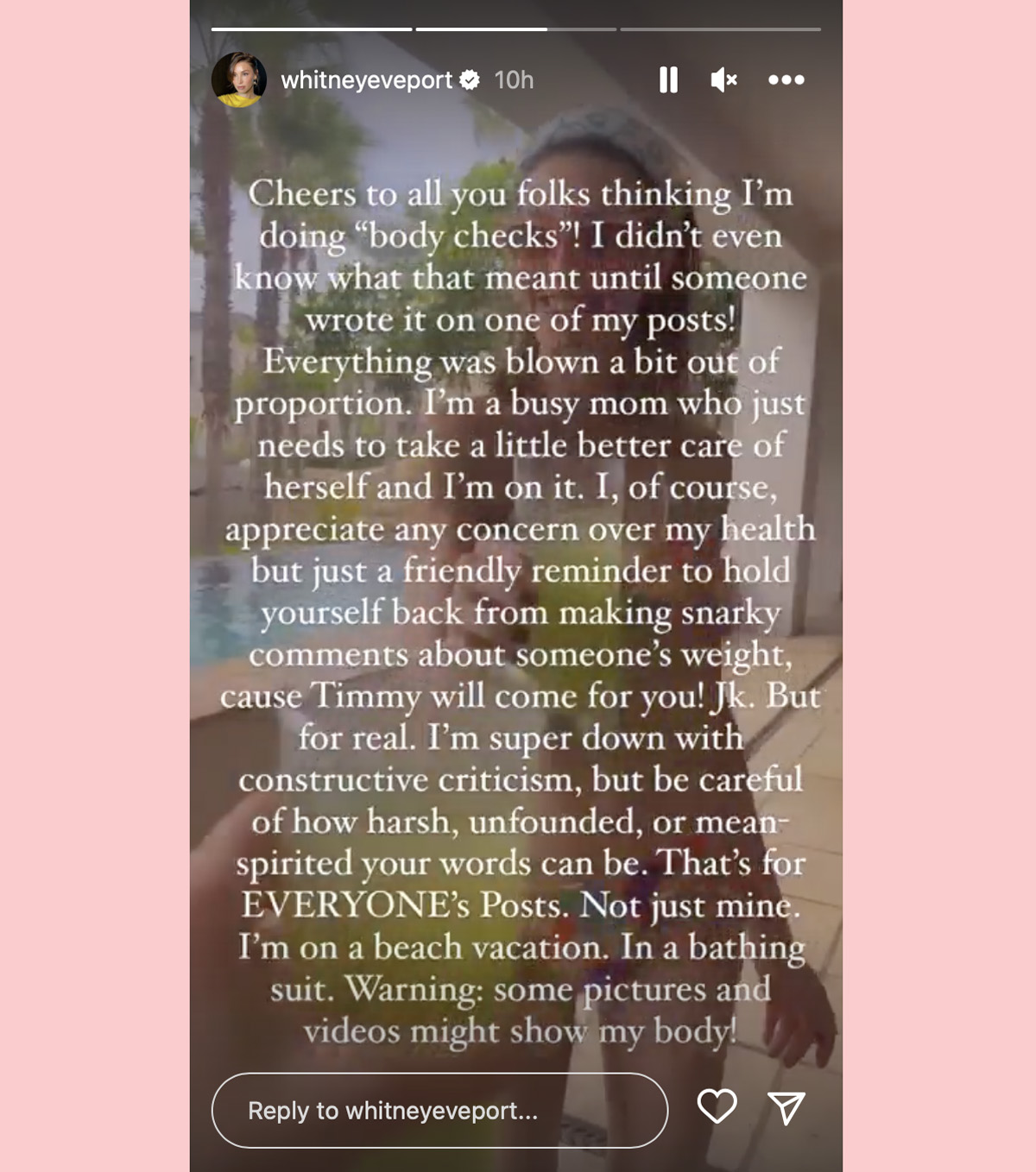 Well then!
What do U make of her take reacting to these "body check" claims amid her family trip to Cabo, Perezcious readers??
Sound OFF with your thoughts (below)…
Related Posts
CLICK HERE TO COMMENT
Aug 22, 2023 06:14am PDT