Alan Cumming no longer wants to be an Officer of the Most Excellent Order of the British Empire!
In case you didn't know, The Good Wife alum was awarded the OBE in 2009 as part of Queen Elizabeth II's birthday honors list for his work as an actor and LGBTQ+ rights activist. But 14 years later, Alan revealed there was "something I recently did for myself" to mark his 58th birthday – he returned the prestigious award! Why is that? He shared on Instagram Friday that he wants to distance himself from the "toxicity" of the British Empire. Alongside two pictures of himself, including a snapshot that featured him wearing the OBE medal, Alan said in the caption:
"Fourteen years ago, I was incredibly grateful to receive it in the 2009 Queen's birthday honours list, for it was awarded not just for my job as an actor but 'for activism for equal rights for the gay and lesbian community, USA'. Back then the Defence of Marriage Act ensured that same sex couples couldn't get married or enjoy the same basic legal rights as straight people, and Don't Ask, Don't Tell ensured that openly gay, lesbian or bisexual people were barred from serving in the military. (Incidentally both these policies were instituted by the Clinton administration)."
Related: How The Royals Reacted To Kim Kardashian Buying Princess Diana's Necklace!
The Traitors host went on to explain how the queen's death in September brought to light "conversations about the role of monarchy and especially the way the British Empire profited at the expense (and death) of indigenous peoples across the world," noting that the new knowledge "opened my eyes." He continued:
"Also, thankfully, times and laws in the US have changed, and the great good the award brought to the LGBTQ+ cause back in 2009 is now less potent than the misgivings I have being associated with the toxicity of empire. So I returned my award, explained my reasons and reiterated my great gratitude for being given it in the first place. I'm now back to being plain old Alan Cumming again."
Well said. You can ch-ch-check out the entire statement (below):
And of course, many people had some strong opinions about Alan's decision to hand back the honor – including Piers Morgan, who wrote on Twitter:
"What a pathetic, disingenuous, disloyal, attention-seeking little twerp."
And Alan had the best clap back! He responded:
"So happy that @piersmorgan has finally found his perfect profile description!"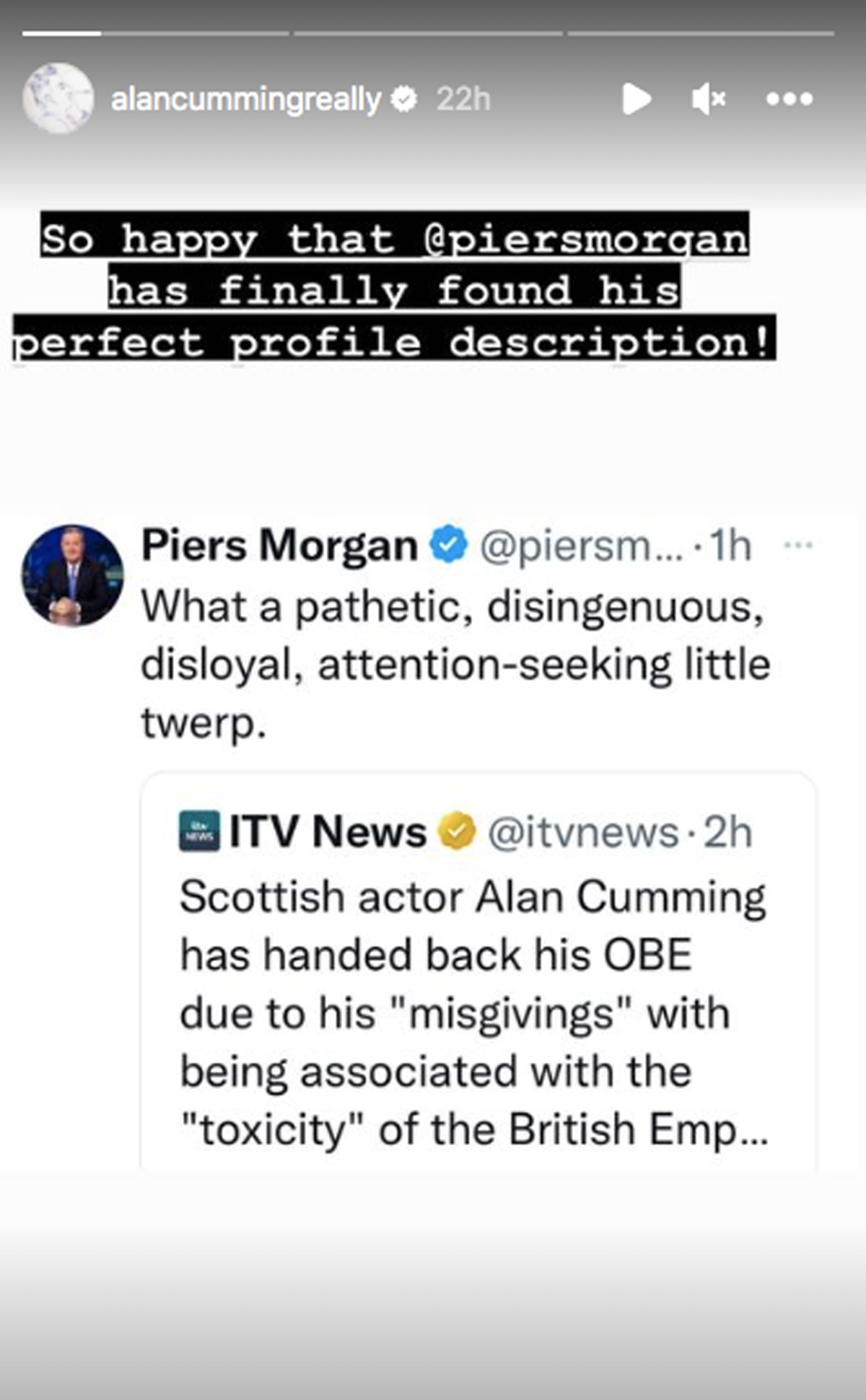 LOLz!!!
Thoughts, Perezcious readers? Would you have returned the OBE? Drop your reactions to Alan's confession in the comments below!
[Image via MEGA/WENN]
Related Posts
CLICK HERE TO COMMENT
Jan 28, 2023 11:34am PDT