The more we hear about this sex slave cult, the creepier it becomes.
Allison Mack used to be best known as plucky teen reporter Chloe Sullivan on Smallville — now she'll forever be known for her role in the NXIVM cult.
As a ringleader and "master" she allegedly recruited women to join and be branded as the sex slaves of founder Keith Raniere.
Related: Allison's Smallville Costar Remembers Being Invited To Join Cult
The former TV star plead guilty last month and is set to face sentencing in September, but Raniere's case is still going; the so-called "grandmaster" is fighting charges of racketeering, sex trafficking, forced labor, and conspiracy.
The federal trial is revealing more and more about the process behind the creepy rituals. An audio tape played in the Brooklyn courtroom on Friday revealed a shocking conversation between Raniere and Mack about how best to perform the ritual of branding the skin of new sex slaves.
Perhaps the most chilling moment is when Raniere asks Mack about her own branding, which apparently occurred in the cult's infancy, before there even was a protocol.
She tells her grandmaster:
"I think one of the things that was so significant was that [inaudible name] said to me when we were doing the thing was: 'Think of your master and your love for your master and think of the pain and link it to the love for your master.'"
Ugh. She sounds so brainwashed. Horrifying.
Related: Kristin Kreuk, aka Lana Lang, Denies Luring Women Into Cult
Raniere responds:
"Pain is how much we know how much we love."
Ew. Ew ew ewwwww!
Most of the conversation is Raniere and Mack pitching ideas for the pomp and circumstance of the branding, how to make it seem like an important ritual.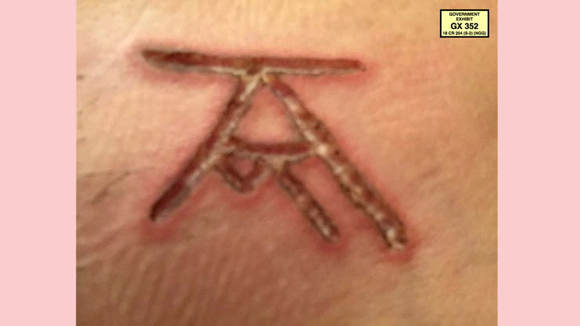 But Raniere's references to videotaping the session, and positioning the nude women in such a way that the camera angle gets "collateral" on the inductee (for later extortion ammunition) reveals the banality of his evil.
There is no sacred belief here, he's making it up as he goes along. It sounds like the writer's room on a bad TV show.
Read more chilling excerpts from the transcript (below):
KR: Uh, I think doing the actual brand in an orderly fashion?
AM: Mm-hm.
KR: Each of the seven strokes having a certain… ritualization. Maybe each of the strokes, um… has something that's said with them.
AM: Mm-hm.
KR: And maybe repeated after the stroke is done.
AM: So, like… somebody says the thing while the stroke is being done, and then the person that's getting it done repeats it afterwards?
KR: Oh, I dunno, yeah. You guys come up with something [inaudible].
AM: Okay.
KR: So what would've been most meaningful, deep, surrendering, focusing for you?
AM: I think it… probably having it whispered in my ear and then me repeating it out loud?
KR: Uh-huh.
AM: And then having it whispered in my ear and then me repeating it out loud.
KR: Well, ask the others, it's not all you.
AM: Uh-huh.
KR: [laughs]
AM: Well, I thought you were asking me!
KR: No, I said all of you guys who have gone through.
AM: Yeah. Okay. [laughs]
We can't help but wonder what the women involved, who bought into this "self help group" would think of their leaders coming up with this stuff on the fly.
KR: The other thing is, you guys did it and you weren't completely nude because you had an outsider and a guy doing it to whoever. And do you think the person who's being branded should be completely nude and then sort of held to the table like a… sort of almost like a sacrifice? I dunno if that – that's a feeling of submission. You know?
AM: Mm-hm.
KR: So… [inaudible]
KR: Uh. You could also, of course, video it. Videoing it from, different angles, or whatever, gives collateral. So it probably should be a more vulnerable position type of a thing. Back, legs spread straight, feet being held to the side of the table, hands probably above the head being held. Almost like tied down, like a sacrificial… whatever. And the person should ask to be branded.
AM: Okay.
KR: They should say, "please, brand me, it would be an honor," or something like that. "An honor I'd wanna wear for the rest of my life," I dunno.
AM: Okay.
KR: And they should probably say that before they're held down so it doesn't seem like they're being coerced.
AM: Okay.
KR: I dunno, those are just thoughts.
AM: Okay.
Just making it up. Brainstorming a "sacred ritual."
This is almost scarier than if there was real conviction there.
You can listen to the audio recording for yourself HERE.
As the court cases continue, it's unclear just how many "masters" will be prosecuted.
Multiple wealthy women in the U.S. and Mexico, famously including Ana Cristina Fox, daughter of Former Mexican President Vicente Fox, have been implicated by prosecutors in recent months.
At which point does someone involved in a group like this go from being a victim to another perpetrator? It's not an easy question.
But based on this audio, it's harder than ever to argue Allison isn't culpable…
What do YOU think, Perezcious readers??
[Image via CBS News/WENN.]
Related Posts
CLICK HERE TO COMMENT
May 27, 2019 12:05pm PDT