Azealia Banks Involved In Altercation With Aer Lingus Flight Attendant — But Who's To Blame?!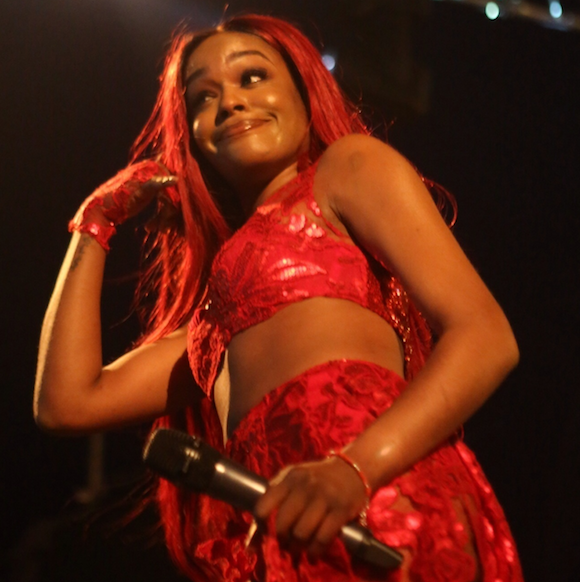 Azealia Banks has reportedly been banned from flying on the Irish airline Aer Lingus after an apparent altercation with a flight attendant on a flight from London Gatwick to Dublin just hours ago on Monday.
The 27-year-old allegedly walked off her flight almost immediately after boarding, according to eyewitnesses on the plane who reported to The Daily Mail the alleged incident.
Related: Azealia Ordered Not To Delete Anything Elon Musk-Related!
You can see that just 11 hours ago, Banks was in the airport heading onto a flight to Dublin based on her Instagram page (below)!
Even in the video here, which appears to have happened before the reported incident, she seems tired and frustrated from traveling:
According to a passenger on the plane (not long after that IG video was shot!), Banks got up from her seat to get something out of her bag before the flight took off, and somehow, all hell broke loose:
"Azealia was sitting in front of me. It was a busy flight and there was not a lot of space. She was right at the front. A male friend was putting her things in the overhead locker, but Azealia needed to get something from her bag. She was stood in the aisle and preventing other passengers from boarding. Then she turned to the hostess and said, 'Are you staring at me…'? Why are you staring at me? I didn't fill out an Air Lingus form to be stared at.'"
Whoa! Things are definitely escalating at this point… but nothing foul-mouthed yet…
But in a turn of events, the witness was quick to point out that it wasn't JUST Banks who was being confrontational at that point:
"The hostess was being quite confrontational. She said to her, 'I need to know if you are going to cause more trouble on this flight? If someone's rude to a stewardess, it is something we have to ask. It's protocol.' Azealia said something to her friend about it being a power play. She said, 'I am on this flight and I am famous.' The hostess said, 'I don't care if you're famous.' Azealia was debating whether to leave. I remember her saying, 'I don't want them to spit in my coffee.' The stewardess then said, 'Are you going to leave or not?' Azealia replied, 'Fine, we are leaving.' And she and her entourage got off the plane.'"
Uhhh…. that escalated quickly!
The flight had been due to leave Gatwick at 10:55 a.m. local time, but it was then delayed for over an hour as crews had to take off Banks' luggage with her de-boarding the plane.
The witness interviewed wasn't too keen on casting all the blame on Banks, though, and made that pretty clear :
"To be honest with you I think the airline staff were a bit aggressive and confrontational with her. They were asking Azealia if she was going to be trouble before we had even taken off, which only escalated the situation. Azealia was at the front of the plane and the stewardess was trying to hurry her along. She said the attendants were harassing her and I think they were a bit heavy handed."
Banks, who later appeared in tears on her IG Story, reportedly claimed after the flight that she'd been "banned" by the airline, though it's not clear yet if that's officially the case.
What the singer did share about the altercation was:
"I was trying to find my passport as I didn't have the answers and she was staring at me. I said. 'Don't stare at me'…  She goes to the Captain of the plane and said that I said, 'Don't stare at me or I'll sort you out.' I'm from New York City, I don't use that slang. They all just like crowd around me and they're like chastising me like I'm some f**king animal. I get off the plane. I've worked too hard in my life to be cornered by some f**king ugly Irish bitch. They are ugly Irish women here."
Regardless, she sure didn't get to Dublin when she wanted to.
No doubt there will be more to come on this story; we'll update you as necessary as details continue to come out.
[Image via WENN.]
Jan 21, 2019 3:42pm PDT