'Bachelor' Couple Colton Underwood & Cassie Randolph Answer All Of Your Burning Questions On 'Jimmy Kimmel Live'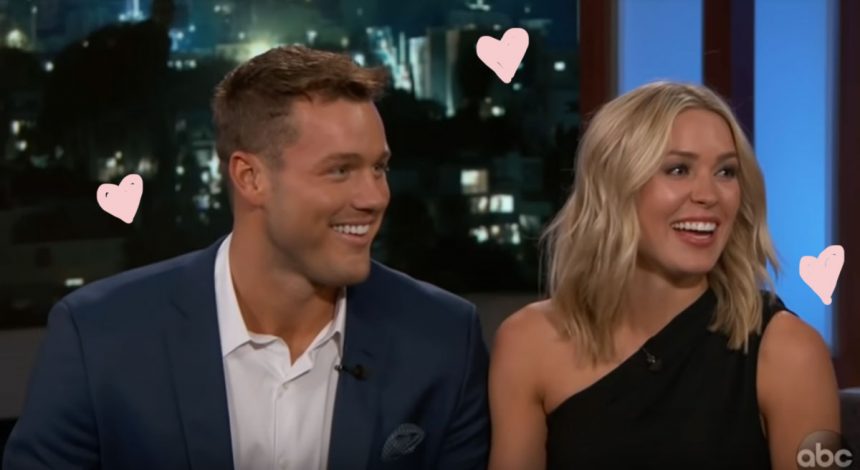 Say hello to Bachelor Nation's newest happy couple, Colton Underwood and Cassie Randolph!
ICYMI, Season 23 of The Bachelor wrapped Tuesday night after the former NFL athlete broke all of show's rules — and broke up with any other remaining contestants — and defied the odds to win over the California native's heart.
The lovebirds stopped by Jimmy Kimmel Live for their official debut as a couple, and they looked soo in love, TBH!
Related: Here's How Colton Underwood's Season Of 'The Bachelor' Ended!
Jimmy starts by taking things back a bit to the earlier moments in the couple's relationship, and asks Colton when he knew that the 23-year-old was the one.
Underwood makes it clear that he really fell in love with Cassie in Singapore, somewhere around week four in the show's broadcasted weekly timeline. Which means he definitely meant what he said during their previous painful breakup, about thinking of Randolph while he was with other women. Week four is pretty early, y'all!
So, what are they now? Kimmel throws out the terms, "Boyfriend and girlfriend? Lovers? Engaged?", searching for more clarity since the two have been very reluctant to officially label their relationship.
The pair shyly smiles and laughs through their response of being a step above exclusively dating, but also just a small step beneath being engaged. Colton answers, "Lovers? Yeah… boyfriend and girlfriend? Future wife? I don't know…" much to the crowd's delight.
Hilariously enough, Cassie asks what's the middle ground between boyfriend and girlfriend, and husband and wife?
It's fiancee. Ya know, the one thing you didn't want to be? LOLz…
Kimmel moves on, and tries his best to do what franchise host Chris Harrison couldn't, and try to get a direct answer about what exactly happened in the Fantasy Suite.
Colton continues to keep it classy and fields that question with a very Bachelor-esque answer:
"Well to be honest, heading into that Fantasy Suite, I wasn't even thinking about that. I was just ready to fight for our relationship."
Okay, okay, Colton. We get it. We will (hopefully) stop asking about your virginity now!
What was more surprising and interesting to hear than the rehashed conversation about the lead's sex life is the fact that he watches earlier episodes of his season with his current girlfriend's family!
Wait, what?! Like with the whole family? Mom and Dad included?
As we previously wrote, the leading lady's father Matt Randolph was pretty adamant about his daughter slowing things down with Colton, and even flew to Portugal to stop her from potentially accepting a proposal in one of the season's final episodes.
Sensing how crazy this must all sound now after the fact, Randolph chimes in,
"Yeah, it's crazy for sure."
We guess when it's all said and done, everyone's getting along just fine! The duo says they currently spend a lot of time together, and see each other at least once a week.
Related: The Next 'Bachelorette' Is…
Before letting the couple go, Kimmel presents the couple with an engagement ring from Neil Lane, because what's a Bachelor happy ending without one right? He explains:
"I do feel like you guys kind of got cheated a little bit because of the way you went about this. Because they love to have you get engaged on television and part of the deal is you get the ring from Neil Lane. So this afternoon I was like, 'This kind of sucks, they don't get the ring from Neil Lane.' So we called Neil Lane and so here, he sent the ring."
Wow. Despite turning the show's formula on it's ass, these two still ended up with other and got all of the perks, too.
We can assume this is also ABC's low-key way of pushing Cassie and Colton to actually get engaged, making their epic love story truly complete.
WATCH their whole conversation (below):
What do YOU guys think of Colton and Cassie together? Do you think they'll last?
Sound off in the comments (below)!
[Image via Jimmy Kimmel Live/YouTube.]
Related Posts
CLICK CLICK CLICK Next Article
Mar 13, 2019 10:33am PDT