Britney Spears has addressed the attack on her in Las Vegas on Wednesday night.
For those who haven't heard, the 41-year-old singer was at Catch inside the Aria Hotel when she suddenly saw San Antonio Spurs player Victor Wembanyama. He was signing autographs with fans at the time, and Britney decided she wanted to talk with him herself. When the superstar came up to him and "tapped him on his back, right shoulder," a security guard – later identified as the Spurs' Director of Team Security Damian Smith – allegedly backhanded her in the face. The slap was so hard she even fell to the ground. OMG!!!
Related: Why K-Fed Won't Force Sons To See Britney Before Hawaii Move!
An eyewitness, Brian Grajales, even told TMZ that although he couldn't remember if she was knocked over, he did see her sunglasses fall off and witness her go "to the side and hunch over." Terrible. Since the incident, Victor has come out to claim he didn't feel just a "tap" but rather, someone "grabbed" him "from behind" – although he didn't know how hard. The athlete explained:
"I didn't see what happened, because I was walking straight and we were told, 'Don't stop.' But that person grabbed me from behind — not on my shoulder, she grabbed me from behind — and so I just know the security pushed her away. I don't know with how much force, though. But security pushed her away. I didn't stop to look so I could walk in and enjoy the nice dinner."
It wasn't until "a couple hours later" that he realized the woman who allegedly "grabbed" him was Britney since he never saw her face:
"At first I was like, 'No, you're joking.' But, yeah, it turns out it was Britney Spears."
Moments ago,#Spurs rookie Victor Wembanyama addresses the incident last night with Britney Spears in Las Vegas: pic.twitter.com/T33s7R4yUl

— Nate Ryan (@nateryansports) July 6, 2023
But it was definitely a traumatic situation for the Toxic artist, as she later filed a police report. Insiders at the Metro PD told TMZ a criminal investigation is open now, and the case will "likely" be given to the District Attorney for review to determine if criminal charges will be filed. Before that happens, Britney is now speaking out about the situation. She took to Instagram Stories on Thursday to share her side of the story, insisting she only "tapped" Victor on the shoulder:
"Traumatic experiences are not new to me and I have had my fair share of them. I was not prepared for what happened to me last night. I recognized an athlete in my hotel lobby as I was heading to dinner. I later went to a restaurant at a different hotel and saw him again. I decided to approach him and congratulate him on his success. It was really loud, so I tapped him on the shoulder to get his attention. I am aware of the players statement where he mentions 'I grabbed him from behind' but I simply tapped him on the shoulder. His security then back handed me in the face without looking back, in front of a crowd. Nearly knocking me down and causing my glasses off my face."
So awful. She continued:
"I get swarmed by people all the time. In fact, that night. I was swarmed by a group of at least 20 fans. My security team didn't hit any of them. This story is super embarrassing to share with the world but it's out there already. However, I think it's important to share this story and urge people in the public eye to set an example and treat all people with respect. Physical violence is happening too much in this world. Often behind closed doors. I stand with all the victims and my heart goes out to all of you!!! I have yet to get a public apology from the player, his security or their organization. I hope they will…"
Britney definitely deserves an apology for what happened! You can check out her entire statement on the matter (below):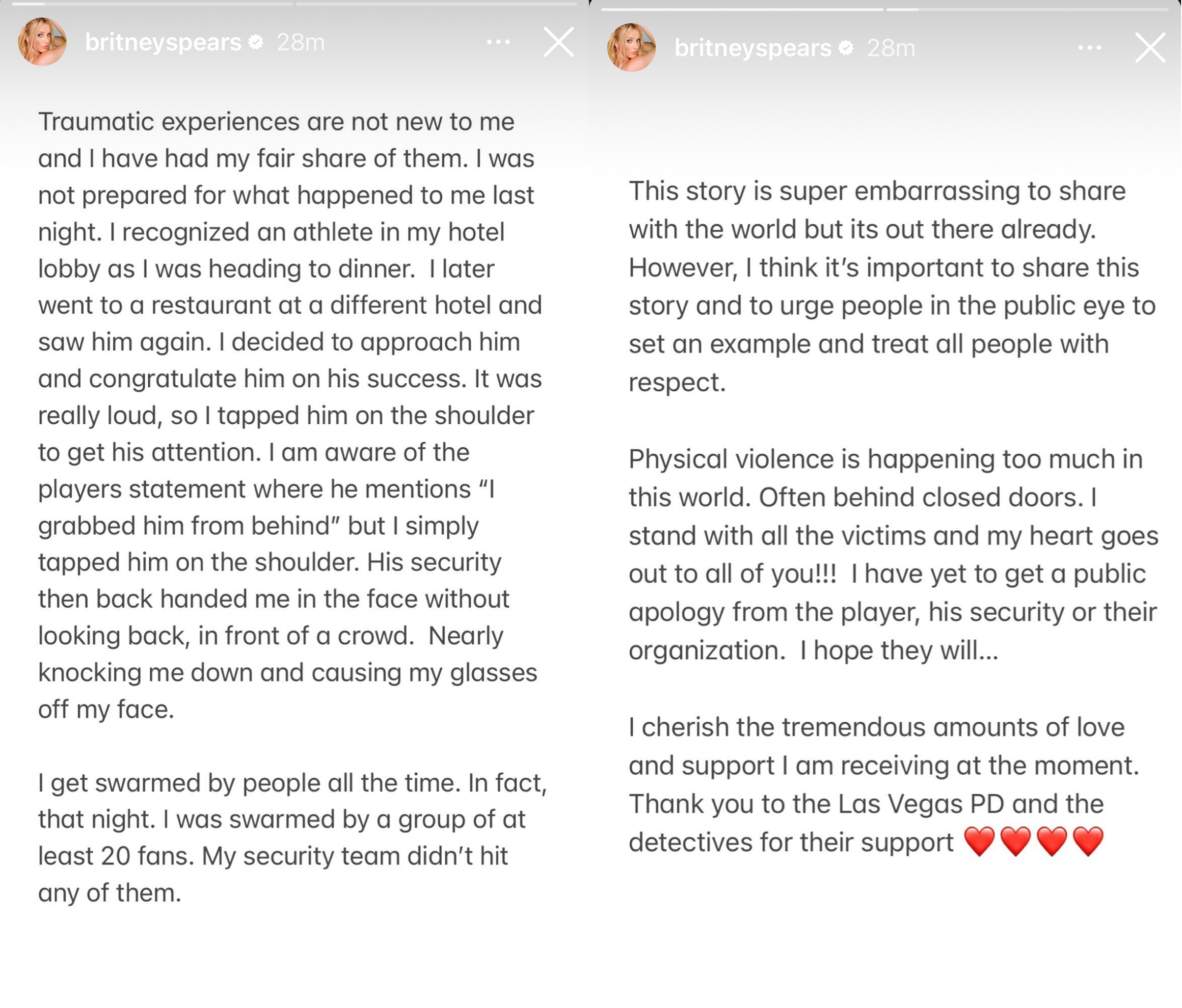 Her hubby Sam Asghari also addressed the incident. The 29-year-old actor took to Instagram Stories to slam the security guard, writing:
"I am opposed to violence in any form, especially without justification in the defense of yourself or someone else who is unable to defend themselves. Self-defense can be unavoidable, but the defense of any woman, especially my wife, is not debatable. I consider my reaction subdued considering what occurred, and I hope the man in question learns a lesson and changes his disregard for women. Thank you for the support."
Sam went on to note that the "violent behavior of an out-of-control security guard should not cast a shadow" on Wembanyama, who he praised for being "a great young man on the rise." He continued:
"The blame should fall on the coward who did this, the people who hired him without proper vetting, and a systematic culture of disregard for women within sports and entertainment. I can't imagine a scenario where an unarmed female fan showing any kind of excitement or appreciation for a celebrity would cause her to be physically assaulted, much less being hit in the face for tapping someone on the shoulder."
The former personal trainer concluded the message by saying he looks forward to seeing the "changes" that the people "from the top" make following this situation. You can read his entire statement (below):
Britney Spears' husband, Sam Asghari, releases statement after Britney was assaulted by Victor Wembanyama's security guard:

"I can't imagine a scenario where an unarmed female fan showing any kind of excitement or appreciation for a celebrity would cause her to be physically… pic.twitter.com/C2353mVL8Y

— Pop Tingz (@ThePopTingz) July 6, 2023
Reactions to what Britney and Sam had to say? Let us know in the comments below.
[Image via MEGA/WENN, Good Morning America/YouTube]
Related Posts
CLICK HERE TO COMMENT
Jul 06, 2023 16:13pm PDT