Britney Spears is taking a walk down memory lane — reliving the good and bad times!
The pop star took to her Instagram on Tuesday night with a few throwback photos of her and her ex-boyfriend Justin Timberlake playing basketball in matching uniforms back in the day, writing:
"When we used to shoot hoops TOGETHER … that's when miracles happened "
The snaps were taken in 2001 at the Basketball Challenge for the Children event in Las Vegas.
Related: J.Lo Says They Wanted HER For Iconic Madonna-Britney Spears Kiss!
While the post has since been deleted, you can see a glimpse of the pair at the event (below)! And see the OG upload HERE!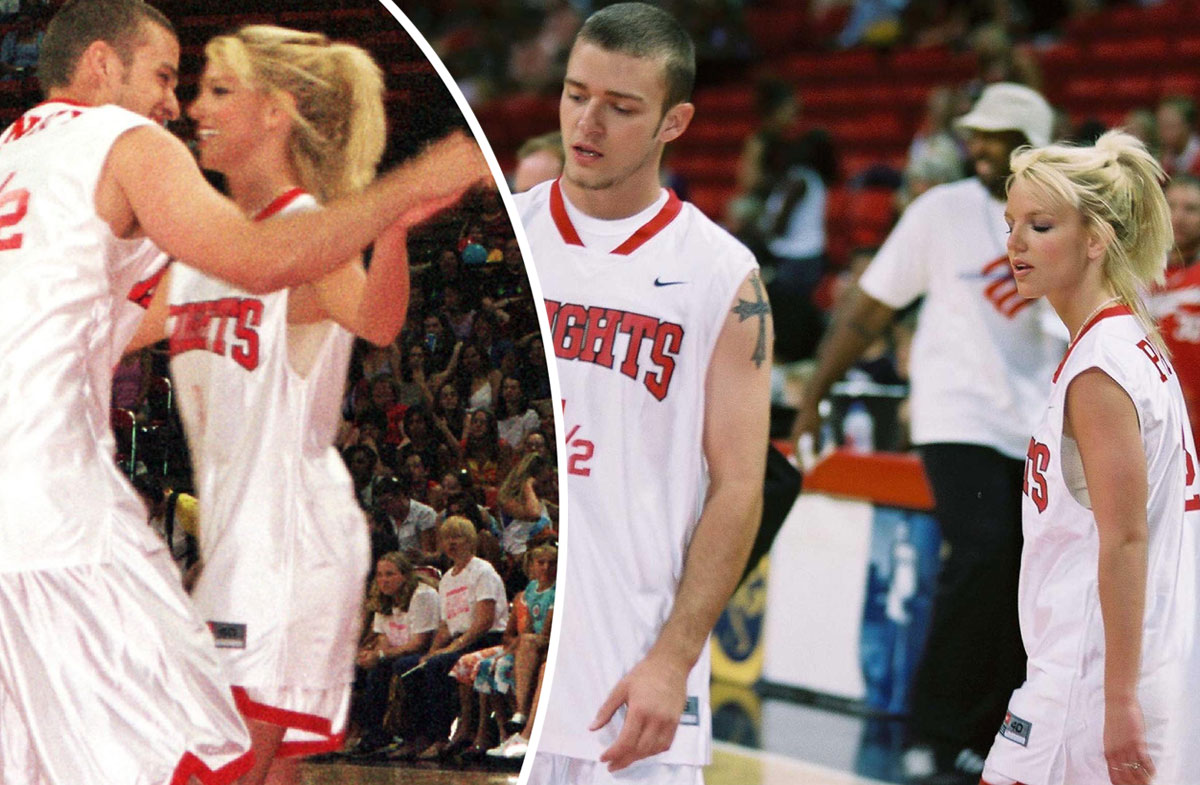 Cute, right?! Well, the kind words didn't last long!
The singer quickly flipped the script — and seemed to throw some shade at her ex! As Perezcious readers know, the pair dated from 1999 to 2002, and Brit still seems to hold a grudge for the way things ended, adding:
"I came out of my mom's stomach just like we all did !!! Psss … why always cast me out ??? I'm equal as all !!!"
Oof! So much for the sweet photos!
The Crossroads alum went on to share a more recent bad decision. Alongside a video of her dancing in a hotel room, she revealed she just got a brand new tattoo on her arm – and she already regrets it! The 41-year-old shared with fans:
"Tattoo in Maui 3 days ago !!! Can't show it because it sucks !!! Like really really sucks !!! S**t !!! Psss … I have to fix it !!!"
Oh, no!!
It probably doesn't help that she and the tattoo artist were both standing up when she was getting the mysterious piece done. We bet it was a bit shaky!
Related: Britney Spears Trying To Mend Relationship With Her Mother Lynne?
These posts come after the artist made headlines for supposedly acting "manic" at a restaurant in Los Angeles on Friday while out to dinner with her husband Sam Asghari. They have both since clapped back at the reports with the aspiring actor insisting nothing was wrong with his wife – she was merely upset with the attention she was getting while trying to have dinner. Meanwhile, Britney wrote on socials in a since-deleted post:
"I know the news is all hyped about me being a little drunk at a restaurant … it's like they'll be WATCHING MY EVERY MOVE !!! I'm so flattered they talk about me like a maniac THEN have the balls to talk about all the negative things that happened in my past !!!"
An employee backed up the couples' take on the situation, telling Page Six the artist "was understandably upset" after another patron caused a scene by filming her, despite Britney's attempt to shield herself with a menu. They also insisted Sam "did not storm out," as was reported, but simply "left briefly to get their car." We're glad things were better than they seemed! Reactions, Perezcious readers?! Let us know (below)!
[Image via Lorraine/Ellen Show/YouTube & WENN/Scott Harrison]
Related Posts
CLICK HERE TO COMMENT
Jan 18, 2023 09:38am PDT