Finally! The backstory we've all been waiting for!
As many of our readers know, Bruce Willis made the seemingly odd choice to quarantine with ex-wife Demi Moore and their three adult daughters, Rumer, 31, Scout, 28, and Tallulah, 26, in Idaho. This, instead of hunkering down with his current wife Emma Heming and their young children, Mabel, 8, and Evelyn, 5!
Who wouldn't want to know what was really going on behind the scenes??
Related: Bruce Willis' Wife Sends Him Her Love — As He Quarantines With Ex Demi!
Turns out, everything's copacetic!
During a recent episode of the Dopey podcast, Scout explained the deal behind the Die Hard star's decision to lock down amid the coronavirus pandemic without some crucial family members:
"My stepmom was going to come up here too with my little sisters, [but] my younger sister … at a park, had never gotten a talk about not f**king with hypodermic needles that she found, she actually tried to poke her shoe with it and poked her foot. So my stepmom had to be in LA waiting to get the results from taking her to the doctor. My dad came up here early and then travel got crazy so my stepmom stayed in LA with my little sisters."
Willis described spending time with both her parents as "really funny" and "cute":
"It's been really funny having both my parents at this house where they, like, raised us. It's kind of divine time to just hang out with them… I'm very grateful to be with my family."
Scout, who shared everyone in her immediate family is sober, added there's been no real tension, despite spending so much time together. Crediting family therapy, she described:
"We all know how to communicate so well now because of that. I feel like I'm in a good place to deal with any emotional intensity that comes up with people. I actually feel really lucky for the time and effort that I've been afforded to put into dealing with my own emotions and helping to facilitate the people in my family through whatever they're dealing with."
Moore and the Willis crew were revealed to all be together on April 6 when Tallulah shared a photo of her parents in matching green PJs on Instagram (below)! In fact, the starlet even clapped back at a fan criticizing their "social not distancing," sharing at the time they've already been together for 27 days!
She stated:
"hi! We made the choice to quarantine together and have been together for 27 days taking every precaution. Please stay inside and wash your hands! :)"
Nearly three weeks later and nothing has changed, though we do wonder when Bruce will be reunited with wife Emma and his young daughters…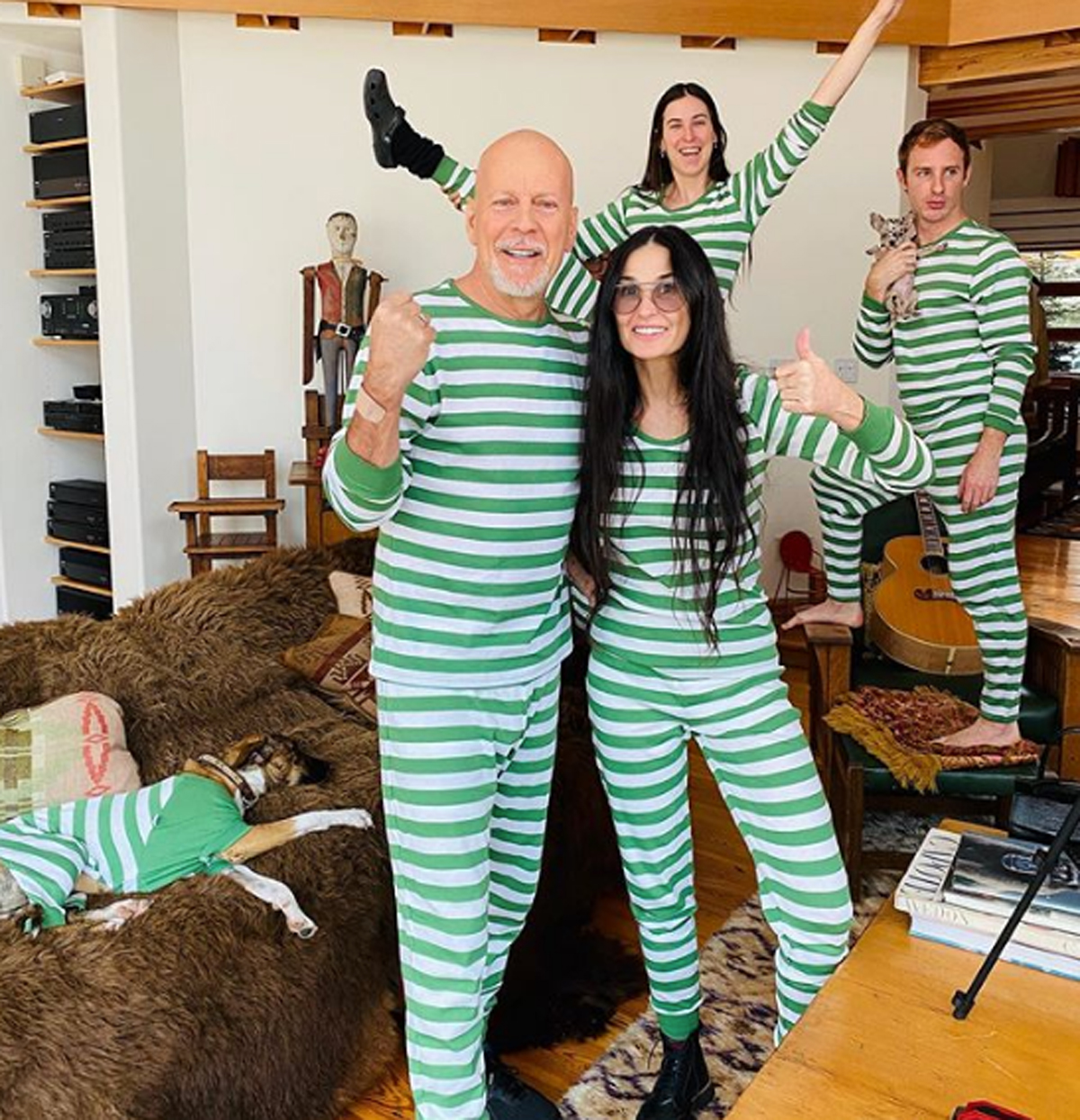 A People source previously explained Emma has had "no issues" with the current arrangement, saying:
"Demi and Emma are close, and all three get on great as a big blended family. There are no issues at all. Emma needed to stay in L.A. with the young kids."
The insider also added of the family dynamic, sharing:
"Demi and Bruce have been best friends for years. They are very close."
We'd argue they're even closer now amid their living situation these days…
Think you could quarantine for so long with your ex, Perezcious readers??
[Image via Emma Heming Willis/Instagram]
Related Posts
CLICK HERE TO COMMENT
Apr 22, 2020 06:57am PDT