The Chris Brown apology tour has already begun…
Less than 24 hours after the Breezy artist went on his Grammys social media tangent after losing the Best R&B Album award to Robert Glasper, he's striking a new tone. As a refresher, Brown took to Instagram Sunday night where he mocked Glasper in a series of since-deleted Story posts, ranging from things like:
"Who the f**k is Robert Glasper"
To:
"I gotta get my skills up.. Ima start playing the harmonica"
And:
"New Level Unlocked! Harmonica Breezy"
Twitter users were not too keen on CB's reaction, and didn't spare words when calling him out!
Related: Why Did Adele Really WALK OUT During Harry Styles Grammys Speech??
Well, the Under the Influence singer must have caught wind of all the social media backlash, as he's officially apologized to the winner! In a Monday IG Story post, the 33-year-old uploaded a screenshot of a DM to Glasper, which read:
"Congratulations my brother.. I would like to apologize if you took offense to my reaction at the Grammys.. you were not the Intended target and I know I came off really rude and mean. After doing my research I actually think your [sic] amazing… THE ORGANIZATION ISNT DOING US BLACKS OUR DUE DILIGENCE. YOU AND I SHOULD never be in the Same categor [sic].. two totally different vibes and genres. So from one black man to another.. CONGRATULATIONS.. HOPE YOU ARE ABLE TO FEED YOUR FAMILY FOR LIFE. God bless my G"
See (below):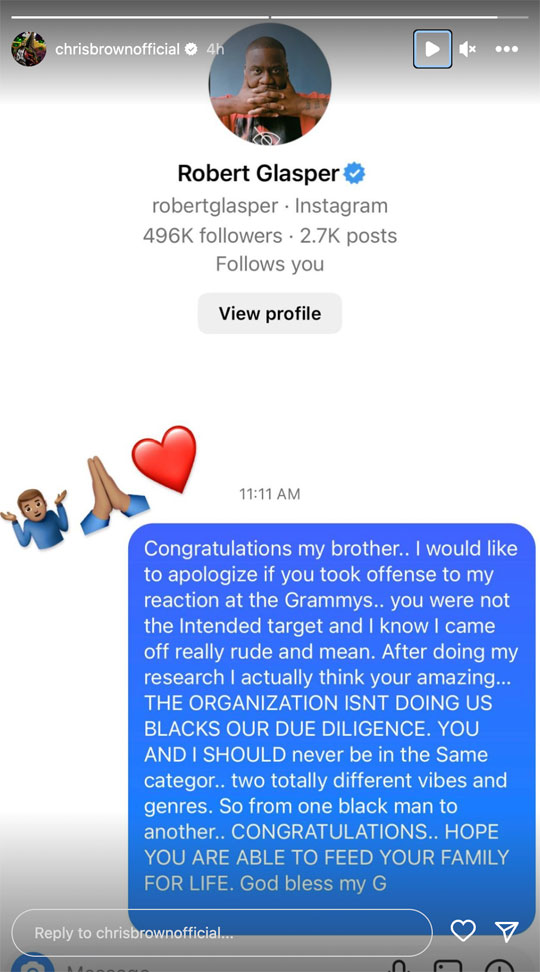 Glasper has yet to respond.
While it's nice that Chris had the decency to reach out and apologize, he should know that even if the Black Radio III artist wasn't his "intended target," he's still a celebrity with A LOT of social media reach. Haven't we all learned to be conscientious of what we post online??
The question is, what do YOU think about his apology, Perezcious readers? Let us know in the comments down below!
[Images via Nicky Nelson/Avalon/WENN]
Related Posts
CLICK HERE TO COMMENT
Feb 06, 2023 16:37pm PDT