Chris Brown and Tinashe have beef!
For those who don't know, the 30-year-old songstress recently appeared on The Zach Sang Show, where she talked about her previous collaborations with Chris and R. Kelly – two men who have been accused of abuse. Tinashe worked on the song Let's Be Real Now with R. Kelly in 2015, and Chris featured on her track Player that same year.
As for their sordid history? The 56-year-old singer is serving a 30-year sentence on racketeering and sex trafficking charges. Meanwhile, Chris pleaded guilty to one count of felony assault for beating ex-girlfriend Rihanna in 2009 and has faced more accusations of abuse since then. And looking back, Tinashe feels nothing but embarrassment for her collabs:
"You think I wanted to – I literally block out that R. Kelly song from my mind—I forget that it even exists. That is so embarrassing. That is so unreal that I even have a song with R. Kelly. That's so embarrassing."
Related: Jesse Metcalfe Hits Back At Former DWTS Partner Sharna Burgess!
While some people may think she did the songs with Chris and R. Kelly willingly, the Superlove artist says that was not the case. Instead, it was her old label, RCA Records, that pushed those collabs:
"I was so young, too, which is crazy because I feel like I did that song when I just signed to that label. I was probably like 20."
Jeez. When host Zach Sang commented that she must not have had "a lot of control in that situation," she agreed, saying "a thousand percent." She went on to mention the collab with Chris, saying:
"Especially when it comes to singles. Like for example, that song with Chris, that was a song that I…a lot of… we all wanted it to be this big moment – this big single. So I feel like in their mind, they were like, 'You need the support.' And he was like their biggest artist that they had on rhythmic radio at the time. To me, I was like, 'Well, this is a pop song, so I really don't feel like we should put Chris on it like that. I don't like that. That doesn't compute to me.'"
Clearly, she doesn't look back on these collaborations with fond memories! You can see a clip from her interview (below):
Chris caught wind of the comments and appeared to take offense! He took to the comments section of a post about her remarks from No Jumper on Instagram Saturday to clap back:
"NAME 5 TINASHE songs or die…. EVERYBODY DEAD"
And he didn't stop there! He then fired back, saying:
"She full of dat evil. Shawty career is nonexistent. What's more embarrassing is that she worked with all these people and not one of us could save her career."
OUCH! See the remarks (below):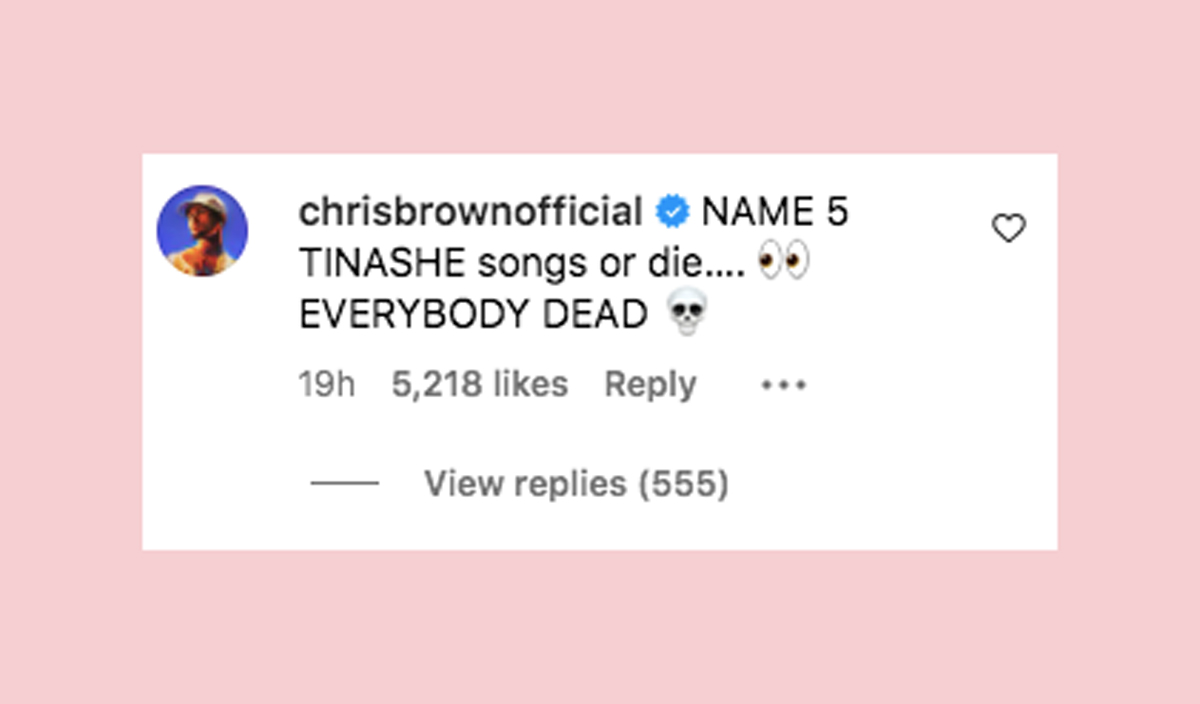 Chris Brown claps back at Tinashe in response to her recent interview

"What's more embarrassing is that she worked with all these people and not one us could save her career" pic.twitter.com/AQUwUNceON

— BreezyRelated (@breezyrelated) September 17, 2023
Tinashe hasn't responded to Chris yet. But boy, are we curious to see what she has to say about the shade! Reactions to the feud, Perezcious readers? Drop 'em in the comments.
[Image via Zach Sang Show/YouTube, REVOLT/YouTube]
Related Posts
CLICK HERE TO COMMENT
Sep 17, 2023 09:53am PDT