Christina Ricci is not thrilled with Ashton Kutcher and Mila Kunis – whatsoever.
By now you know, Danny Masterson was sentenced to 30 years to life in prison on Thursday for raping two women between 2001 and 2003. It was then revealed that several of his That '70s Show co-stars – including Mila and Ashton – were among 50 people who "vouched" for the 47-year-old disgraced actor's "exceptional character" in letters before his sentencing. Ashton hailed Danny as a "role model," while Mila called him an "amazing friend" and an "older brother figure" to her. Ugh.
When these notes were made public, the couple faced a ton of (valid) criticism for disgustingly supporting a convicted rapist and being hypocrites as Ashton has a foundation that aims to protect children from trafficking and sexual abuse. The pair addressed the backlash in what appeared to be a scripted video on Instagram, insisting they "support victims." Ashton explained they were contacted by Danny's family "a couple of months ago" to write letters "to represent the person that we knew for 25 years so that the judge could take that into full consideration relative to the sentencing." He added:
"They were intended for the judge to read and not to undermine the testimony of the victims or retraumatize them in any way. We would never want to do that, and we're sorry if that has taken place."
Related: Topher Grace's Wife Shows Support For Rape Victims After Danny's Sentencing
But as we've said, Mila and Ashton never should have written a letter asking for leniency for a convicted rapist if they really support victims – no matter if Danny was their friend. This so-called apology also did not come off as genuine at all. They seemed to be more sorry that their letters were made public than for actually writing them in the first place. And as you can expect, a lot of people became even more enraged with them following this video. Even Christina Ricci had something to say about the apology clip!
Shortly after the video was shared, the 43-year-old actress took to Instagram Stories to speak out in support of victims. Although Christina never mentioned Mila or Ashton by name, she seemed to be directly calling them out for their apology! The Yellowjackets star said:
"So sometimes people we loved and admired do horrible things. They might not do these things to us and we only know who they were to us but that doesn't mean they didn't do the horrible things and to discredit the abused is a crime."
Go off, girl! Christina — who experienced alleged emotional and physical abuse from ex-husband James Heerdegen — then pointed out that if they claim to support victims, they should have taken that "stance" from the beginning of Danny's controversy and then never penned the letters:
"People we know as 'awesome guys' can be predators and abusers. It's tough to accept but we have to. If we say we support victims – women, children, men, boys – then we must be able to take this stance. Unfortunately I've known lots of 'awesome guys' who were lovely to me but have been proven to be abusers privately. I've also had personal experience with this. Believe victims. It's not easy to come forward. It's not easy to get a conviction."
Say this louder for everyone to hear! You can see the entire post (below):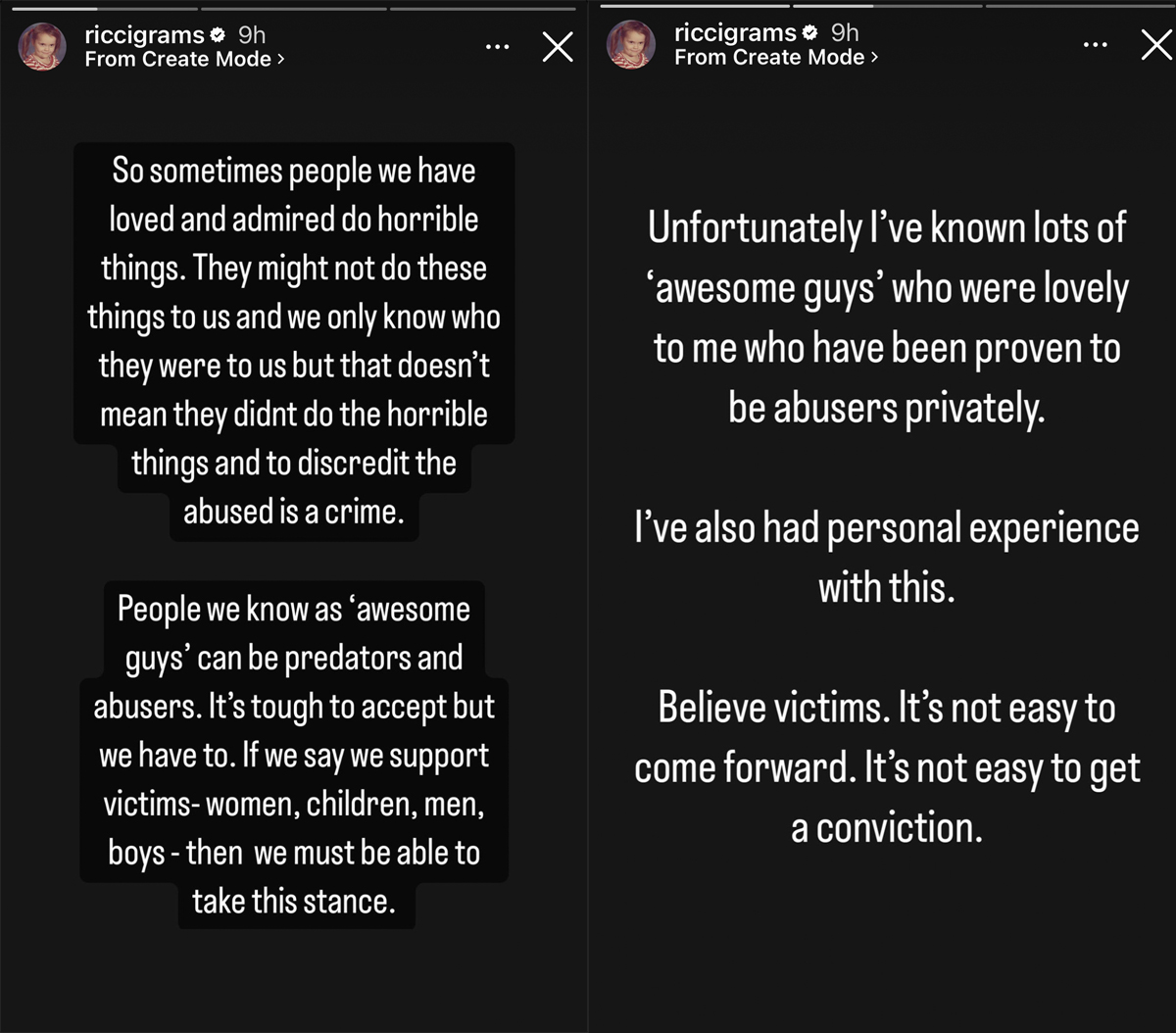 We love to see Christina publicly speaking out about this controversy. Reactions, Perezcious readers? Let us know in the comments.
If you or someone you know has experienced sexual violence and would like to learn more about resources, consider checking out https://www.rainn.org/resources. 
[Image via The Kelly Clarkson Show/YouTube, Vanity Fair/YouTube, The Late Late Show with James Corden/YouTube, WENN]
Related Posts
CLICK HERE TO COMMENT
Sep 10, 2023 10:29am PDT