Courtney Stodden is calling out Chrissy Teigen!
The 25-year-old singer-songwriter and media personality has an ages-old beef with the Lip Sync Battle host which only recently just resurfaced… and now, Doug Hutchison's infamous ex-wife is using her platform as a performer to send a dig Chrissy's way! Whoa!
Related: Courtney Admits Feeling 'Taken Advantage Of' In Infamous Young Marriage
On Monday, Stodden released her new song Bully (Chrissy's Song) on SoundCloud, where it was fairly well-received by listeners early on. In it, she tells the story of being bullied and asks her tormentor why it was done — something the one-time teenage bride knows about all too well.
First, below, you can listen to Stodden's single:
Chart-topping pop music it's not, but it's…. catchy?! Well-produced?! Whatever. It's not bad, right?!
But more than the track itself is the message, a not-so-subtle accusation that John Legend's wife is a bully. And amid Chrissy's ongoing battle with food writer Alison Roman over the last few days, anyways, this is exactly the kind of press the supermodel probably doesn't really want. Still, where is Stodden's bullying accusation from? What prompted it?! Where are the receipts???
Chrissy Vs. Courtney
Two weeks ago, The Sun ran an exclusive interview with Stodden about her experiences online in the past with Teigen, and it wasn't good. In it, she accused the cooking enthusiast of cyberbullying with violent, mean-spirited tweets from all the way back in 2011 and 2012 — when Courtney was just a teenager, having recently risen to fame by marrying Hutchison.
The Washington native told the outlet about her more recent healing work trying to process all the hate she received from the supermodel and other celebrities (below):
"As I'm going through this process, it's forcing me to go through all of the life events I've been through. My therapist told me, 'You bury things and you don't look back.' I'm realizing how much abuse I endured. It bothered me so much. I didn't realize how much it affected me. Chrissy told me to take dirt naps. It made me see she's part of this dark issue. Telling girls to take a dirt nap. She needs to learn, apologize and never do this again."
Whoa, WTF?! Telling someone to die?? Let alone a 16-year-old?!
Courtney came with the receipts, too. As you can see (below), Chrissy didn't think much of calling out the teenage girl over, and over, and over, and over again for a few years there: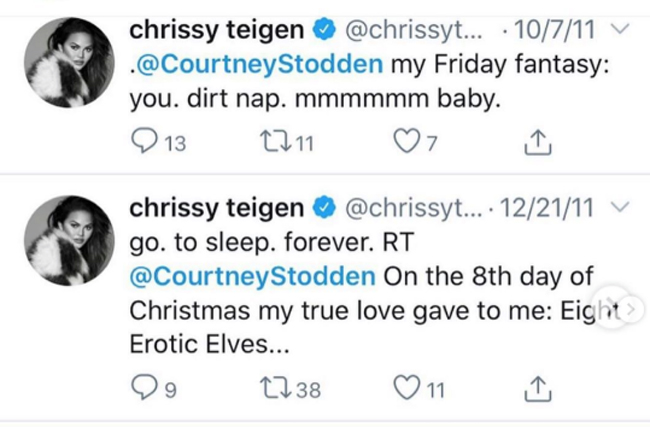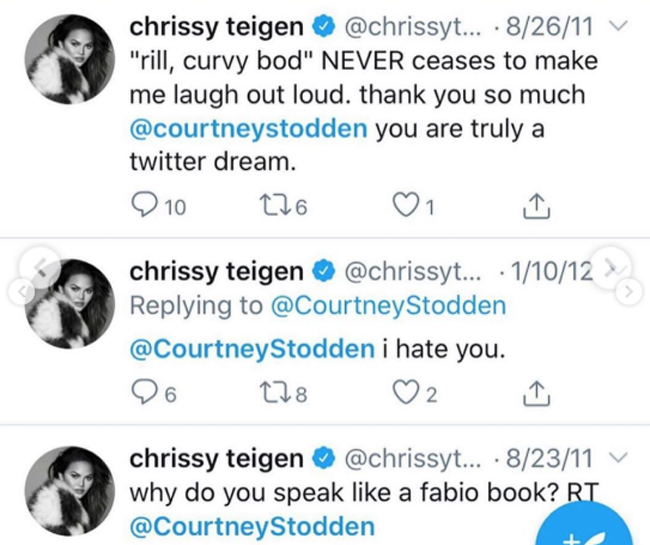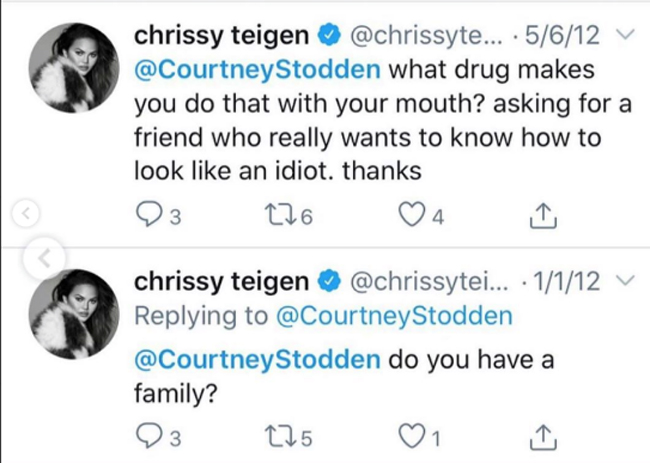 Wow. It's just… a lot.
Courtney is trying to take the high road on this one, too (well, maybe at least until the song dropped), even going so far as to say to the media:
"I hope she's not bullying anymore. Chrissy with her platform telling me to take a dirt nap, you believe it. I loved John [Legend] and looked up to her, it was devastating. She hasn't responded. She blocked me! If she doesn't apologize it shows her true character. I would forgive her. She could do good. Acknowledge, change, grow and learn."
Interesting…
What do U make of all this, Perezcious readers?! The song is a CALL-OUT, no doubt about that! And what about the long-simmering feud in general??? Sound OFF with your take on the whole matter down in the comments (below)!!!
[Image via WENN/Instar/Avalon]
Related Posts
CLICK HERE TO COMMENT
May 12, 2020 07:26am PDT