Raquel, err Rachel Leviss is finally speaking out!!
Just like Tom Sandoval with Howie Mandel, the embattled Vanderpump Rules star sought out a friendly face (who doesn't watch the series) in the industry to hash out her feelings on Scandoval instead of airing her grievances on the series itself.
On Wednesday, Real Housewives of New York City star Bethenny Frankel dropped the first part of an explosive sit-down with the controversial reality star on her podcast Just B with Bethenny Frankel — and they got into it all! From discussing Raquel's reasonings for hooking up with Tom Sandoval behind his longtime partner and her best friend Ariana Madix's back, to what she learned in her lengthy stay in a mental health treatment facility, and SO. MUCH. MORE!
Read on for ALL the latest drama!
Related: Tom Sandoval Insists He's NOT Dating Tii — But What About Raquel??
Why Bethenny?
We all know Bethenny's a queen of Bravo, but why was she the one to snag Raquel's first interview since the reunion? Well, because she's been vocally supportive of the star since the very beginning. The podcast host reflected at the start:
"[The backlash] seemed disproportionate to me. I was watching clips on social media and hearing about this Scandoval — that had a name, was being marketed and it was being pumped through the PR machine. And I did say … 'Everybody's gonna be more well known than they were before because of this.' And my mind was, 'They're on a reality show. It's set in a bar, is what I think. It's fueled by alcohol and partying and multiple affairs. So what respectfully, what the hell is the big deal that everyone's talking about?' … And I said your name just as an example of what I imagined to be somebody who had been exploited. And for the rest of your life, that content will be out there without compensation."
Raquel agreed, calling herself a "punching bag" in the situation, adding:
"Reality TV — it's edited. It is contrived to create a certain story line. And so it's not all factual. So as a viewer tuning in, it's easy to get wrapped up in that. And then the concept of an affair hits home, hits really hard to a lot of people. So I think there was a lot of projection happening."
She added later:
"That person that I saw watching back on my TV was someone who's completely out of character from who I truly am. And so I feel like having this opportunity to share my side of the story and to represent myself in a way that is true to who I am is all that I could ever ask for."
Mental Health Center
As we all know, Raquel has pretty much been in hiding since filming the VPR Season 10 reunion. Shortly after her cheating scandal made headlines, she checked herself into a mental health facility — something she was supposedly planning to do even before she was the talk of the town.
She only just left the facility last month after over two months receiving treatment. Opening up about what that experience was like, she recalled "carrying so much shame" when she first entered, making it "difficult" for her to introduce herself and open up to others in the center. She reflected:
"But as time went on I was able to warm up and really share my story in an authentic, honest way, and I was met with grace and compassion from my peers, and a big part of my journey is learning to be compassionate with myself as well."
When asked if she forgives herself, she replied, "Yeah, I do."
Addicted To Love
The former pageant queen went on to explain she learned what it means to have a love addiction while in therapy, saying:
"Part of the reason why I wanted to take some time away is just because it was so chaotic and loud and there was such vitriol online. But then the other part of the reason why I wanted to go to a treatment facility was to understand my behaviors. And my goal was to really get down to the bottom of, 'OK, why am I choosing men that are unavailable? Why do I keep finding myself in unhealthy relationships? What are the things that I need to change about my behavior?' And in knowing that I needed to make a change, I first had to know what it was that leads to those behaviors."
She continued:
"It took me a while to accept, but I learned about love addiction and it's a real thing. It's where you confuse intensity for intimacy. And those chemical changes in the brain are the same chemical changes that happen when you take drugs. So it is addictive, and it explains why I couldn't stop seeing this person, but it also doesn't excuse the fact that it happened. But now I know better."
Raquel referenced struggling with love addiction in her first statement about the affair in March, when she said she wanted to "end my unhealthy behavioral cycle, learn to set stronger emotional boundaries and learn to protect my mental health." She also suggested a desire to understand and stop her "patterns of codependency and addiction to being and feeling loved." The TV star now feels she's come "full circle, in a way, talking about that need to be validated and that wanting to be loved."
Reasons For Her Behavior
While Raquel certainly took the opportunity to defend herself and her actions — however problematic they were — during the podcast, she also acknowledged that she did f**k up!
Referencing her failed engagement to James Kennedy, the 28-year-old said she hadn't "healed yet" post-breakup and was "drinking a lot to ease that anxiety" during filming of Season 10 — but, of course, doing that in a reality TV environment backfired because she wasn't "getting that safe space for me to express my emotions in a healthy way."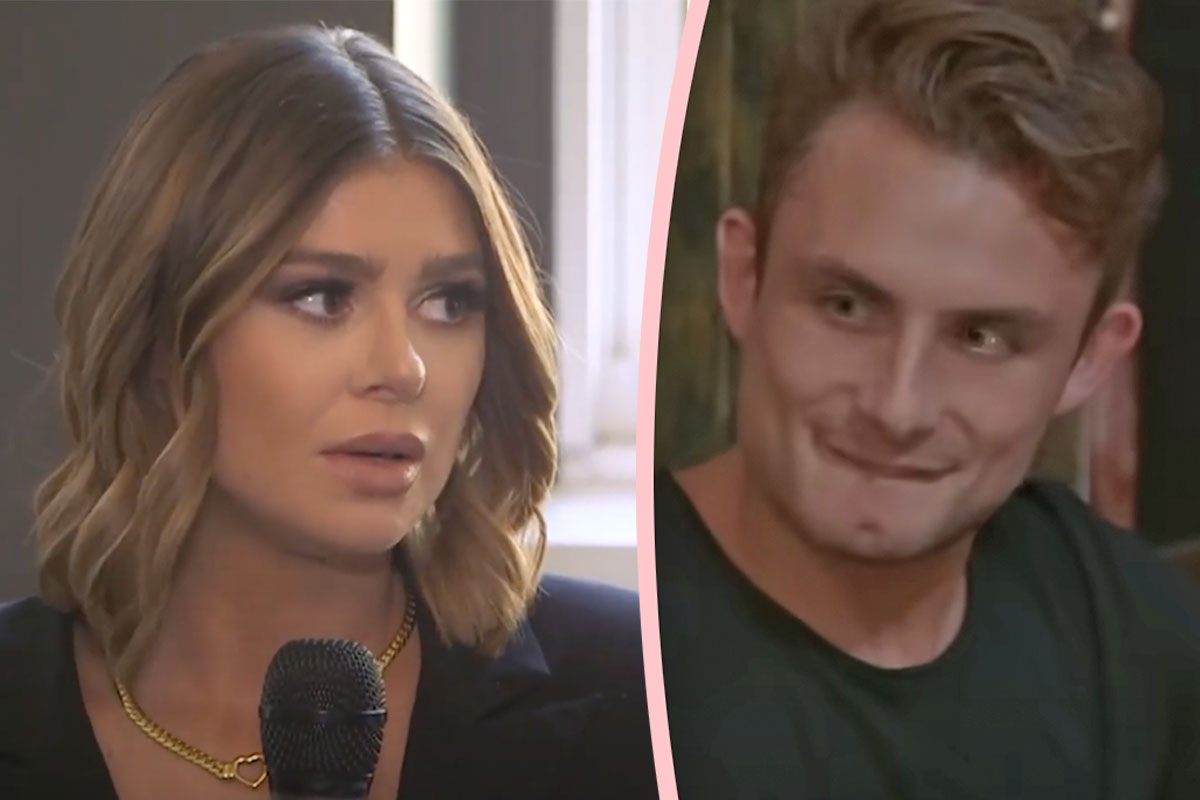 The Video!
Elsewhere in the pod, Raquel broke down why Tom had a NSFW video of her on his phone! You know, the vid that exposed the whole damn scandal in the first place! She spilled:
"I decided to be adventurous and look at the adult section on the TV, and Tom and I FaceTime a lot. So, it turned into something more of an intimate FaceTime. I expected to have privacy in that moment."
After a full press day with Scheana Shay in NYC, she got a text from Ariana with "two screen-recorded videos and a text that said, 'You're dead to me.' That's how I knew that she knew." This was also the first time she found out she "had been recorded without my consent." Oof!
She then went on to allege Ariana may have shown the video to LOTS of people despite legal ramifications!
"It seems to be that a lot of people have seen it despite my immediate cease and desist letter that went out. She — some of Ariana's friends have described the video in great detail online, and… she also sent it to me, so, I don't know who else she sent it to. I wouldn't be surprised if she sent it to other people, but it's not legal."
The Truth About Ariana
One of the biggest reasons this scandal blew up so much is because Raquel not only cheated with a man who was already taken, but because she betrayed her best friend.
…or did she?
The young woman is now trying to claim they were NEVER besties!! Um, what?! She dished:
"Ariana and I were not best friends. We were acquaintances who became friends through the show. … We never had a deep conversation that I would have with a best friend. It's painful to think I hurt her in this way because that wasn't my intention. … I call these people my friends because I really did believe they were my friends."
Ariana and Raquel were constantly posting together even when cameras weren't rolling. Is she seriously suggesting they weren't friends?! Seems to us she's just jealous! When asked how she feels about the Something About Her sandwich shop owner being dubbed "America's sweetheart" and earning endorsement deals and the like after the breakup, Raquel replied:
"Part of me says, good for you, because take advantage of these opportunities while they come your way. But it is hurtful to me just to think that — my nature is very kind and forgiving and understanding of other people, so the concept of me being the ultimate reality TV villain just blows my mind. And the way that she spoke to me at the reunion, I feel like it was uncalled for."
Uncalled for? She was in the throes of heartbreak, realizing someone she trusted was never worthy of her trust. We'd say she had every right to be pissed off! All that said, Raquel apologized, saying:
"I don't expect her to forgive me. I am remorseful. I do recognize that I've caused her a lot of pain."
BUT!!!
Related: Ariana Madix Blasts The OTHER Tom Amid VPR Season 11 Filming!
Then she totally dissed the romance (or lack thereof) between Tom and Ariana, declaring:
"I would not be involved in this affair, secrecy type situation if I thought there was longevity in this relationship between Tom and Ariana,. The people closest to them can see their relationship has not been what they portray on camera. Tom always told me they're a brand, they're an image. … They're business partners."
Jeez!
Interestingly, she also noted Tom and Ariana are still living together, even though she gave Tom a key to her apartment while she was away at treatment. To be fair, it would have looked terrible if the TomTom co-owner had started living at Raquel's pad during all of this! But she's using this as an example to prove they "haven't been a romantic couple" in a long time, insisting they're more like roommates.
Tom Sandoval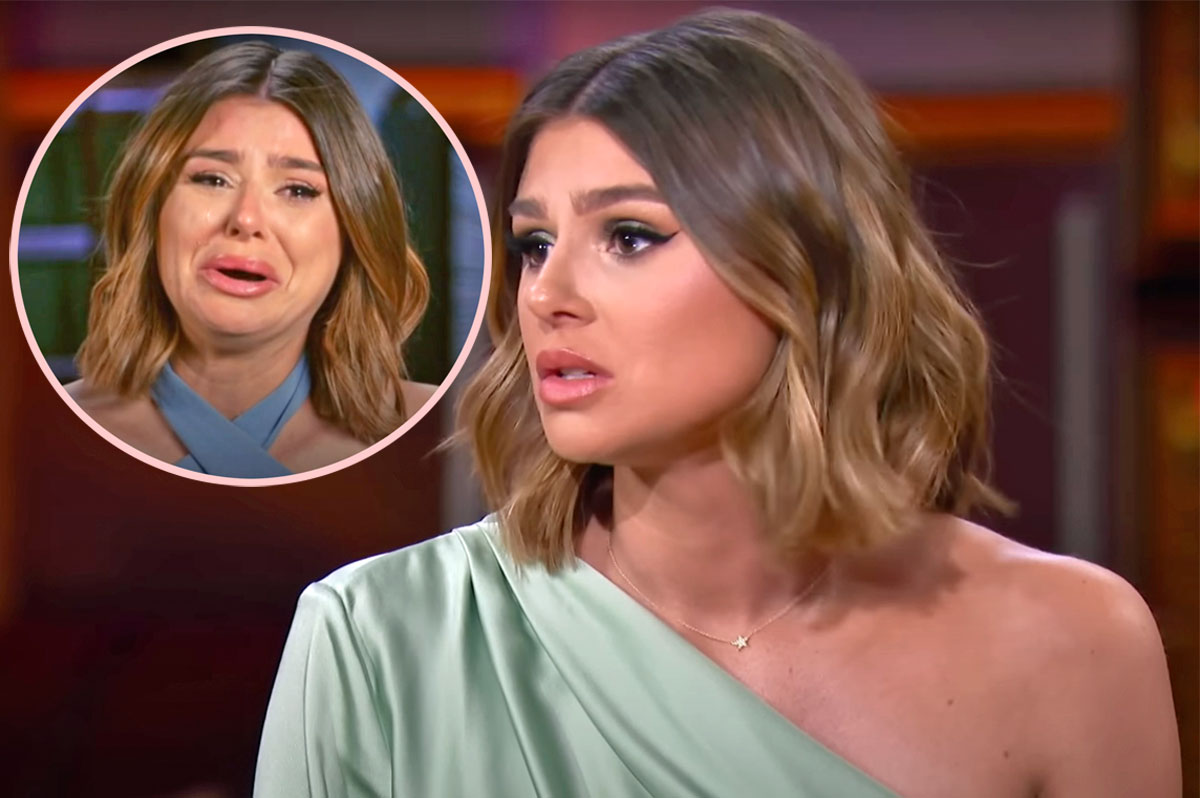 We kid you not, when discussing her final interview during the reunion in which she broke down and claimed she was asked to lie about the affair for Tom and his family's sake, she said she realized:
"In that moment, I wasn't even able to be fully honest because I was still keeping secrets for people who specifically requested for me to keep it on the down low, especially me going to visit his family and his friends out in St. Louis. So… It really just showed me that honesty is one of my core values that I refuse to compromise any longer."
GURL!
She was lying for months!!!

This can't be a core value!

Looking back on their relationship — because it 100% sounds like they've split for good — Raquel insisted she wasn't really in love with the bar owner, reflecting:
"I believed I was in love with Tom at the time. I now look back on it and see that I was not in love with him. I also don't believe that he truly was in love with me either. … We had this connection that I felt seen and heard by him. I haven't really had that connection with other people in the cast nor people in my real life, so it was like… I was filming in a tumultuous environment. I was needing some validation and somebody to hear what I was going through, and here comes along Tom who really gave me that time of ay to share my side of the story in a non-judgement zone, and that's exactly what I needed in that moment."
Introducing Rachel
Leviss also opened up about her name change. As you may know, she was born Rachel Leviss, but is most known by her moniker Raquel. Now, she is ready to go back to her roots, she explained:
"So I changed my name to Raquel in first grade. There were a few other Rachels in my class and I wanted to be special. I also feel like deep down, I wasn't comfortable in my own skin. I wanted to be somebody better in my eyes. And so Raquel was a way for me to kind of be that person."
While in therapy, she was asked to write her name on a whiteboard, and she wrote Rachel:
"(My therapist) was like, 'Interesting. I see you as Rachel to your core. You're going by Raquel, which is OK, but it's not true to who you are. It's a wall you have up.'"
She mused:
"I feel like most of my life, I've been afraid, I've struggled with social anxiety, I've struggled with judgment for other people. So having a fear of vulnerability makes sense. So I'm really just trying to come back to my roots, and I'm introducing myself as Rachel."
Whoa!
The Future Of VPR
Raquel also pretty much confirmed she won't be returning to VPR, revealing:
"I haven't seen a single penny. … It's not fair. And I feel like a toddler saying, 'It's not fair.' But it really isn't. And I feel like I've been portrayed as the ultimate villain. My mistakes that I've made on camera live on forever. And you mentioned something about the addiction of doing reality TV and the way that they always dangle that carrot in front of you, like, 'Well, you need to tell your side of the story otherwise it's gonna be written for you.' And that's terrifying. So I almost went back, I know just because of that."
Seems like she's upset because she hasn't made any cash from the ordeal. This is a lot, and it's only part one! What are your biggest takeaways from this tell-all!? Spill all your hot takes in the comments (below)!!
[Image via Bethenny Frankel/Instagram & Peacock/YouTube]
Related Posts
CLICK HERE TO COMMENT
Aug 16, 2023 07:50am PDT