Macaulay Culkin & Michael Jackson — What The Child Star Testified About Their Relationship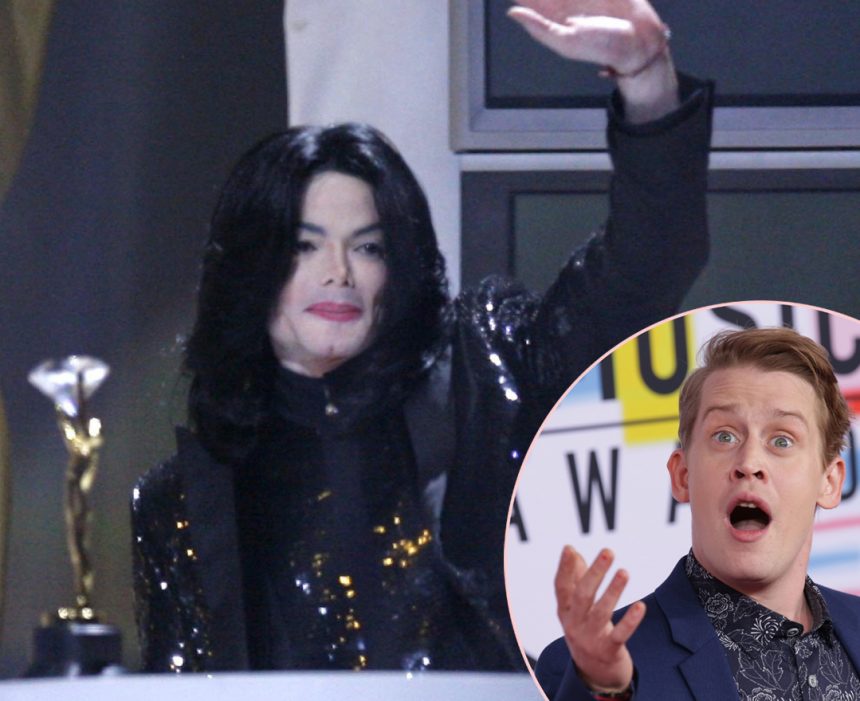 Macaulay Culkin was a key witness who shared very important testimony about Michael Jackson's private habits and living situation during the King of Pop's child molestation trial back in 2005.
Jackson was ultimately acquitted of all charges during that landmark trial, as you'll recall, but it's been an enlightening time the last several weeks to dig up past testimony and information from that period and see how it has matched up with the newer allegations uncovered in the HBO documentary Leaving Neverland.
Related: Starbucks Distances Themselves From Michael Jackson…
Culkin, the former Home Alone star who had been a child companion of Jackson's in the early 1990s before he grew up and became an adult, turned out to be one of the key witnesses who spoke up in court about MJ's behavior back then.
He was such a key witness, in fact, that old news clips from 2005 which describe Culkin's role in taking the stand to testify don't exactly mince words about how critical his testimony was to have been to Jackson's acquittal (below):
"Macaulay Culkin almost single-handedly devastated and shook the foundation of the prosecution's pattern of evidence against Michael Jackson … certainly if the jury believes Culkin, it will be a significant boost to the defense."
And of course, the jury did believe Culkin — and thus, acquitted Jackson. Wow!!!
Culkin's 2005 Testimony vs. 'Leaving Neverland' Today
Most interestingly as it relates to trying to piece together the myriad allegations against Jackson, some of the things Culkin testified to under oath fourteen years ago have creepily matched up with newer allegations presented in the HBO documentary now. In fact, there are several key moments in which Culkin's 2005 testimony matches up very closely with things alleged in Leaving Neverland by Jackson accusers James Safechuck and Wade Robson.
As you can see (below), there were a couple key moments from the former Home Alone star's testimony fourteen years ago that are raising eyebrows when seen under new light here in 2019…
Ding Dong — The Warning System
For one, Culkin — now 38 years old — admitted in court at the time that the entertainer had rigged up a warning alarm in a walkway up to his room, so the adult would know whether somebody was coming to his door.
Culkin revealed on the stand while first testifying back in 2005 (below):
"There was like a walkway kind of thing, where if somebody was approaching the door, it would kind of like 'ding-dong, ding-dong.' When anyone would approach the room, yeah, you'd hear this kind of—soft kind of alarm, like 'ding-dong' kind of thing."
Whoa! Obviously, using an alarm system like that would alert somebody to the approaching presence of an unwanted guest — and it tracks with what others have alleged about molestation committed in that rigged room, thereby allowing for a warning before anybody could potentially barge in the door uninvited.
For one, Safechuck's new allegations in Leaving Neverland seem to corroborate the alarm system. Now 41 years old, Safechuck spoke at length about the "creepy" alarm system in the documentary — and actually went even further than Culkin had gone on the stand, alleging for the cameras that Neverland Ranch had a "catalogue of hidden prospective sex dens" which made it very difficult for outsiders to track through and successfully find their way around to every single space.
At one point in the documentary, Safechuck said (below):
"We would get a blanket and we would lie it on the floor in the closet, so we could close the door. So there were bells and you could have a moment of hearing them trip so at least you knew if people were coming for him."
Yikes…
Sleepover Parties, Until…
Culkin testified during trial that he had slept in the Billy Jean singer's bed just ten times "at the most," as a child. He further added at the time that every sleepover had occurred when he was a younger child, before stopping when he was about 14 years old. The actor said at the time (below):
"When I started coming back again [as a fourteen-year-old], I found myself just not sleeping in bed. And I've always kind of fell asleep in the guest units ever since then … because I enjoyed my privacy a little bit more."
Hmmm…
The fact that Culkin picked the age of 14 specifically ought to raise some eyebrows, too — it's the exact same age that both Safechuck and fellow accuser Wade Robson allege that Jackson lost sexual interest in them, too. If the Leaving Neverland allegations are to be believed, it's clear there's at least a broad parallel here between Culkin's old testimony and the new accusations, and once an alleged victim aged out from the focus age, that was that.
But There's One Big Difference…
It's certainly enlightening to see how Culkin's testimony from back during the legal battle parallels more recent accusations — and maybe even damning, in some ways — but there's one HUGE difference between Culkin then, and Safechuck and Robson now: denial.
Macaulay has long denied that Michael Jackson ever molested him, at any point. He has been on the record so many times denying any molestation at all from Jackson that the Leaving Neverland producers didn't even bother to interview him for their documentary at all, telling Vanity Fair in January 2018 that "Macaulay has gone on the record many, many times, including recently to say that his relationship with Jackson was innocent."
Safechuck and Robson, on the other hand, make the opposite case with their allegations in the documentary. Jackson's family and estate have strongly denied those allegations, even slamming the doc as "one-sided." But the men have stood by their story — even as some particulars parallel Culkin's earlier testimony, while some conclusions and accusations are completely different.
And while the doc itself may be one-sided, it's important to re-visit the old allegations and sworn testimony to determine if there's any veracity to any of the accounts. Though we may never know what truly happened, re-examining the old allegations with a new eye has certainly brought forward some interesting and unsettling moments. Something tells us more will soon come to the surface…
Reactions, Perezcious readers?! Sound OFF with your take on all this in the comments (below).
[Image via WENN]
Mar 18, 2019 5:52pm PDT