Starbucks Is The Latest Brand To Distance Themselves From Michael Jackson Following 'Leaving Neverland' Doc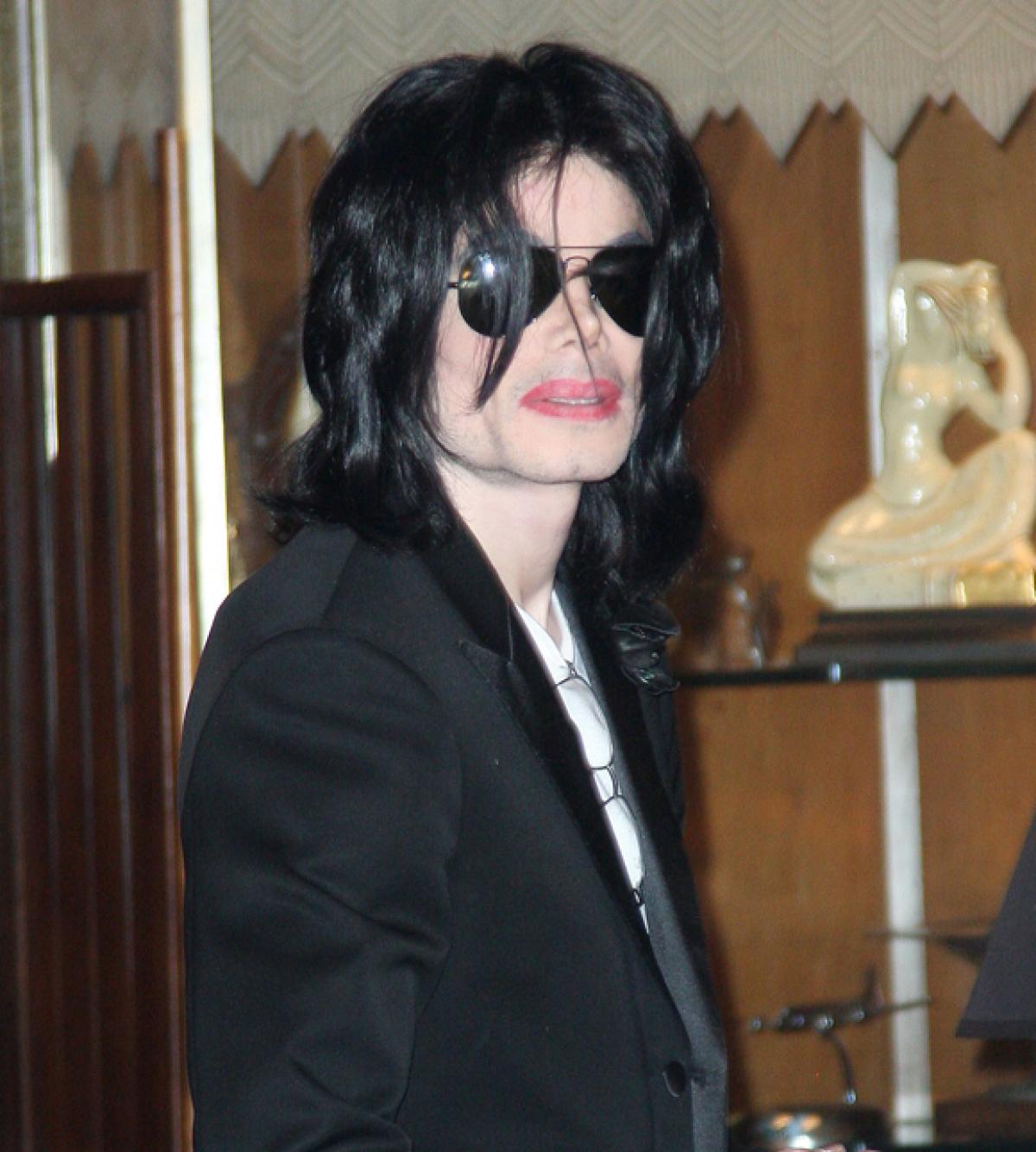 More fallout for the King of Pop.
In early March, HBO debuted their critically acclaimed Leaving Neverland doc, which exposed alleged abuse at the hands of Michael Jackson. Wade Robson and James Safechuck shared shocking elements of their underage relationship with the global superstar, revealing explosive details about years and years of sexual assault and trauma.
Related: New Footage Uncovered Of MJ Allegedly Shopping With James Safechuck
The project has caused quite a bit of controversy, with the Jackson family denouncing the film and the accusers involved.
But that didn't stop brands from distancing themselves from the singer. Most recently, Starbucks revealed they would not be playing any MJ songs in their coffee shops nation wide. It was uncovered when a fan on Twitter asked:
"@Starbucks Why are you still playing Michael Jackson in your stores?"
And the popular coffee chain replied: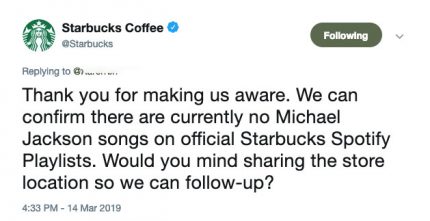 The distancing is loud and clear to us!
We have a feeling places are feeling an intense amount of pressure to not positively publicize the performer.
Related: Aaron Carter Says He Would Punch Wade Robson Over Micheal Jackson Claims 
Here are other brands, TV shows, and people who are taking another look at supporting Michael:
The Simpsons
Soon after the doc aired, The Simpson's creators decided to pull an episode that featured Michael and his voice. On the footage, James L. Brooks, the legendary animated comedy's longtime executive producer, released the following statement:
"This was a treasured episode. There are a lot of great memories we have wrapped up in that one, and this certainly doesn't allow them to remain. I'm against book burning of any kind. But this is our book, and we're allowed to take out a chapter."
Radio Stations
Several radio stations in Canada and New Zealand have dropped Jackson's music from their playlists, over fallout from the documentary. An NZ station collective shared:
"Michael Jackson isn't currently on any MediaWorks Radio stations' playlists. This is a reflection of our audiences and their preferences — it is our job to ensure our radio stations are playing the music people want to hear."
We polled you, Perezcious readers — and most agree that ditching his music is the right thing to do, following intense new alleged details.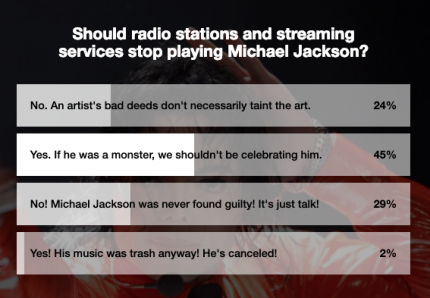 National Football Museum
The museum, located in Manchester, has decided to remove a statue of the Billie Jean crooner. A rep shared:
"Plans have been under way for a number of months to remove the Michael Jackson statue from display as part of our ongoing plans to better represent the stories we want to tell about football. As a result of this, the statue has now been removed."
Drake
Drake kicked off his new tour in Europe a week after Leaving Neverland aired, and amid growing controversy, decided not to include his song Don't Matter to Me which features MJ vocals from 1983, in the setlist.
Louis Vuitton
ICYMI: Louis Vuitton's fall 2019 men's wear collection drew direct inspiration from Michael's pop-culture legacy.
In response, men's artistic director Virgil Abloh said in a recent statement to WWD:
"I am aware that in light of this documentary the show has caused emotional reactions. I strictly condemn any form of child abuse, violence or infringement against any human rights."
Michael Burke, LV's chairman and chief executive officer, added:
"We find the allegations in the documentary deeply troubling and disturbing. Child safety and welfare is of utmost importance to Louis Vuitton. We are fully committed to advocating this cause."
The Los Angeles Lakers
It was revealed in early March the team's "Air Band Cam" would no longer feature Beat It — but instead, Chuck Berry's Johnny B. Goode and Nirvana's Smells Like Teen Spirit. See the Twitter proof (below)!
The Lakers' Air Band Cam getting fans to imitate Lance Stephenson's air guitar featured Micheal Jackson's "Beat It" as the musician accompaniment most of the season. Since "Leaving Neverland" aired, they've switched to Chuck Berry's "Johnny B. Goode" and Nirvana pic.twitter.com/AlLxXOoNtZ

— Dave McMenamin (@mcten) March 10, 2019
Thoughts on all of this?? SOUND OFF in the comments (below)!
[Image via WENN]
Mar 15, 2019 9:47am PDT