2020 has not been kind to celebrity couples, and unfortunately, Miley Cyrus & Cody Simpson are the latest pair to call it quits!
According to multiple sources, the 27-year-old Wrecking Ball singer and Australian actor quietly broke up in the past few weeks! At this time, it's still unclear what led to the split.
The last we heard, the two were said to be in a really great place and encouraging each other to maintain sober and healthy lifestyles. Ugh, we can only wonder what must have changed…
Related: Kaitlynn Carter Gets REAL About Her Painful Breakup With Miley Cyrus
Miley may have been referencing her breakup without us realizing it days ago while promoting her upcoming single Midnight Sky on Instagram. She wrote:
Forever and ever no more. ???? The #MidnightSky is the road I'm taking…. head high up in the clouds.
"Forever and ever no more" certainly sounds like breakup lyrics, but then again they could have been written about someone other than Cody…
This October would've marked a year of dating for the fun couple, who got together shortly after Miley ended her relationship with Kaitlynn Carter. Just before that headline-making fling with Brody Jenner's ex-girlfriend, Cyrus was famously married to her longtime love Liam Hemsworth. After a decades-long on-and-off romance, the two would ultimately go on to file for divorce in August 2019, citing irreconcilable differences as the cause. Instead of taking a beat to herself, Mileybird would go on to give it another shot at finding love.
Things really seemed different when Cody and Miley got together, though!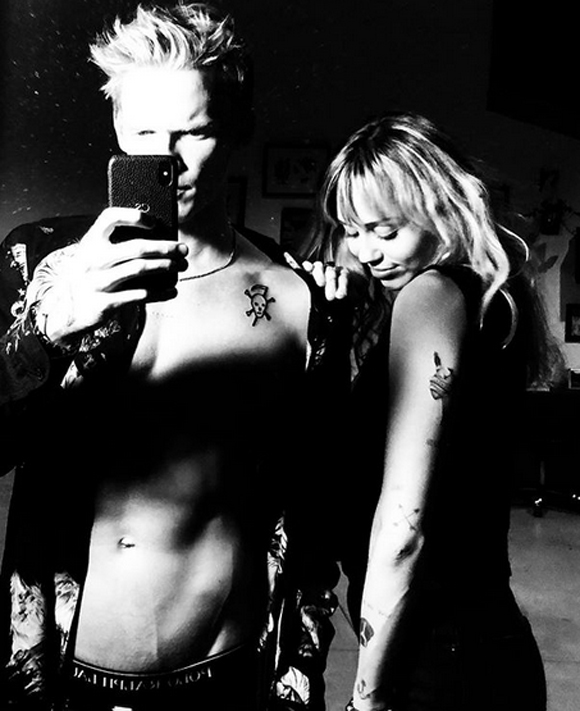 Things moved fast early on as they flooded social media with PDA-filled pics and professions of love that suggested they found a love that neither of them had ever experienced before. As you'll likely recall, it was Simpson who helped nurse the pop starlet back to health after she underwent vocal chord surgery late last year and they even got matching tattoos, too! From spoiling each other with lavish gifts to writing songs about their love story, the pair checked off every box you'd expect for a hot new couple deeply in love.
Cody was more than a just rebound and an insider recently told ET the Hannah Montana star had recovered from her lowest point and reached new personal highs with the sweet Aussie by her side:
"Her divorce from Liam and her new relationship with Cody was a whirlwind of change for her, but in true Miley fashion she has come out on top. Cody is lots of fun and a good friend to Miley. What began as close friends supporting one another during a rough time, blossomed into more. Their relationship was unexpected and became meaningful very quickly, and she couldn't be happier. They are both very passionate about their music and it's something that has bonded them."
We sincerely hope this was an amicable split. Miley's been through so much in such a short time! Here's to hoping we learn more about where things went left here.
[Image via Cody Simpson/Instagram.]
Related Posts
CLICK HERE TO COMMENT
Aug 13, 2020 16:52pm PDT