[Warning: Potentially Triggering Content]
This is just so terribly sad…
Naomi Judd left behind a truly upsetting suicide note after her death in April — and her last words are heartbreaking, particularly for her daughter and musical partner Wynonna Judd. On Tuesday, Radar Online obtained a photo of a yellow Post-it note from the Williamson County Sheriff's Office in Tennessee, seemingly taken from the site of Naomi's death. There was a simple message — believed to be from the late star — written in black pen in cursive writing, saying:
"Do not let Wy come to my funeral. She's mentally ill."
The "not" was underlined, making it clear Naomi was serious. Whoa. We can't believe that was the last thing she wanted to say…
Related: Naomi Judd's Husband Blames Himself For Being Too Hard On Her
A source close to Wynonna opened up to the outlet about how "crushed" the singer was by her mom's last words, expressing:
"Wy knows better than anyone the mental struggles Naomi went through, but it just crushes her to think her mom's dying thoughts were so vicious."
The Judd family declined to comment further when Page Six reached out for comment. You can see the harrowing message (below):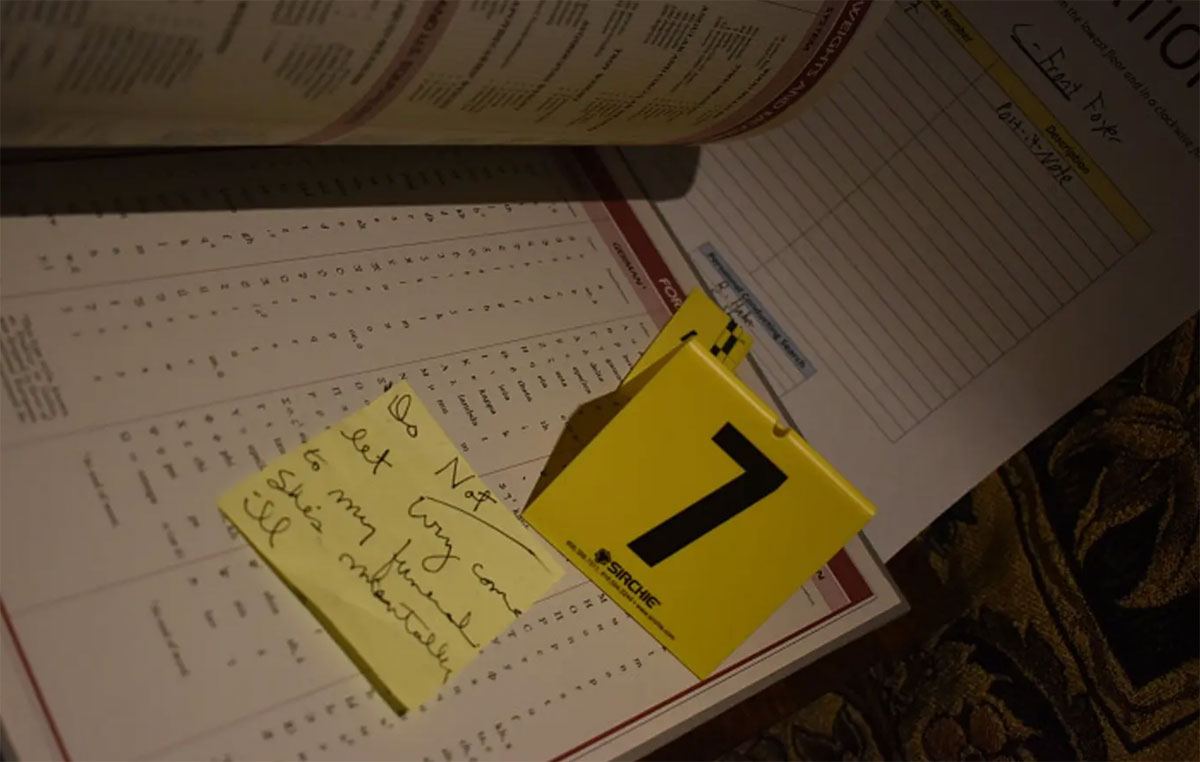 As Perezcious readers know, the country music icon died of a self-inflicted gunshot wound in April 2022 at 76 years old. She had struggled with mental health challenges for several years. An autopsy report in August explained that she was found "unresponsive in her home by family" and was pronounced dead shortly after being rushed to the hospital.
As you can imagine, her loss has been devastating for her family, particularly Wynonna, who has been candid about needing to lean on others to get through this dark time. In May, the 58-year-old, who performed with her mother in the musical duo The Judds, opened up about the tragedy, writing on Instagram:
"I DO know, that the pain of losing Mom on 4/30 to suicide is so great, that I often feel like I'm not ever going to be able to fully accept and surrender to the truth that she left the way she did. This cannot be how The Judds story ends."
The comment has a double meaning now knowing about this letter.

The Love Can Build A Bridge artist also emphasized her need to focus on herself amid the grief, adding:
"I really DO know, that I'm not able to do this grieving thing all by myself, and that it's okay to reach out for help. I will continue to fight for my faith, for my SELF, for my family, and I WILL continue to show up & sing."
She went on to honor her mother during November's 2022 CMA Awards, calling these "past six months a time to grieve and a time to be grateful."
Related: Lisa Marie Presley's Cause Of Death Deferred — More Tests Required?
Interestingly, this isn't the first sign of trouble in the family since Naomi's death. Rumors of a family feud took flight on social media after it was revealed Wynonna and her sister, Ashley Judd, were left out of their mother's will. In October, the performer denied the sisters were fighting, telling People:
"Someone told me while I was at Ashley's house, 'Hey, did you know that they're saying this about you?' I went, 'Huh? I'm fighting with Ashley? Oh. Again?'"
She added:
"Fighting over what? I have such a great life. Ashley has a great life. Why would we be fighting over the will?"
They may not have been fighting, but we have to imagine Wynonna was deeply hurt by this troublesome note. What a gut-wrenching last memory of her mother…
If you or someone you know is contemplating suicide, help is available. Consider contacting the 988 Suicide & Crisis Lifeline at 988, by calling, texting, or chatting, or go to 988lifeline.org.
Related Posts
CLICK HERE TO COMMENT
Jan 19, 2023 11:33am PDT