Oprah Denounces 'Unfair' Press About Meghan Markle & Details New Documentary Partnership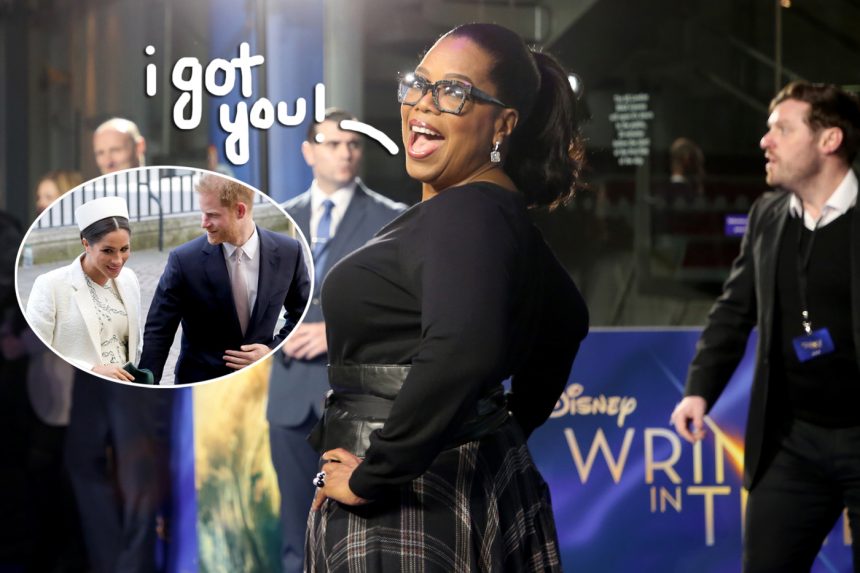 We're SO here for this friendship!!
Oprah Winfrey vocalized her opinion today about how Meghan Markle has been "portrayed unfairly" in the media, while also sharing details about a new multi-part documentary series the two are collaborating on with Prince Harry.
Related: Did Serena Williams Accidentally Reveal The Royal Baby's Sex??
The 65-year-old spoke with her bestie Gayle King on CBS This Morning about the way Miz Markle has been depicted in the media:
"I think she's being portrayed unfairly. I feel that if people really knew her, they would know that she is not only everything you perceive her as being–graceful and dynamic in holding that position–but that she just has a wonderful warm, giving, funny heart. I see all the crazy press around her, and I think it's really unfair."
Apparently, none of what goes down in the press even bothers the momma-to-be, because she doesn't read it:
"She does not read anything, and I think that's remarkable."
The Path Made Clear author is not the only A-lister in Hollywood who has come to the Duchess of Sussex's defense. George Clooney has openly spoken out twice about Meg's portrayal, most recently sharing in March:
"I think it's a little unfair at times when – I've seen it when the press can turn on you for sort of ridiculous reasons and for almost nothing, and it seemed to me to be a little unjust since [Meghan] hadn't done anything except just happen to live her life. Most of it you can just shrug off and not pay attention to, but sometimes it's unkind."
Related: Meghan & Harry Want A 'Quiet Life' AWAY From Kensington Palace After Baby
The docuseries is set to launch in 2020, and stemmed from a conversation with the father-to-be, the Oprah Winfrey Network CEO shared:
"I was having a conversation with him, and I asked the question 'What do you think are the most important issues facing the world right now?' He said there are two: climate change, and mental health. As you know, he's spoken about his own issues, and what he went through after his mother died, and how being able to talk about it has benefited him, so it's a passion of his."
The expectant parents expanded on details of the mental health-focused project via Instagram this morning:
The announcement gathered praise from commenters, including David Beckham: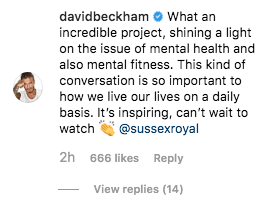 We can't wait for more details about this!!
This venture isn't the only thing that's new for Meghan and Harry. The parents-to-be recently parted ways with the Kensington Royal IG account previously shared with their in-laws Prince William and Kate Middleton, announcing the departure on the new profile, which has already garnered 4.4 million followers:
"'Welcome to our official Instagram; we look forward to sharing the work that drives us, the causes we support, important announcements, and the opportunity to shine a light on key issues. We thank you for your support, and welcome you to @sussexroyal.'- Harry & Meghan"
You can always count on Oprah for support!
[Image via Lia Toby/John Rainford/WENN.]
Apr 10, 2019 2:26pm PDT