Sam Asghari has something to say — or more so something to show — after the latest speculation he and Britney Spears are having marital problems!
For those who don't know, there have been some pretty rampant rumors the past couple days that the couple's relationship is on the rocks. Both Britney and Sam were seen without their wedding rings this week. The 41-year-old singer was spotted at LAX Airport on Tuesday without her sparkler before boarding a plane to head to Mexico with her manager and friend, Cade Hudson. And she did NOT put it back on for all her island fun either!
You can ch-ch-check out pictures obtained by Dailymail.com HERE.
Related: Reese Witherspoon Divorce Spurred By Jim Toth's 'Wandering Eyes'?!

Her husband noticeably was not with her on this trip! Instead, the 29-year-old former fitness trainer remained back in El Lay, where he also was seen without his wedding band while running errands. Oof. As for why things are rocky between the two? A report from the UK magazine Heat World claimed the two have been "rowing constantly" as Britney is having a hard time with how "she was treated" throughout her conservatorship:
"Britney is still angry and frustrated about the way she was treated for all those years, and often takes it out on Sam. It's having a huge impact on their marriage, which is hanging by a thread."
A source added:
"She's had crisis talks with friends and is very upset, but while everyone is sympathetic until she works on her own issues, it's futile trying to fix the relationship."
Yikes. That does not seem like a good sign!
However, Sam seems to be shutting down the split rumors with one simple picture. What of? A selfie of himself with his wedding ring clearly visible on that finger. He took to Instagram Stories on Thursday as the speculation was running rampant to show off his band. You can ch-ch-check it out (below):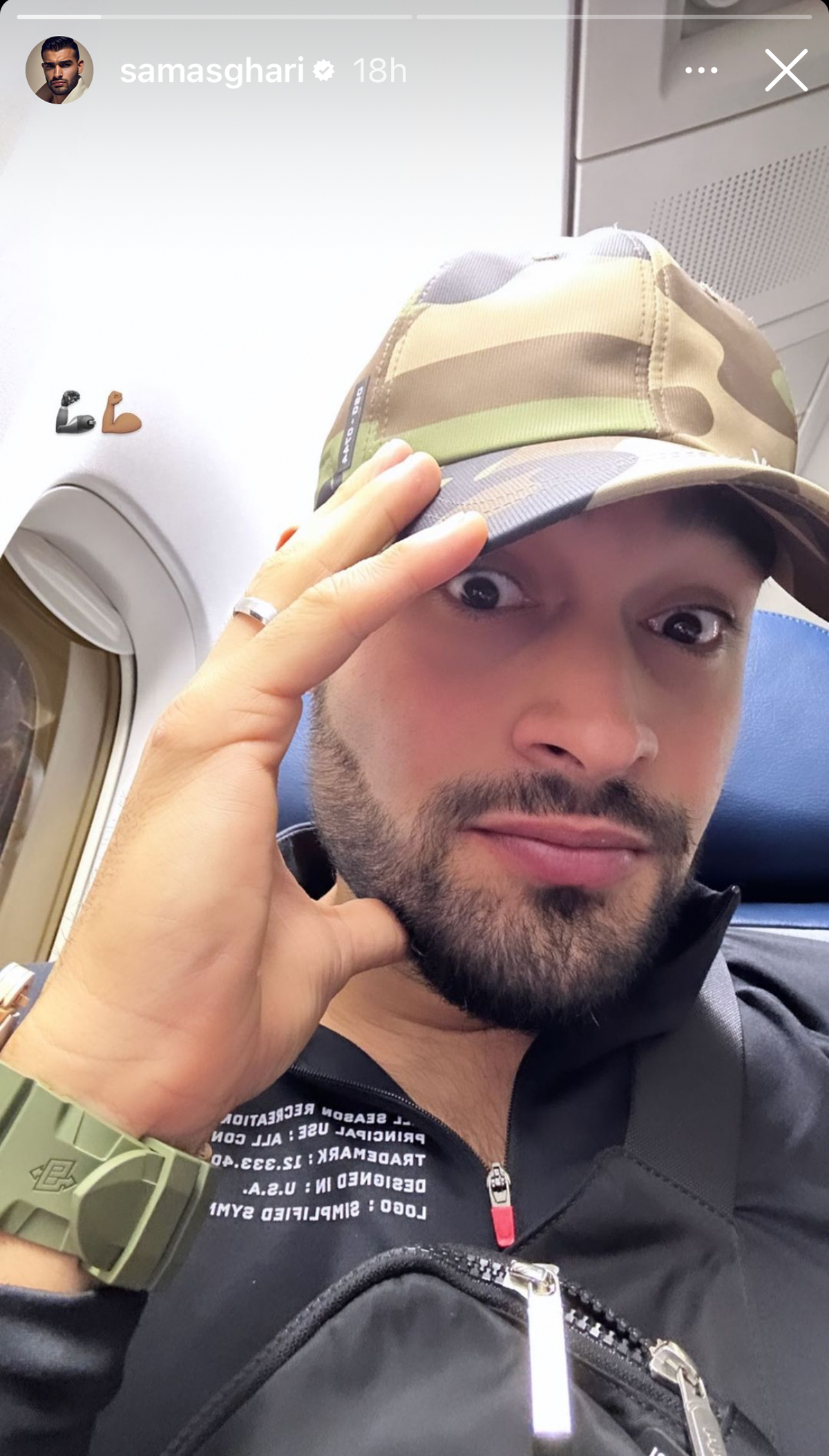 A picture may be worth a thousand words, but he decided to add a few more. His rep, Brandon Cohen, told Page Six on Friday that the couple absolutely are not having any issues with their marriage and are still going strong. He explained Sam took off his ring simply because he is filming a movie right now — which is also supposedly the reason he did not join the pop sensation and Cade on vacation. Brandon noted that the model was just too busy with work to travel at this time.
Hmm…
These are reasonable explanations. But considering it wasn't just Sam who wasn't wearing his ring but Britney too, we're really going to keep an eyebrow raised at this whole situation. There are just too many signs not all is well in the Spears-Asghari household! We mean, the Toxic artist even seemed to be hinting about their marriage troubles on the 'gram earlier this month when she posted:
"Throwback to Mexico… before I got married … so happy and silly here!!!"
And now that she's on vacay without Sam and her wedding ring? Something definitely seems to be going on here! But what do YOU think, Perezcious readers? Are you buying that Britney and Sam are not having marriage problems? Drop your thoughts on the situation in the comments below.
[Image via Sam Asghari/Instagram]
Related Posts
CLICK HERE TO COMMENT
Mar 31, 2023 13:00pm PDT