Apparently, you don't want to go after Tom Sandoval for ruining white nail polish "for everyone," or he will go nuclear on you!
The latest chapter in Scandoval started when Glamour magazine published an article about how fans of Vanderpump Rules could no longer wear white nail polish due to the 40-year-old consistently sporting a white manicure throughout Season 10. You know, the same season that covered his months-long affair with Raquel Leviss and subsequent breakup with longtime girlfriend, Ariana Madix! Per Glamour, fans basically determined that white nail polish "is over for the summer" — all thanks to Sandoval's cheating ways.
Well, it turns out Sandoval saw the article and did not appreciate these remarks! Of ALL the criticism he's gotten online the past few weeks, the TomTom owner took to Instagram on Friday to slam this one, writing:
"So Sorry. Nothing I wear seams [sic] to ever look good on [trolls]. @glamourmag At least have the courage to @ me if ur gonna talk s**t. I thought ur mag was about being positive & glamorous, not trashy? Also what happened when I wear all the colors at Michigan PRIDE shows? I'd invite u, but unfortunately, we're all sold out."
Is he threatening to ruin rainbows? Or every color simultaneously?! LOLz!
Related: Raquel Leviss' Family Asks FBI To Investigate Death Threats Amid Scandoval Fallout
He went on to make it persona, posting a screenshot of Glamour journalist Stephanie McNeal's Instagram page to call her out, saying:
"With writing such a disgusting, trashy, hateful, & bias article, how can u dare call urself a journalist? 'Rein of terror'? I'm a human being, and u don't know me. @glamourmagzine when did u start putting out such vicious, personal blind hatred towards someone on ur platform? Its this the kind of trashy, bullying rhetoric u want to represent u want to represent? I'm just shocked… I thought ur company was better."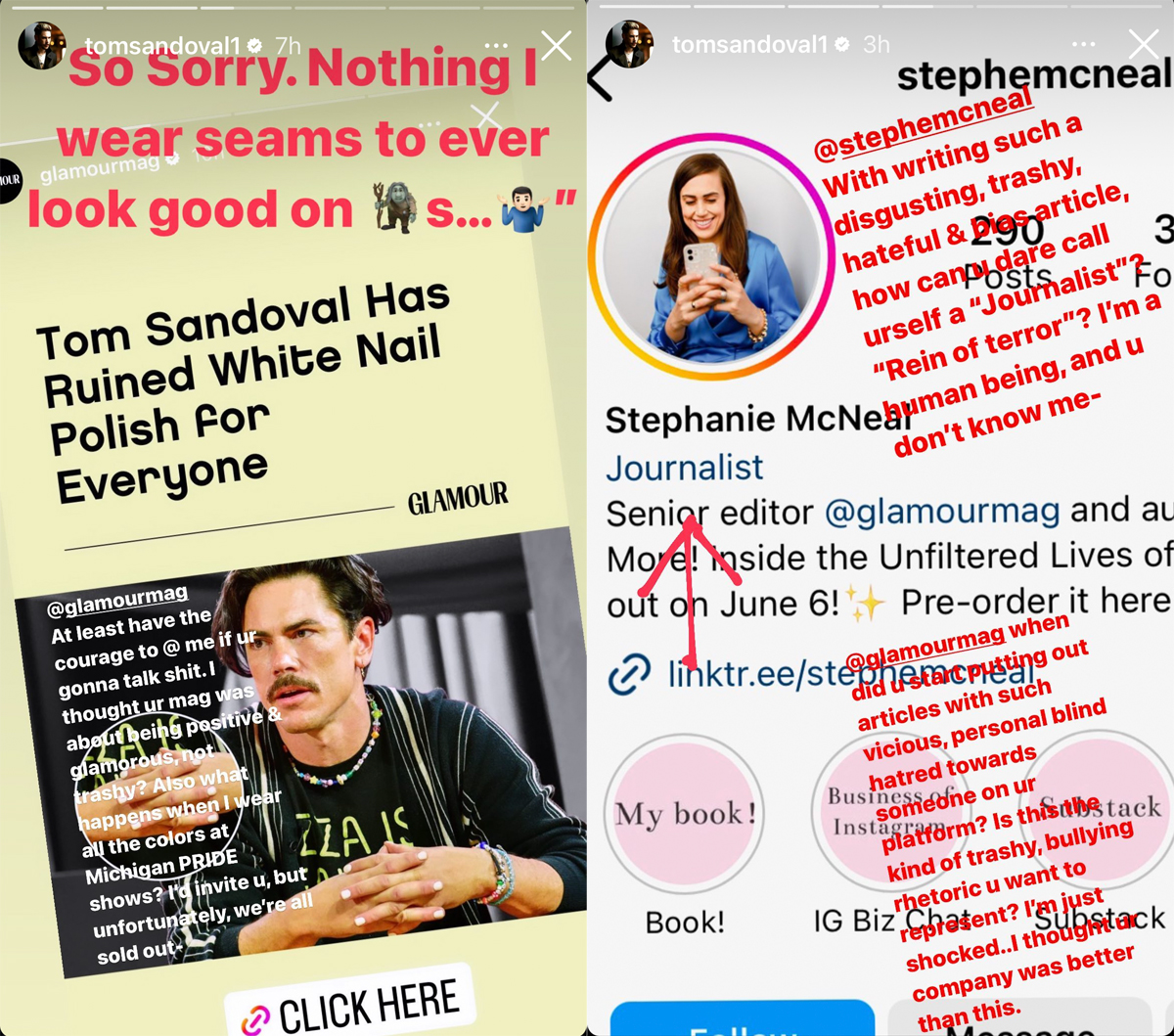 Yeesh!!! He really was upset to go after the writer like that!
We do have to ask… Is it bullying to call someone out for horrible behavior? Sorry, not biting on that one. We can't all be Lisa Vanderpump and support your cheating, gaslighting ass no matter what!
But sadly there's more. Sandoval took things a step further and shared another screenshot — this time of a post about a journalist's job description. He then told Stephanie:
"U should print this out, maybe carry it in ur wallet."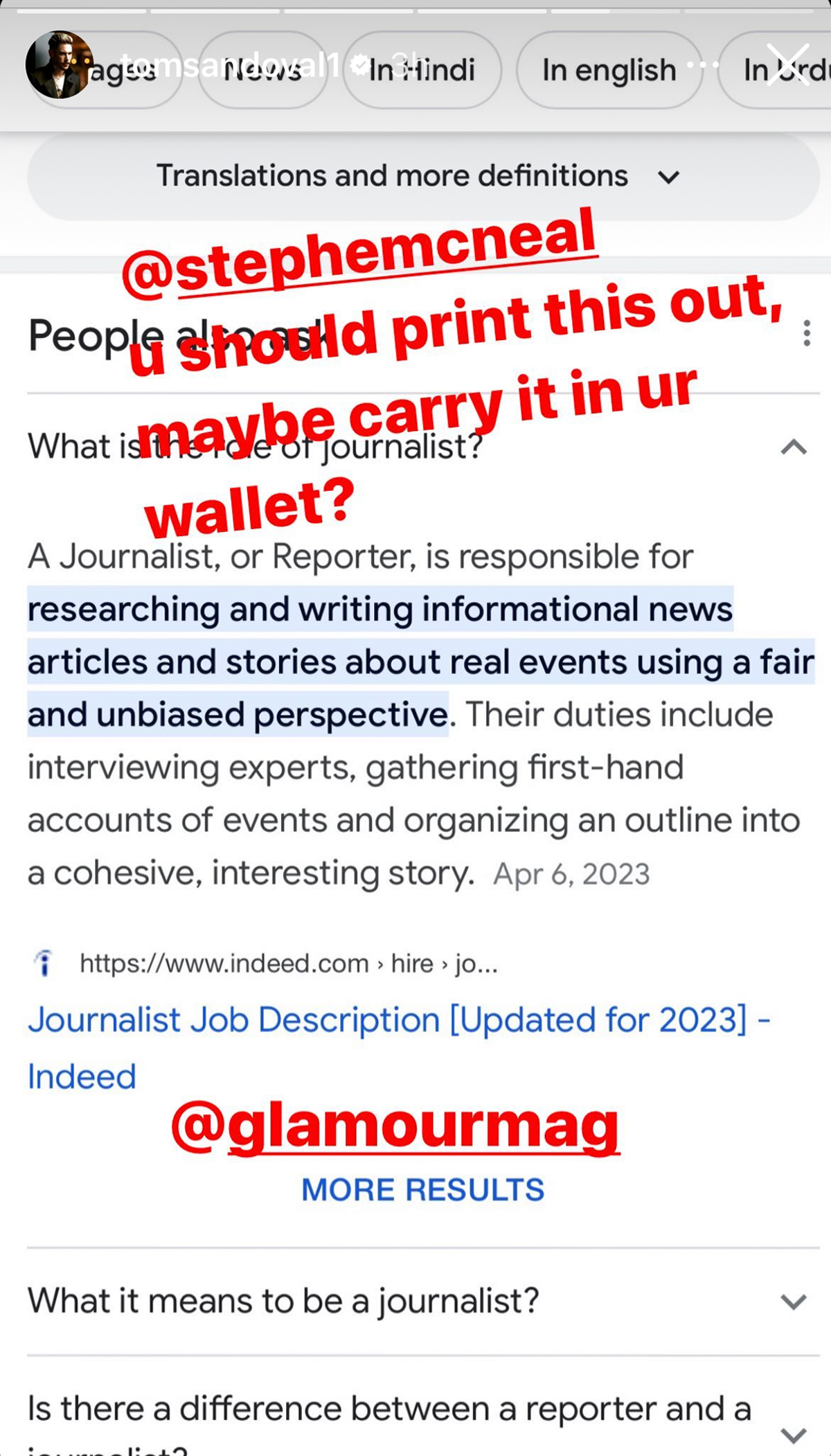 Out of all the things written or said about Sandoval since the cheating scandal broke in March, this is what sets him off? Really? So many folks across the internet, daytime and late night TV hosts, everyone has been talking about what a dirty cheating dog he is.
Perhaps Sandoval is only reacting to this one article because he's reached his breaking point when it comes to the online attacks amid Scandoval. As James Kennedy once said, it's not about the pasta — or in this case, it's not about the white nail polish. (Sorry, VPR fans, we had to!) He could just simply be over it and decided to take his frustration out on Glamour/Stephanie right now. Why her? Heck, maybe she's just an easy target. It's not like he can attack Whoopi Goldberg or Kristin Chenoweth and get away with it, right?
Nevertheless, his reaction is out there — and people have a lot to say about it. Sorry, Sandy, but no one is taking your side here. Ch-ch-check out the Twitter reactions (below):
"Omg this is so cringe. Tom Sandoval attacks a journalist after being completely triggered by Glamour Magazine dissing his white nail polish"

"Tom Sandoval berating a female journalist for saying he ruined white nail polish is literally all you need to know about him. #Scandoval"

"Of all the things that have been said about him, Tom Sandoval is having a meltdown over Glamour magazine saying he ruined white nail polish for everyone"

"tom sandoval making three ig stories bullying steph mcneal because she said his white nail polish was ugly lmao"

"Tom Sandoval going mad about the glamour article talking about his grippers is sending me"

"Tom Sandoval is attacking a lady GLAMOUR MAG journalist on IG about nail polish. Men are sooooooo silly."
If Sandoval hoped this clap back would help him out amid Scandoval, he was sorely mistaken. Reactions to the drama, Perezcious readers? Let us know in the comments below.
[Image via Bravo/YouTube]
Related Posts
CLICK HERE TO COMMENT
May 26, 2023 16:54pm PDT