The cast of Vanderpump Rules took a trip to San Francisco for season 11 — and unsurprisingly, things got very heated!
On Friday, the group was attending an event at Gold Bar Whiskey's tasting room inside the Treasure Island Museum. But instead of having a drama-free evening together, all hell broke loose when Tom Sandoval was seemingly caught in the middle of an altercation!
A video of the situation posted on social media showed that an unidentified man in a sparkly gold blazer picked up a glass of wine and threw the drink in the direction of Sandoval and a group of other people. As the 41-year-old reality star approached the guy, he then grabbed a chair and seemed ready to attack someone with it! Sandoval immediately went to stop him but someone else got involved, wrapping their arms around his body to pull him away.
Related: Sandoval Brings Rumored New Girlfriend Home With Him!

However, this man wasn't backing down! He continued to hold tight to the chair, even as Sandoval grabbed the other side of it. At that point, another person who appeared to be a security guard stepped in and grasped the attacker's throat. But he still refused to drop the chair as he was dragged out away from the scene. You can see the video of the altercation (below):
Whoa!!!
It is unknown the exact reason as to why this confrontation started. It is also unclear if Sandoval was the one the man meant to attack or if he was just trying to de-escalate the situation. However, the social media user who filmed and posted the altercation on TikTok, @themeganplays, claimed the man seemed like he was trying to attack a security guard at the venue – not Sandoval. He allegedly threw a vase of flowers and wine at the security and the Tom Sandoval and the Most Extras frontman happened to get caught in the middle of the fight. As for why this random guy was fighting with security? She suspected he wanted to be on TV since cameras were rolling during the event. See her explanation (below):
But Billie Lee, who attended the event with Sandoval, posted on Instagram Stories that the guy in the video knew a ton of information about her:
"Not ok! Someone sent this video to me! This guy was off from the start. He knew way too much information about me!"
So scary! Check out her post (below):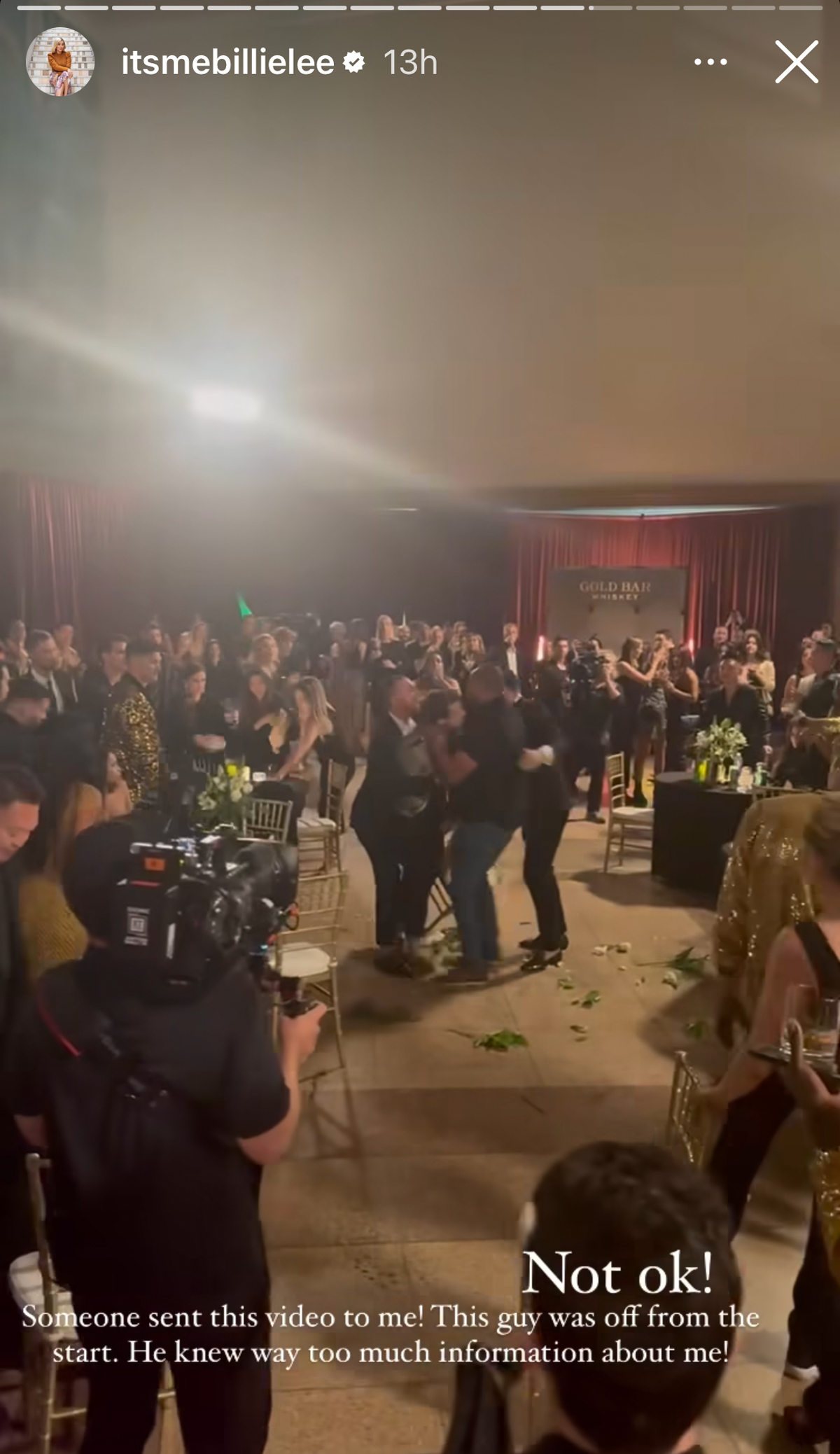 So this whole altercation was possibly started over Billie?! And Sandoval was trying to save the day? Fans really won't be happy if he ends up getting a hero edit in the next season following his cheating scandal!
At this time, he has not addressed the incident. But we're dying to know the details behind this situation soon, instead of waiting until the new season drops months later! Reactions, Perezcious readers? Let us know in the comments below!
[Image via Bravo/YouTube, @themeganplays/TikTok]
Related Posts
CLICK HERE TO COMMENT
Sep 02, 2023 12:03pm PDT