UFC Fighter Polyana Viana Beats Up Mugger: 'He Said Call The Police Because He Was Scared I Was Going To Beat Him Up More'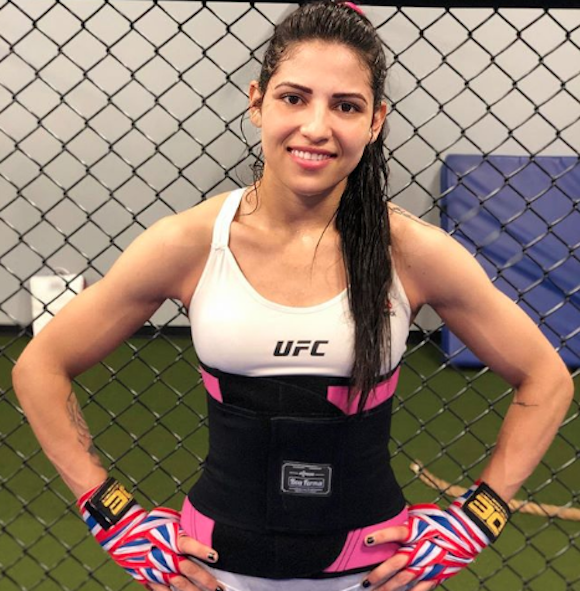 This is hilarious!!!
UFC fighter Polyana Viana dished out the very best kind of street justice in Rio de Janeiro, Brazil this weekend, when a mugger attempted to steal her phone late at night on the city streets.
Related: Angelina Jolie's Advice For Her Daughters Is Girl Power Goals!
Not knowing Viana is an MMA fighter who literally beats the hell out of people for a living, the would-be mugger no doubt saw the 115-lb. woman and figured her for an easy target… Well, he was wrong!!!
As you can see (below), Viana worked over the would-be thief until he looked like David Arquette finishing up a fight:
According to Dana White, this is what happened when a guy tried to rob Polyana Viana pic.twitter.com/bINTbYgi0n

— Sean Ross Sapp of Fightful.com (@SeanRossSapp) January 7, 2019
DAMN!!!!!!
But wait… it gets better!!
Related: YouTuber Thwarts Package Thieves With AMAZING Glitter Bomb!
Viana spoke to MMA Junkie about the incident, revealing that the man ended up needing to be taken to the emergency room after the incident — and that all he was armed with was a cardboard cutout shaped like a gun.
She continued:
"He was really close to me. So I thought, 'If it's a gun, he won't have time to draw it.' So I stood up. I threw two punches and a kick. He fell, then I caught him in a rear-naked choke. Then I sat him down in the same place we were before and said, 'Now we'll wait for the police.' I was fine because he didn't even react after, Since he took the punches very quickly, I think he was scared. So he didn't react anymore. He told me to let him go, like 'I just asked for the time.' I said, 'Asked for the time my ass,' because he saw I was very angry. I said I wouldn't let go and that I was going to call the police. He said, 'Call the police, then' because he was scared I was going to beat him up more."
Um… WOW!!!!
Don't mind us while we repeat that last line one more time, too:
"He said, 'Call the police, then' because he was scared I was going to beat him up more."
YES!!!
Girl power at its finest!
We are absolutely LOVING this story!!!
[Image via Polyana Viana/Instagram.]
Jan 7, 2019 11:30am PDT