Wendy Williams & Her Husband Were Getting Into 'Explosive Fights' Ahead Of Divorce Filing!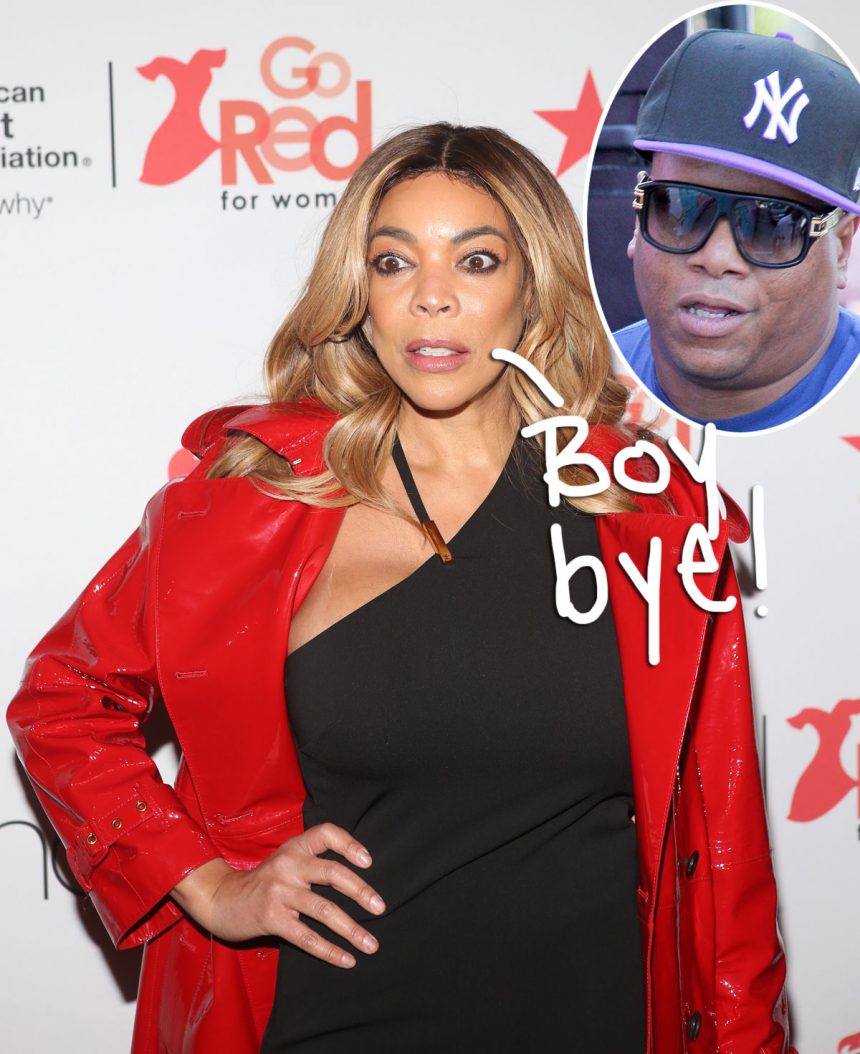 Wendy Williams served her soon-to-be ex-husband Kevin Hunter with divorce papers on Thursday after the two had been getting into "explosive fights" all week, according to a source with Us Weekly!
In case you missed it, the talk show queen is said to have officially filed for divorce from her Wendy Williams Show executive producer, and even ditched her wedding ring before going on air yesterday morning.
Williams herself has yet to confirm the split!
Related: What Behavior Made Wendy Williams FINALLY File For Divorce??
While we think it may only be time before she addresses the news to her fans and live TV audience, an insider is spilling just how tumultuous things got between the pair ahead of her decision to file papers:
"The couple had several explosive fights this week at the studio. Extra security has been present. It has been a very chaotic time."
Wow! We can only imagine how things will be now that Wendy has started the process of leaving Kevin, especially since they still work together!
Might be good if her ex takes a sick day for the foreseeable future…
Especially as it's been reported he has welcomed a baby girl with his alleged mistress, Sharina Hudson, just one day after his wife made the announcement on air that she was living in a sober house while being treated for addiction.
Seems like Hunter could have a lot more time to spend with Hudson, a massage therapist, and their rumored baby together.
As another source explained, the 46-year-old has been wanting to move on from his wife of 25 years:
"Kevin has wanted to separate so that they would be free to live their own lives. Wendy has begged Kevin to stay with her. It's been a very long, sad, vicious cycle."
Well, they can both be free now!
In fact, the 54-year-old starlet is already on the hunt for a new home… away from her former hubby!
Per TMZ, Williams is leaving their New Jersey house together and searching Manhattan for a residence, which might help her come to terms with this big life change!
For those wondering though, yes, she'll continue to stay at her sober house until her stint is over, and then will move into her future digs.
Sounds like that really will be for the best!
Related: Wendy Reportedly Decided On Divorce After Kevin Confessed Alleged Misdeeds
It was only earlier last month that she returned to her talk show following a two-month hiatus and addressed rumors of marital issues, telling viewers she was standing by her man. The star said at the time:
"I want to shout-out to my husband. I'm still wearing my ring. Believe me you, when you've been with somebody for 28 years, married for 25 years… we know each other. He's my best friend, he's my lover… I know what you've been seeing, but hunty, let me show you who I fell in love with and who he fell in love with. I'm still very much in love with my husband and anyone who's been married… you know. Marriages have ebbs and flows, marriage isn't easy. And don't ask me about mine until you see this [ring] gone. And it ain't going anywhere, not in this lifetime."
Girl can put herself first now!
[Image via Derrick Salters/Aaron Gilbert/WENN]
Apr 12, 2019 7:14am PDT