Wendy Williams Is Back On TV & Addressing Rumors Of Marital Issues Head On — 'I'm Still Wearing My Ring'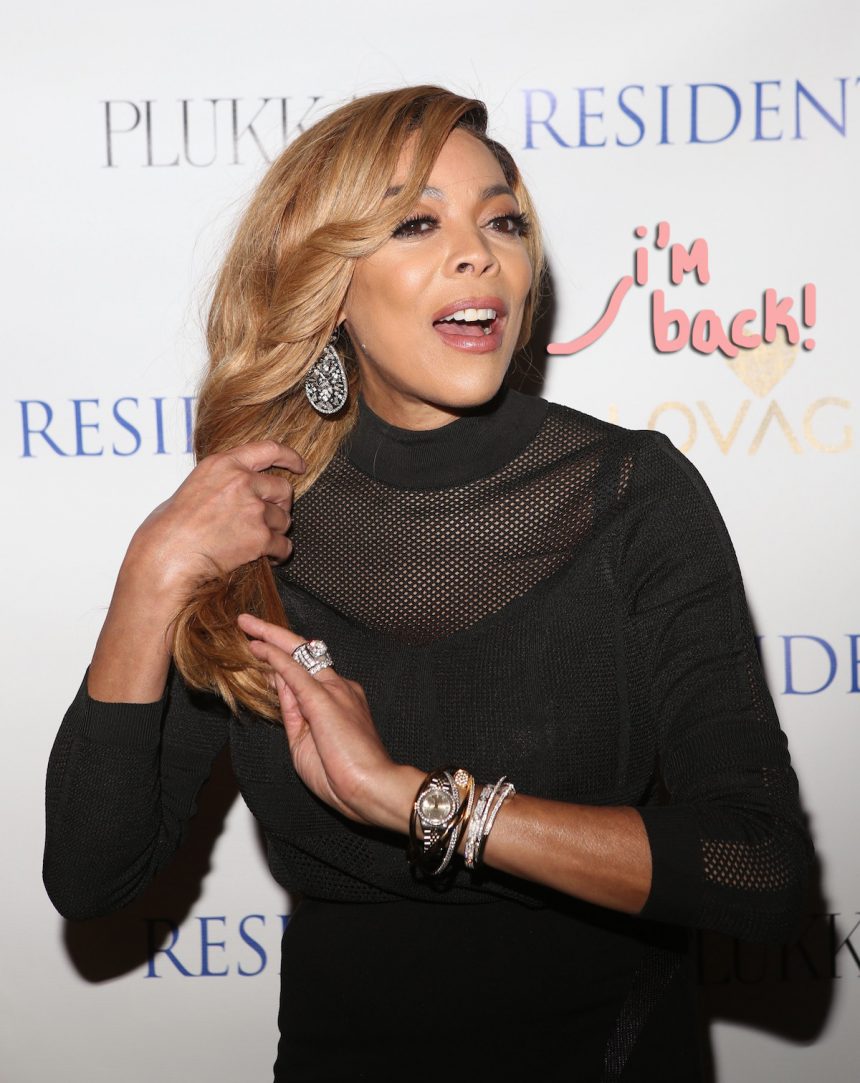 Wendy Williams returned to daytime TV Monday morning to a standing ovation following her two-month extended break, and addressed her health and marriage directly.
Related: Nick Cannon Gives An Update On Wendy Williams
The 54-year-old explained that she'd been off the air since the holidays because of health issues, including complications from Graves disease:
"We were supposed to only be off for two weeks for Christmas vacation… I started to feel thyroid issues. They're still adjusting my meds. I'm the kind of patient, if I cough, I'm thinking, I'm dying … I can't even tell you how many doctors I have. They pushed me in there, I get the MRIs and then I get the CAT scans… You know, I'm 54, and not for nothing even though you feel 25, honey you know."
The Wendy Williams Show host also discussed the rumors that she had taken time off because of marital issues with her husband Kevin Hunter Sr., assuring viewers that all is well:
"I want to shout-out to my husband. I'm still wearing my ring. Believe me you, when you've been with somebody for 28 years, married for 25 years… we know each other. He's my best friend, he's my lover… I know what you've been seeing, but hunty, let me show you who I fell in love with and who he fell in love with. I'm still very much in love with my husband and anyone who's been married… you know. Marriages have ebbs and flows, marriage isn't easy. And don't ask me about mine until you see this gone. And it ain't going anywhere, not in this lifetime."
She also teared up while openly discussing how these rumors and her health have affected her 18-year-old son, Kevin Hunter Jr.:
"Young Kevin, he really doesn't care about much of anything… you know, jerks at 18. So I was doing that, just taking care — take care of yourselves. I'm sorry it took me 40, almost 50 days. I'm sorry… but I have to say it's not going to happen anymore, and I feel good. I just really gotta focus on being mom. When you see us doing stuff walking down the street or stuff… just leave me alone if I'm with my kid or my husband or my mom or my dad or my sister or my brother."
Related: Wendy Williams Gets REAL About Overcoming Addiction
The TV personality went on to explain she spent a lot of time exercising her body and mind during her hiatus:
"I'm at home and I'm taking my thyroid meds and I'm meditating… I'm going to the gym seven days a week for two hours a day. Believe me you. I don't know how this outfit is reading on TV, but mother has not gained a pound."
But getting healthier didn't stop her from critiquing the United Sates medical system:
"But you have to take care of yourself and one of the things that really does suck about our country is we don't have proper medical care."
We're glad to see you doin' better, Wendy!
[Image via Derrick Salters/WENN.]
Mar 4, 2019 9:33am PDT