Anderson Cooper announced the best news amid the coronavirus pandemic: he's a dad!!
The longtime CNN anchor and journalist revealed his baby's arrival on Thursday, sharing beautiful new pics of the sweet tot, as well as the meaning behind his name.
Video: Watch Gigi Hadid Confirm She's Expecting A Baby With Zayn Malik!
Welcoming Wyatt Morgan Cooper to Instagram, Anderson gushed about his "joyful news" in a lengthy caption dedicated to his newborn, who was born on Monday. The proud dad wrote:
"I want to share with you some joyful news. On Monday, I became a father. This is Wyatt Cooper. He is three days old. He is named after my father, who died when I was ten. I hope I can be as good a dad as he was. My son's middle name is Morgan. It's a family name on my mom's side. I know my mom and dad liked the name morgan because I recently found a list they made 52 years ago when they were trying to think of names for me. Wyatt Morgan Cooper. My son. He was 7.2 lbs at birth, and he is sweet, and soft, and healthy and I am beyond happy."
Adding beautiful words about Wyatt's surrogate, the 52-year-old continued to praise all those who made his birth possible:
"As a gay kid, I never thought it would be possible to have a child, and I'm grateful for all those who have paved the way, and for the doctors and nurses and everyone involved in my son's birth.
Most of all, I am grateful to a remarkable surrogate who carried Wyatt, and watched over him lovingly, and tenderly, and gave birth to him. It is an extraordinary blessing – what she, and all surrogates give to families who cant have children. My surrogate has a beautiful family of her own, a wonderfully supportive husband, and kids, and I am incredibly thankful for all the support they have given Wyatt and me. My family is blessed to have this family in our lives"
The best blessing!
Of course, the moment is bittersweet for Anderson, who lost his mother, Gloria Vanderbilt, less than a year ago, his father, Wyatt Emory Cooper, when he was only 10, and his brother Carter 10 years later:
"I do wish my mom and dad and my brother, Carter, were alive to meet Wyatt, but I like to believe they can see him. I imagine them all together, arms around each other, smiling and laughing, happy to know that their love is alive in me and in Wyatt, and that our family continues."
It's a beautiful image, and we're sure they are up there cooing over how cute the family's newest arrival is!
Of course, we have to imagine welcoming a bundle of joy during a global crisis is already tough on Cooper, who will have to wait to introduce his son to friends and loved ones until it's finally safe to ease social distancing. But who knows, maybe we'll see the little one make his live debut on CNN one day??
Take a look at more pics of Wyatt Morgan (below):
The new poppa couldn't help but share his excitement to CNN's viewers last night, all with the biggest smile on his face:
And he continued uploading a couple of new pics to his Stories: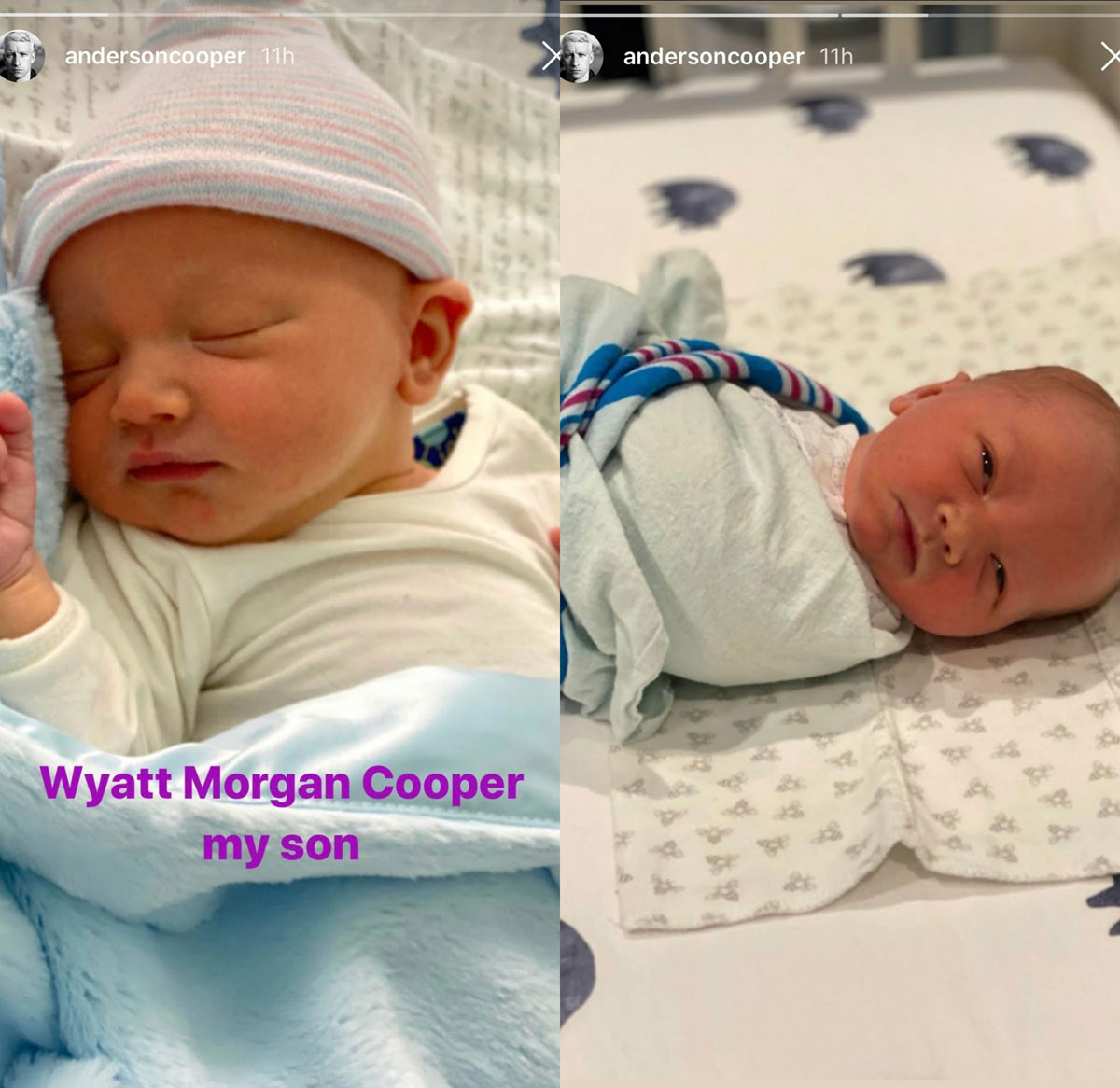 Congrats, Anderson!!
[Image via Anderson Cooper/Instagram]
Related Posts
CLICK HERE TO COMMENT
May 01, 2020 06:55am PDT