Ariel Winter Responds To Criticism After Asking Fans To Donate To Cousin's GoFundMe Page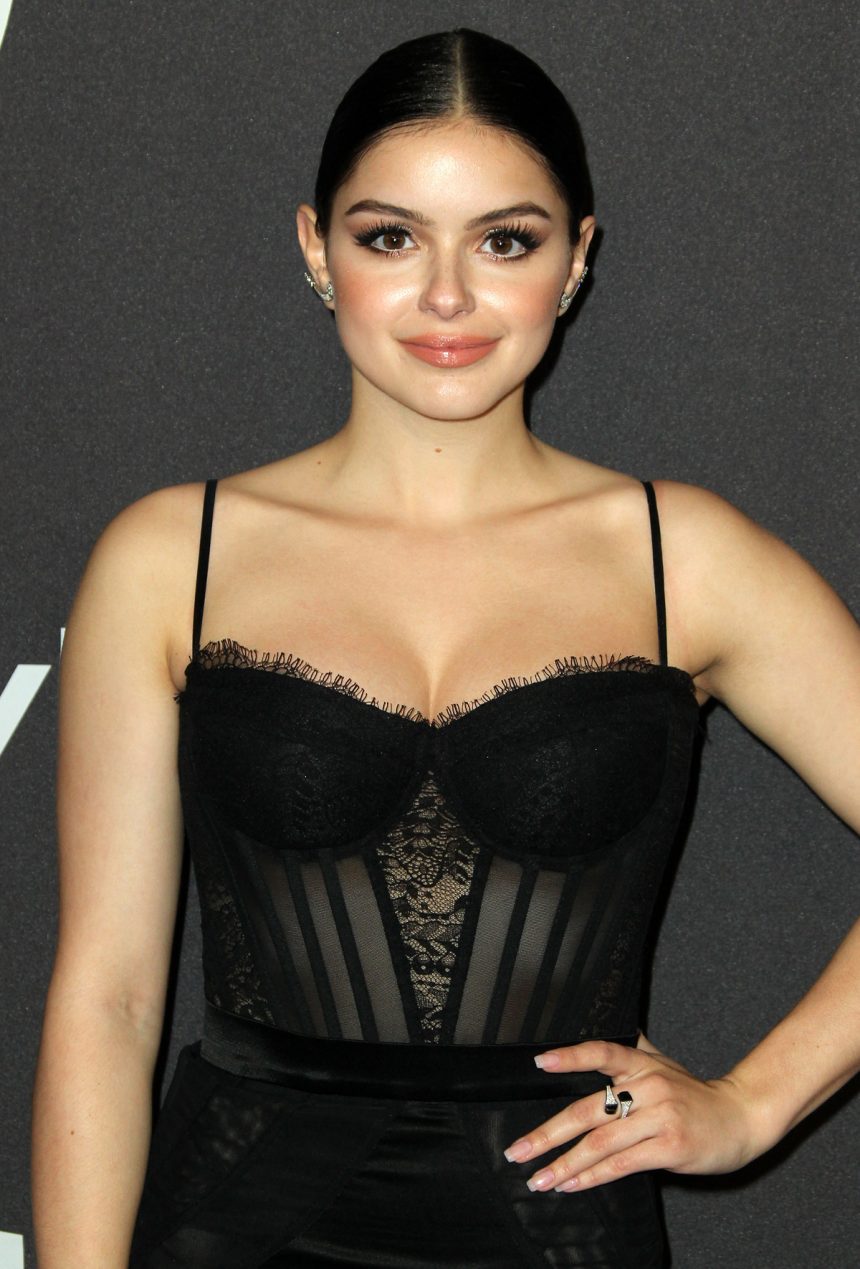 Ariel Winter claps back after asking fans to donate to her cousin's GoFundMe page.
Per the donation website, on April 5, Tino Tsutras was rushed to the hospital and put on life support where doctors later determined that he suffered from Haemophilus influenzae, a type of bacteria that can cause different kinds of infections.
Though he is currently out of the ICU, he is still under close monitoring, and will continue to undergo tests in the upcoming days. To help with his living expenses, a GoFundMe account was set up, which (as of this writing) has raised over $21,000.
Related: Ariel Winter Gets Real About Weight Loss & Mental Health
On Monday, the Modern Family actress posted a link to Tino's donation page on Twitter, asking fans to donate to his recovery fund.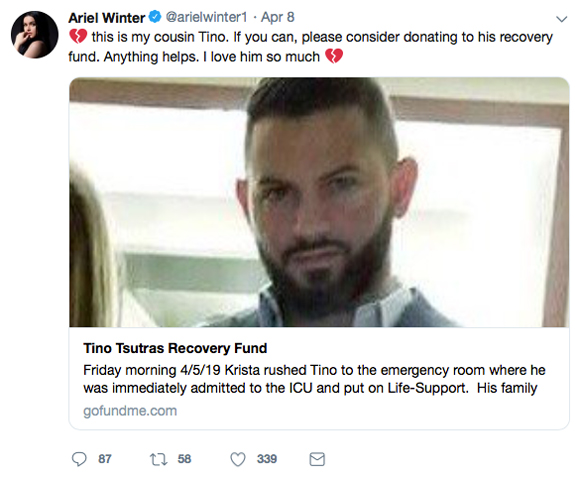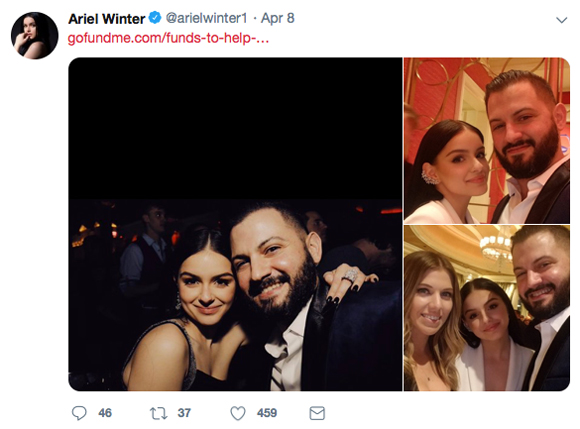 However, after the post went viral, social media users SLAMMED the 21-year-old for asking for money when many believe her to be a successful, wealthy actress.
They wrote:
"No offense but like you obviously have the money if not all of it some of it to help your cousin so why are you asking your fans for the money"

"100k an episode lol pay it yourself cheap skate"

"Well you obviously don't love him that much….you would have had your cheque book out in a second if you did"

"Lol a millionaire girl asking us poor for money"

"Why do u ask us to donate when u can just solve the problem much easier and quicker with one credit card swipe? I'm a college student and I would maybe say that's the equivalent of family asking me for $50, but I would just give it to them rather than ask for it. Ur so greedy"
Earlier this week, Winter clapped back at all of the "hate tweets" directed at her, and said people could have simply written a "kind message showing [her cousin] some love and support."
She wrote:
"I'm shocked at how many people have sent me hate tweets about my cousin instead of a simple, kind message showing him some love and support. Nothing else needed to be done aside from that. I re-posted a gofundme that my cousin's friend made just as anyone else would. Hurtful."

Additionally, when one fan said her "current net worth is $12 million" and that she gets "250k-500k" per episode of Modern Family, Ariel wrote back:
"Where did you get that info? A reputable source? Must not have been because neither of those things are true facts. I responded the way I did because this is a difficult time for my cousin and our whole family and it just adds more pain when someone is incredibly insensitive."
In an interesting twist, costar Sarah Hyland also received criticism when she promoted a GoFundMe page for the family of her 14-year-old cousin Trevor Canaday, who was killed in an alleged drunk driving accident.
According to The Blast in December 2018, the man who allegedly caused the crash, Jeffrey Eggeling, was charged with three felonies: motor vehicle homicide with a DUI prior conviction, DUI causing serious bodily injury, and leaving the scene of a personal injury accident resulting in death.
[Image via Adriana M. Barraza/WENN.]
Apr 11, 2019 3:14pm PDT