'Bachelor' Colton Underwood Brings One Woman Home & Gets Dumped Again As Competition Narrows To Final Four!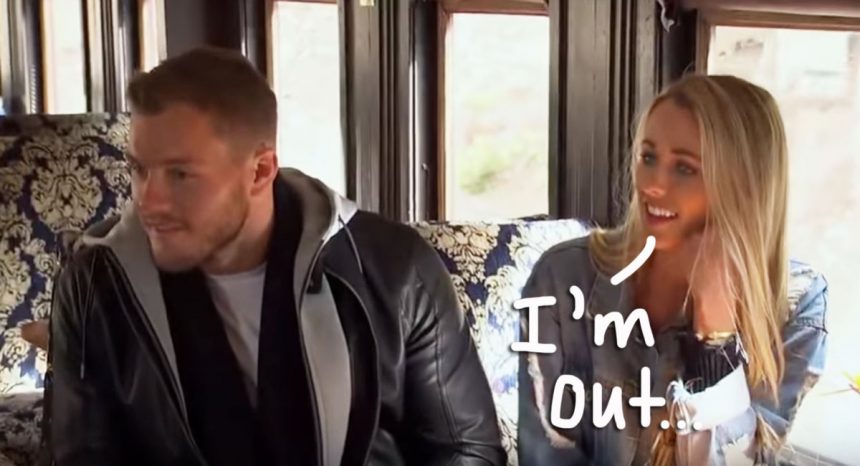 We have to say, Colton Underwood isn't having the most ideal stint on The Bachelor right now.
Monday night's episode saw yet another contestant dump ABC's leading man before he could make a final decision about them, and the timing couldn't be more crucial as the show heads to the final four ladies' hometowns next week.
Related: Colton Underwood Sends Multiple Girls Packing In Shocking Episode!
Miss "Has Been Kissed" Heather realized that she and Colton weren't secure enough in their relationship to bring him home to meet her family. The blonde-haired beauty exited in the least dramatic fashion that we've seen on the show, as it was pretty clear she wasn't as far along as the other remaining contestants.
But it still doesn't change the fact that now three women (Elyse, Sydney and now Heather) have called it quits on their own terms. Isn't The Bachelor supposed to be the one doing the dumping here?!
The drama continues as Colton tries to get to the bottom of all of the vague warnings he's received about the remaining women in the house. During his first one-on-one of the night, the 27-year-old asks Tayshia who can't be trusted, leaving her to immediately throw Caelynn and Cassie under the bus!
Tayshia claims that the two ladies are actually more focused on potentially becoming the next Bachelorette, rather than marrying Colton. The admission left Colton and viewers pretty shocked because Caelynn and Cassie are both considered frontrunners at this point, each with strong individual connections with Colton.
Kirpa was not one to be left out, as she backed up Tayshia's claims that the two women are not to be trusted. The dental hygienist says she's heard rumors "for weeks" about the pair's shady motives. But TBH, Kirpa seemed way more concerned about spilling the tea on these girls than on her own connection with Underwood!
The back-and-forth "she said, she said" made for some pretty frustrating TV, because viewers were only getting bits and pieces of the story. Why weren't we shown all of these supposed shady conversations?! Who are we supposed to believe here? AND WHERE IS OUR FENCE JUMP, ABC?!
We get a brief break from the petty drama to see Miss Alabama Hannah B. have one of the most cringeworthy hometown dates when Colton takes her to meet his family. The pageant queen does her best to impress his mom and dad, and even admits to Colton that she's falling in love with him!
But she is ultimately sent packing when Colton realizes he "just can't get there with her."
In the end, Caelynn crashes the final group date of the night to defend herself and her friend. It becomes clear who Colton believes as he gives Cassie the final rose, and sends Kirpa (BYE, GIRL) packing!
And there you have it Bachelor Nation, we're down to the final four! Does this mean we'll finally get our fence jump? We'll just have to tune in next week to find out!
[Image via Bachelor ABC/YouTube.]
Feb 19, 2019 8:43am PDT