Bam Margera is lucky to be alive.
You may remember, last month The Jackass alum was admitted into a San Diego hospital for a bad case of COVID-19 and pneumonia. At the time, the Margera family posted to the star's Instagram page, updating fans with his state of being:
"Bam was recently hospitalized. Fortunately, he is now testing negative for COVID and receiving care for pneumonia. Bam is on the road to recovery and thankfully will be discharged soon."
See (below):
A day later, the entertainer took to the social media platform himself to announce he had officially been released, while giving his thanks to "friends, family and you for the love, support and prayers."
Related: Johnny Knoxville Suffered Brain Hemorrhage & Depression After Jackass Stunt…
See (below):
Now, he's opening up even more about the terrifying experience. While stopping by former co-star Stevo-O's Wild Ride! podcast Thursday, the 43-year-old explained:
"I basically was pronounced dead on Elvis' birthday December 8th, did not know that I had like gnarly COVID, my body was shutting down and I went into four seizures, each one lasting 10 to 20 minutes."
Whoa that must have been absolutely terrifying! He continued:
"On the fourth one, I bit my tongue so hard it was like nearly falling off, it got so swollen and puffy it wouldn't fit in my mouth and I was drinking the infected blood which gave me pneumonia as well."
Talk about a situation going from bad to worse… The former professional skateboarder added a shaman he was seeing brought him to get help:
"The shaman took me to the hospital, I went into my fifth seizure and I couldn't breathe without a tube down my throat. I woke up five days later thinking I was there for a couple hours, they're like, 'Dude you've been here for nearly a week. We tried to take the tube out and you weren't breathing on your own.'"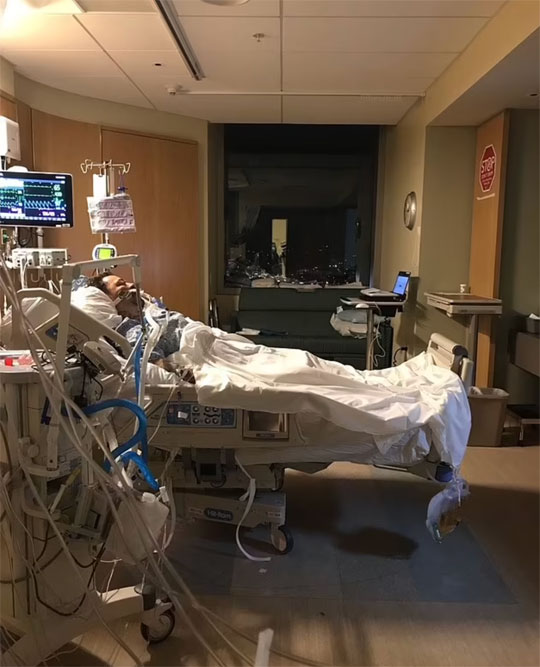 Wow. We can't imagine what a whirlwind that must have all been.
Related: Bam Seen Partying While On The Run From Rehab
This all comes after the former MTV star has struggled with rehab stays throughout the course of 2022. If you don't remember, most recently, he fled a court-ordered rehab facility before cutting ties with his parents in early September. A couple weeks after that, Bam was back in rehab but with a restructured court-order, which no longer necessitated the stay to be in-patient. Instead, he was granted an out-patient program, but had to remain sober, attend court-mandated classes, and scheduled visits with a psychiatrist.
We're just glad Bam was able to pull through the scary hospital visit. Who knows, maybe it will give him a new lease on life? What are your reactions, Perezcious readers? Let us know in the comments and see the full podcast down below.
[Images via Bam Margera/Instagram & Steve-O's Wild Ride! Podcast/YouTube]
Related Posts
CLICK HERE TO COMMENT
Jan 06, 2023 09:03am PDT